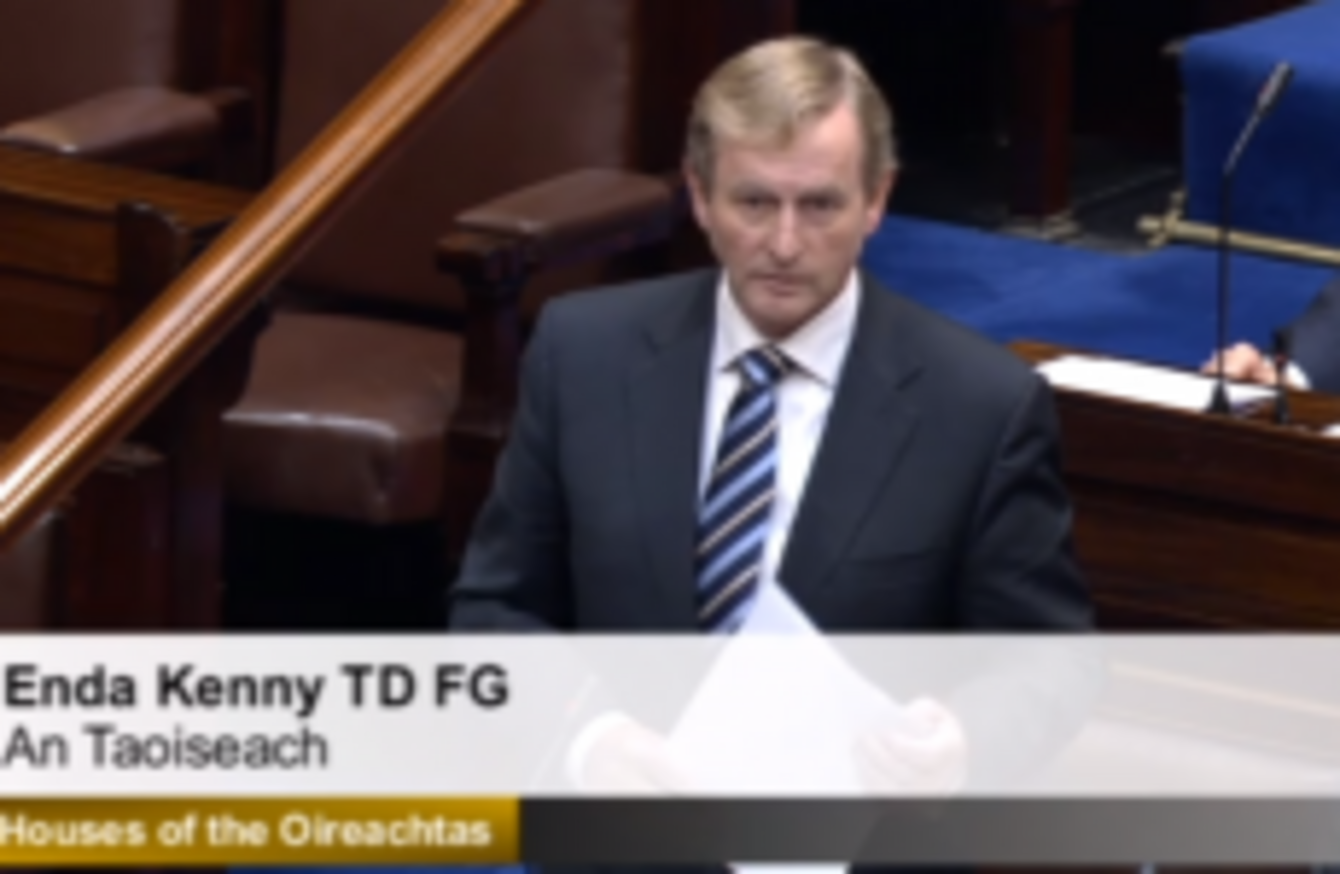 Enda Kenny at Leaders' Questions this morning
Enda Kenny at Leaders' Questions this morning
TAOISEACH ENDA KENNY has asked secondary teachers planning industrial action to consider the implications of such action on children and their parents.
Kenny was speaking during Leaders' Questions in the Dáil this morning when he said that savings of €1 billion in public sector pay must be achieved and insisted there is no scope for renegotiation of the agreement.
He was responding to questions from Sinn Féin's Mary Lou McDonald about the ASTI rejection of the Haddington Road Agreement and planned industrial action by its 17,000 members in secondary schools next week.
"This is the Haddington Road Agreement, it will not be renegotiated," he said calling for the ASTI leadership to consider "the implications for the children, for the parents, and indeed for their own members" of industrial action and rejection of the public sector pay deal.
Education Minister Ruairí Quinn suggested last night that ASTI members could lose protection from compulsory redundancies in the wake of their rejection of the deal.
Kenny said he is "disappointed" that teachers have rejected the deal.
He continued: "I think in a time of national response where we're clearly making progress, difficult though it is, I am disappointed that this was their decision."
Evictions and Budget
Earlier the Taoiseach was asked by Fianna Fáil's Micheál Martin about the case of a couple with three young children in Cork who are facing eviction from their family home.
Kenny said that there is an option for a court to implement a stay on all legal proceedings until all options are explored.
"The government have made it perfectly clear that repossession of houses should be a case of very last resort," Kenny said amid accusations from Martin that he was "washing your hands of the issue".
In his first outing at Leaders' Questions, the independent TD Stephen Donnelly asked the Taoiseach if there is scope for reducing the level of austerity planned in next month's Budget.
Donnelly said there is a "compelling case" to use €1 billion for economic growth but Kenny said that the government does not have all the economic figures at its disposal to reach agreement on the amount of Budget adjustment.
"Clearly if monies are available at the end of the presentation of all the figures the government will make its choices as to what extent of that can be applied for job creation," Kenny said in response.