Updated at 11.58pm
AN ISSUE OF a student medical journal produced by Trinity College students has been withdrawn after it published step-by-step instructions for how to make the headshop drug mephedrone.
The Trinity Student Medical Journal ran a cover story in which students made the drug – commonly known as meow meow – using everyday products.
Trinity News reports that the essay was featured on the front page of the journal after being selected as the best piece of research by the publication's editorial team.
The cover of the journal had the headline "Inspiration from Breaking Bad" with the caption "The synthesis of mephedrone from legally-acquired domestic substances".
The journal was launched last Thursday and ordered to be withdrawn the following day.
TN reports that the Director of Undergraduate Teaching and Learning for the School of Medicine instructed the publication's editorial team to recall all copies.
TCD said there were a number of 'significant' inaccuracies in the article which led to it being withdrawn.
"The TSMJ editorial board has made clear that the article was intended to highlight the important public health issue of illegal drug manufacture by dangerous methods that may generate potentially lethal and uncharacterised products," the university said in a statement.
"In this case the article suggested that the final product could be mephedrone; an illegal substance.
"However, concerned by its contents, the School of Medicine on sight of the published article requested that the TSMJ editorial committee withdraw the journal from circulation due to a combination of significant scientific inaccuracies".
TCD said the main issues were the conclusion that the final product was mephedrone was incorrect and the experimental methods were inaccurately reported.
The university said no academic member of staff was involved in the editorial decisions.
Any student or staff member from the health sciences faculty in TCD is eligible to submit an article to the journal, which is distributed to all medical students.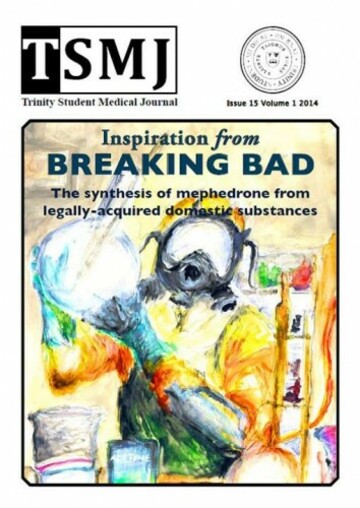 Source: TSMJ via Facebook