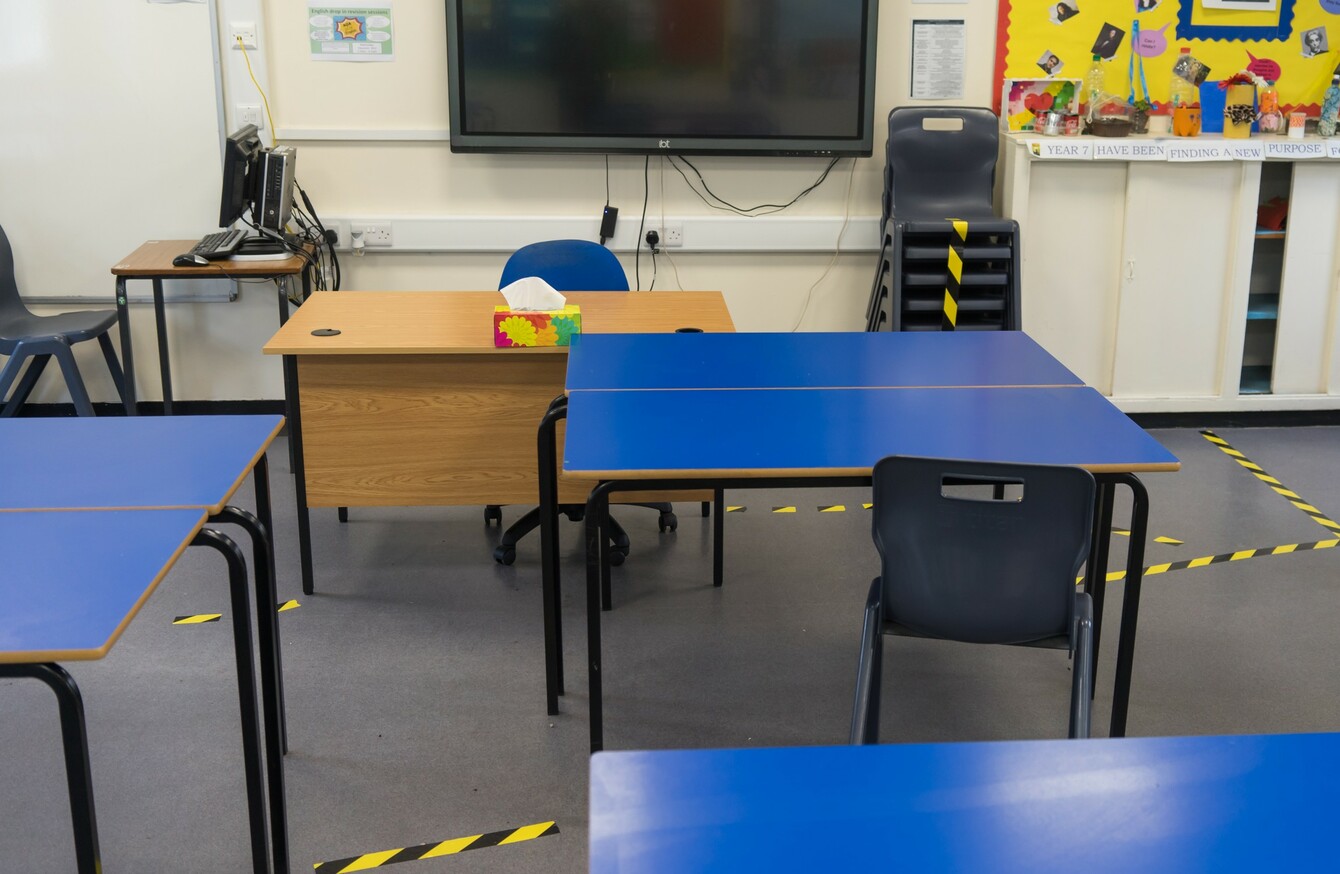 Image: Shutterstock/Travers Lewis
Image: Shutterstock/Travers Lewis
Updated Jan 7th 2021, 8:00 PM
THE ASSOCIATION OF Secondary Teachers in Ireland (ASTI) and Teachers Union of Ireland both directed their members today not to co-operate with the Government's plan for in-school teaching for Leaving Cert students. 
The ASTI instead directed members to engage with remote learning from Monday onwards. However, the government has since made the decision to change its plans andmove to remote learning for Leaving Cert students. The decision is expected to be confirmed in a government statement tonight.
The Irish National Teachers Organisation (INTO) said it understands that plans to reopen special schools next week have also been cancelled. 
"We will update members as we learn more but welcome government heeding our concerns. We must all do what we can to respond to the current public health situation," INTO tweeted. 
Earlier this evening, the ASTI said it was not consulted prior to Education Minister Norma Foley's announcement that special schools would reopen and that Leaving Certificate students would receive in-school teaching provision for three days each week. 
"The ASTI has not been provided with the necessary assurances that schools are sufficiently safe for students and teachers at this time, in the context of the new variant of Covid-19 circulating in the community and the alarmingly high numbers," the statement read. 
ASTI Standing Committee decided to direct its members not to co-operate with the arrangements announced by the Minister for Education for in-school teaching, but to engage in remote teaching/ learning provision from Monday, 11 January . The decision is based on significant concerns about the health and safety of students, teachers and other staff.
Speaking after the meeting, ASTI President Ann Piggott said: "The ASTI has repeatedly sought sufficient assurances that schools are safe for students and teachers at this time, in the context of the new variant of Covid-19 circulating in the community and the alarmingly high numbers."
Following the Minister's announcement, the ASTI said it received a high number of communications from second-level teachers expressing their concern.
Meanwhile, at an Executive Committee meeting this evening, it was decided that Teachers' Union of Ireland (TUI) members would not be attending their workplaces for in-school teaching next Monday, 11 January, or on subsequent days. Instead, they would be available to provide emergency remote teaching and to support their students including, in particular, students with special educational needs.
The TUI said it "welcomes the decision now taken, somewhat belatedly, by Government to finally do the right thing".
The TUI this evening reiterated its demand tonight for "urgent engagement with the Department of Education and the other stakeholders to plot a path towards the resumption of teaching and learning in schools, colleges and education centres". 
As well as meeting Minister Foley and DES officials, the TUI also engaged with Minister Simon Harris and the Department of Further and Higher Education Research, Innovation and Science this afternoon.
It also secured clarification that all teaching and learning in Youthreach centres, further and adult education centres and higher education settings will be on-line, remote, until "the public health situation improves sufficiently to allow a safe return to face-to-face teaching".  
Concerns
Michael Gillespie told TheJournal.ie before the latest news broke that secondary schools weren't expecting the announcement that 61,000 Leaving Cert students would be attending school buildings three days a week. This coupled with 48-hours notice means that schools are not prepared for students to attend the school buildings, he said.
Other teachers were concerned about the prevalence of Covid-19 in their community, and that it would spill into schools quite quickly because of this.
Around 100,000 students and teachers would have been affected by the decision to have Leaving Cert and special education classes return to school buildings.
Schools remained open between September to December, closing for the Christmas period in line with the school year.
Teachers have prepared for online lessons for the past few weeks, expecting a third surge and a third lockdown in January. Juggling between on-site lessons for Leaving Cert students and online lessons for all other secondary students is a "logistical nightmare", Gillespie said.
The TUI president called for the plans to partially reopen schools for Leaving Cert students from next Monday to be paused. Martin Marjoram said an "unprecedented number" of teachers have reached out to the union with fears about physically returning to work from 11 January.
Initial plans
Education Minister Norma Foley said yesterday that primary and secondary schools were to remain closed until at least February.
However, Leaving Cert students were due to return for three days per week from Monday and certain special needs education will also take place this month. 
Speaking on RTÉ's Morning Ireland, Marjoram said that some teachers "feel that they are being put at risk" by this decision. 
"We were not consulted about this. We've no confidence that this plan could be implemented safely and practically as early as next Monday," he said. 
"We're certainly calling for a pause on this. It's never too late to do the right thing and we think we need a period of consultation and emergency remote teaching for a short period of time while we see where exactly we are with this unprecedented level of infection, and particularly to see just how far it has extended into the school community."
He said there is a "level of concern rising, quite frankly, to people being terrified" among the union members. 
#Open journalism No news is bad news Support The Journal

Your contributions will help us continue to deliver the stories that are important to you

Support us now
"We are calling for the necessary consultation to take place before a physical return to school.
"We do not believe a short period of emergency remote teaching would do any significant damage, but there could be really significant damage if there is a disorderly return, or we go back to find that large numbers of students aren't there, or that the necessary teaching staff aren't there because of the need to self isolate or because they are infected."
Speaking on RTE's News at One, Tánaiste Leo Varadkar said there was no specific advice given by the chief medical officer in relation to sixth years returning to school, but said the letter to the health minister does state that schools are safe environments.
"We weren't advised to close schools," he said, adding that the CMO did state if the government went for a full closure of schools that it should have regard to children with special needs. 
Speaking to RTÉ's Drivetime, Minister for Children Roderic O'Gorman said chief medical officer Dr Tony Holohan had provided a detailed presentation to ministers and was "extremely clear" that schools are safe environments. 
He said the government was doing an "extremely reduced" re-opening of schools "in acknowledgement of the fact of the importance of the Leaving Cert". 
Education Minister Norma Foley said yesterday that schools are safe places, but the measures that were due to be introduced were required to minimise the movement of people across the country. 
Schools were to be given the chance to choose which days to open.
The Irish National Teachers' Organisation (INTO) yesterday described the decision is "rushed and reckless".
"Special schools, students and staff do not exist in a bubble separate from wider society. The sustainable and safe reopening of these schools and classes should be based on specific health advice, with adequate preparation and a staged reopening," the union said in a statement. 
Fórsa trade union has asked the Minister for Education to hold off re-opening special education schools and special classes next Monday.
The union, which represents more than 12,000 staff in primary and secondary schools, said a pause in implementation is necessary in order to allow urgent discussions to take place on a model of service provision for special education needs students that can be delivered safely.
- Additional reporting Aoife Barry