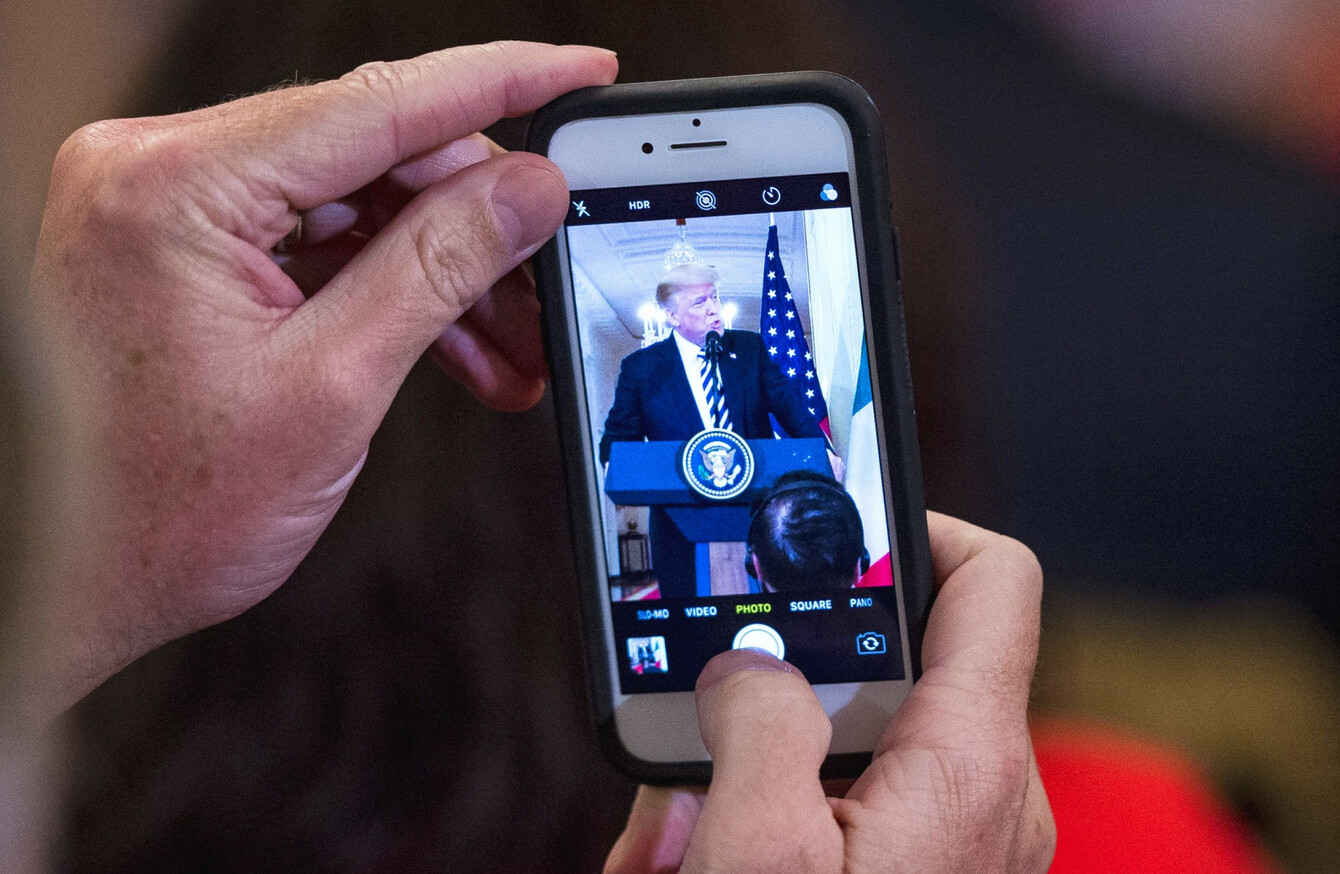 A reporter photographs Donald Trump on his phone during a press conference at the White House in July 2018.
Image: Pool/ABACA
A reporter photographs Donald Trump on his phone during a press conference at the White House in July 2018.
Image: Pool/ABACA
ON DECEMBER 4, 2016, Edgar Maddison Welch drove the six hours from his home in North Carolina to Washington DC. In the car with him was an assault rifle.
On entering Comet Ping Pong, a popular pizza restaurant, Welch fired the rifle "at least once", according to a New York Times report. Although no-one was injured, the sound of gunfire cause widespread panic, with employees and diners fleeing the premises. 
The father-of-two later told police he had come to "self-investigate" a widespread (but false) online theory that Comet Ping Pong was at the centre of a child abuse ring with links to Hillary Clinton.
The "Pizzagate" theory, as it was dubbed at the time, began on online message boards in the run-up to the US presidential election – a month before Welch took fire. But it soon spread to Reddit and Twitter, where it continued to gain traction even after the election ended. "The intel on this wasn't 100 per cent," Welch told the New York Times after his arrest.
Welch may have been wildly misled, but the shooting is an example of just how much of an impact fake news can have. But would the same story have spread so rapidly today, two years on?
Hopefully not. The growing movement against fake news over the last couple of years includes an action plan by the EU Commission, a joint pledge by Google, Twitter and Facebook and a wide range of practical tools for reporters and news consumers.
How much has actually changed, though? Here's a look at some of the key ways readers, listeners, viewers and journalists can protect themselves from fake news, thanks to tech tools…
1. Filter out fake smartphone video footage
If a newsroom receives video footage from onlookers at, say, a violent protest, how can staff verify that it's the real deal? VeriFlix, a Google-funded software company, uses artificial intelligence to help authenticate video content, filtering out footage that's irrelevant or likely to be fake.
2. Figure out when you're on a dodgy news site
Just because a news site looks legit, doesn't mean it is. Browser extensions like Trusted News and ZenMate Fake News Detector rely on user data to tell you if the site you're visiting is likely to be credible and safe. If you see a green light icon (as you will when you visit TheJournal.ie, FYI), you're good to go. 
3. Know if it's really Trump/Obama/Nicolas Cage in that video
In April 2018, Buzzfeed News published a video made by filmmaker Jordan Peele, featuring Barack Obama speaking about internet safety. The catch? It wasn't Obama speaking in the video, but Peele himself – although you'd never know it just by watching.
"Deepfakes," or hyper-realistic face swap videos, are the subject of a new forensics programme run by the US Defence Department, along with teams from universities around the US. According to a report by MIT Technology Review, it's hoped the tools developed by the programme will make it simpler spot hoax videos. 
4. Join others in slowing the spread of fake news online
When you share a Facebook post or retweet a photo without being sure it's from a viable source, you run the risk of spreading misinformation. The Pro-Truth Pledge was created by a team of behavioural scientists at Ohio State University as a sort of online honour code against fake news. The ask is simple: only share stories if you're certain of their reliability, and encourage others to do the same.
5. Spot false claims on Facebook
Back in 2016, a Facebook user posted three images of a young Syrian girl being carried by three different rescue workers, as an example of supposed image altering by CNN. In reality, the photos were not altered – the girl had simply been passed from rescue worker to rescue worker following a bomb attack – but the post still spread. In September 2018, Facebook announced it was expanding its third-party fact-checking programme to cover more photos and videos, rather than just articles.
Want news you can rely on, anywhere you go? TheJournal.ie's 9 at 9 News, supported by Volkswagen, is now available via audio on any device that supports Google Assistant. All of the morning's top stories, read to you on the go. If you've got an Android phone, a Google Home speaker, or a car with Android Auto integration, you can sign up. Here's how to set it up.