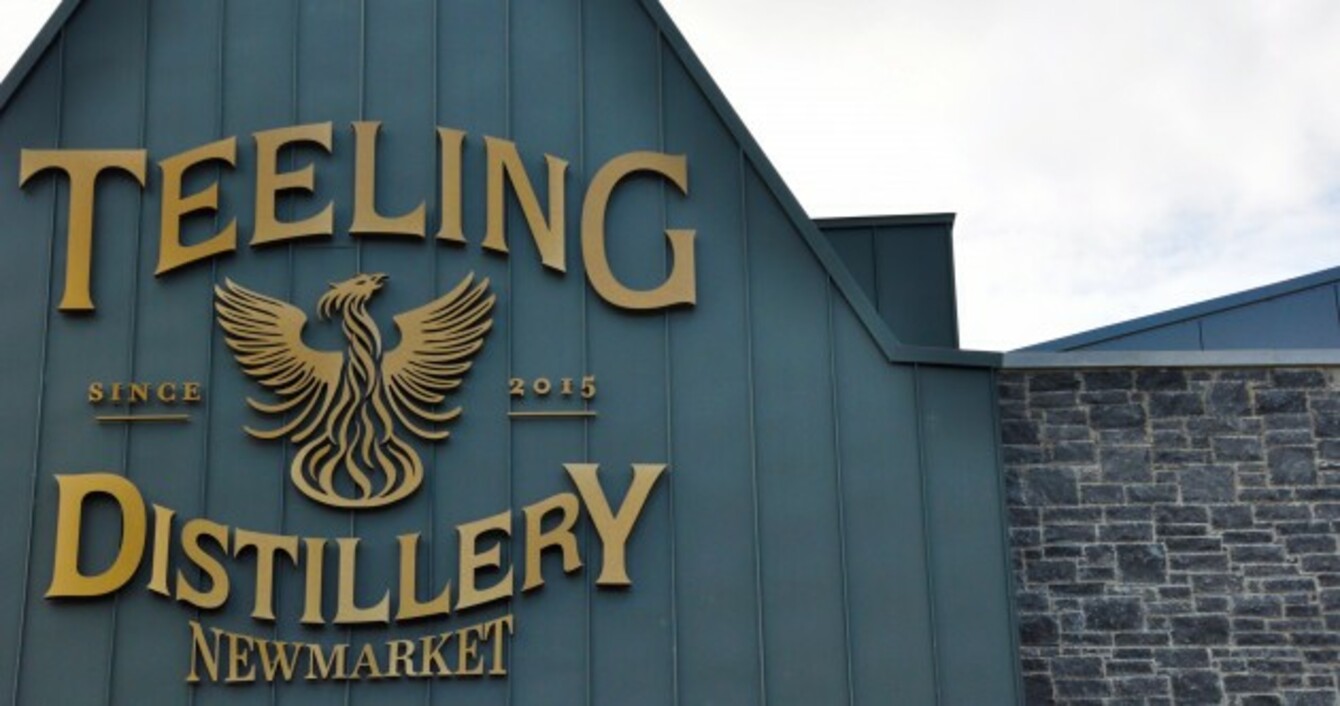 Note: This article about the Teeling Whiskey Distillery was first published on 23 May. We republish it today ahead of the beginning of TV3′s four-part series 'Whiskey Business' at 8.30pm tonight.
STANDING IN THE cavernous half-finished showroom that will soon greet its first visitors, Jack Teeling comes across as equal parts whiskey messiah and frustrated businessman.
"It has been a lot harder than I expected – I'm used to when people say they're going to do something they actually do it, so dealing with all that has been challenging," he admits.
Three months behind the target opening date, the final touches are still being put on the Teeling Whiskey Distillery – the first new project of its kind in the capital for over 125 years.
Over the space of two adjoining buildings at Newmarket in Dublin's The Liberties, the circa-€10 million distillery – which includes the ground-up construction of a visitors centre with cafe, display and tasting rooms, and function space - has slowly taken shape.
It has been a painstaking, three-year process for Teeling and his brother Stephen, the company's two founders, who have overseen the build while maintaining cashflow and sales for their brand.
"Probably the most-difficult thing has just been paying the bills as they fall due," Teeling told TheJournal.ie this week.
We're different to most in that we don't have a sugar daddy, we don't have an external investor, it's us literally doing it all ourselves with the help of our bank."
The view from the floor
The attention to detail throughout the 100,000 sq ft complex is formidable, from the Kilkenny limestone on the building's facade to timber used during the construction being recycled to make the upstairs bar.
Meanwhile out the back, the distilling machinery is already humming away. First the mix of malted and unmalted barley is ground down in a giant wet mill – or as Teeling likes to call it, the "cereal killer".
The resulting liquid is brewed and fermented, before the 15,000 litres produced in each batch is siphoned through the bulbous bodies of three huge copper pot stills, which were handmade in Siena, Italy for the distillery.
After the distilling process, which takes only about a week, the real flavouring begins. The alcohol will spend a minimum of three years in barrels before it comes out as Irish whiskey.
A family legacy
While Teeling said the pair had chosen "the most expensive place in Ireland to build a distillery", the location wasn't negotiable – both for access to visitors and, more importantly, to maintain the family's connection with the Dublin whiskey trade.
That history goes back over 230 years to the brothers' ancestor, Walter Teeling, who set up his first distillery in nearby Marrowbone Lane.
We could have gone out to the M50 and built out in Clondalkin or somewhere like that, but it didn't fit with our brand. People say 'was it worth the effort, is it worth the money?' – I hope so and I'm pretty happy with the way it's gone … and when we finish I'll be even happier."
In 1987, Teeling's father John, a serial entrepreneur who has founded a string of resources firms, converted an old potato factory in Co Louth into the Cooley Distillery. A little over three years ago it was sold to an American company for €71 million.
Jack Teeling left the Cooley as the firm's managing director and with about 14 years' whiskey experience under his belt. He also walked away with a supply agreement to help him and his brother develop their own brand.
Since then, the pair have been experimenting with everything from South American wine barrels to French sauvignon blanc wine casks to give each of their seven different whiskey lines a signature taste.
What we have tried to do is to have a standard Irish whiskey but to make it more interesting, more flavoursome, so you get people on a ladder of discovery into something a little more than a Tullamore Dew or a Jameson or a Kilbeggan or anything like that."
Teeling Whiskey is already sold in 35 markets worldwide and in 2013 the company booked €2.7 million in revenue for a slim profit, according to its most-recent accounts.
The business remains very much a family affair, with the Teeling brothers owning the vast majority of shares and the remainder in the hands of their parents and sister.
The new distillery will also be operating in an industry that has a tangible buzz surrounding it with over 20 new distilleries reportedly in the pipeline across the country. The Irish Whiskey Association recently set a sector-wide goal of quadrupling exports within 15 years.
A dog's dinner
But while Teeling was positive about the overall prospects for the category, he was less bullish about the prospects for many of the small distillers in an industry where new operators had to wait years for any financial return.
There are loads of projects out there … if a handful of those get off the ground I would be surprised, because it's cash-intensive and you really need to know the industry. It's not like you can say 'I'm at a loose end, I've got like €5 million, I'll just get into it' – if you do, you're going to make a dog's dinner of it.
"The production is easy, the hardest thing is building a brand. We've done things a little bit differently, we've tried to build a brand and now we're going to build up production."
Without the money to fund major advertising campaigns, Teeling has been keenly aware of the need to appeal to drinkers with a great "visitor experience".
He hopes to officially launch to the public early next month or, as he puts it, to "get the minister in, cut the ribbon, all the kind of crap like that".
However he has little time for the "Disneyworld" brewery or distillery experience in which visitors are given a history lesson without ever seeing where the product is actually being made.
"We asked young people who were drinking Irish whiskey what was important to them and the majority said 'I don't really care what you were doing 120 years ago, what are you doing now that's relevant?'. People want that, not to see that you're living off past glories."
For now, all the signs are positive. Teeling said his company was already ahead of all its sales targets and the long-term aim was to solidify the brand both among local drinkers and the huge developing markets like North America, eastern Europe and Asia.
"10 years ago, Irish whiskey was seen in a very old-fashioned way – it was your granddad who would drink it and you would buy it for Christmas cake. It was a national spirit, but people were never really proud of it.
Today, I think there's a massive opportunity for Irish whiskey globally, the biggest threat I see to not being able to grab it is to not have the breadth of choice that you can get from other categories like scotch." tjb
First published 23 May