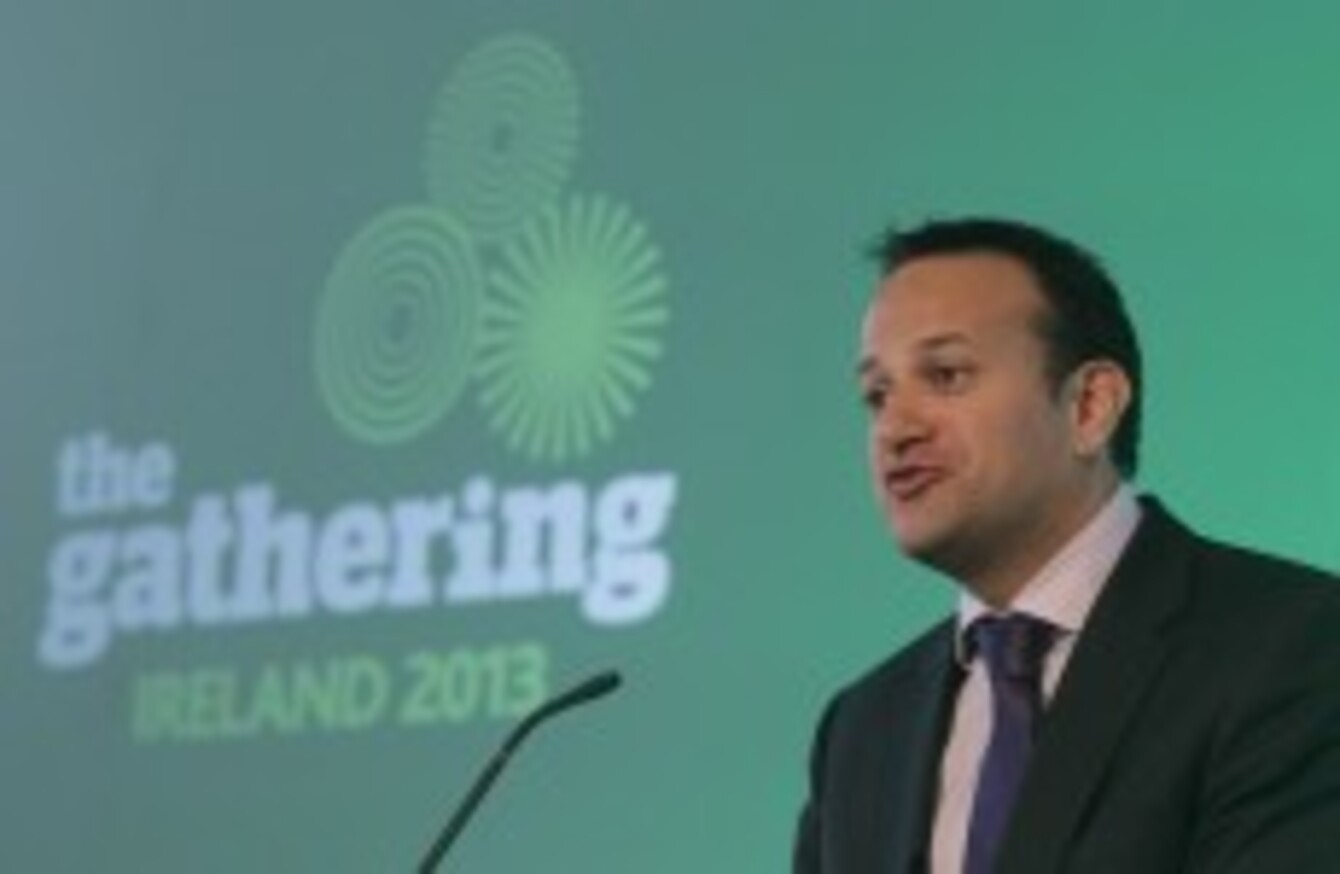 Transport Minister Leo Varadkar speaks during the launch of The Gathering Ireland 2013 at Dublin Castle
Image: Niall Carson/PA Wire/Press Association Images
Transport Minister Leo Varadkar speaks during the launch of The Gathering Ireland 2013 at Dublin Castle
Image: Niall Carson/PA Wire/Press Association Images
MINISTER FOR TRANSPORT, Tourism and Sport Leo Varadkar said he was very pleased with The Gathering this year and said he would be keen to do it again.
Speaking on RTE's Morning Ireland he said the cost of The Gathering was about €7 or €8 million, and the initiative brought in more than 300,000 tourists in to the country.
The Gathering
He said he would be keen to repeat The Gathering – "it worked extremely well". He added:
We are going to meet all our targets and I would be interested in doing it again…
He said, however, that it is something that you "can't do too often, maybe in  five or seven years time".
Varadkar said the success of The Gathering was down to all the groups, local authorities and organisers who he said made it a great year.
New job?
The minister was also quizzed about the speculation that there could be a Cabinet reshuffle soon and was asked if he would be interested in the Health portfolio. He said:
I am happy to serve anywhere the Taoiseach wants me to, or not at all…
He added: "I think James is doing a good job, a very difficult a job. He is being asked to overhaul our health service while also taking hundreds of millions out of it, it's a very challenging job. I don't think I could do a better job than he is."
Travel tax
Speaking about the Budget this week, he said his department had no cause for complaint as they had done quite well from it.
He said the abolition of the €3 air travel tax was "quite an expensive measure to the Exchequer" and said he would be monitoring closely the impact the tax would have on tourism numbers.
He added that next year it would be open to the Finance minster to look at again, if the results are not as positive as would have been hoped.
Dublin Bus
The minister would not be drawn too much on the issue of Dublin Bus and said that it was a "sensitive" matter and that he did not want to "offend anyone" by commenting further.
He said that financial situation of the company was a very difficult situation, adding that the report published this week, with recommendations for the company "is the last intervention possible, there's nowhere else to go after this".