EVERY EVENING, TheJournal.ie brings you a round-up of all the day's main news, as well as the bits and pieces you may have missed along the way.
A new IMF report has concluded that countries where households are in greater debt will take longer to get out of the economic crisis – bad news for the likes of Ireland. The report recommends allowing households to restructure this debt, however, as doing so will help them to overcome the crisis quicker.
Both RTÉ and the Broadcasting Authority of Ireland have expressed disappointment that details of the latter's report into the Prime Time Investigates documentary involving Fr Kevin Reynolds have been leaked. RTÉ said the leak to the Irish Times "prejudices" the response of people named in the report, before RTÉ had a chance to respond to it.
Education minister Ruairí Quinn has been busy on the teachers' union congress circuit today. Quinn was hecked at the INTO congress after suggesting teachers didn't understand the gravity of the financial crisis, and later told the ASTI he was determined to end discrimination against gay teachers. Two of the three unions have pledged strike action if the government tries to cut their staff allowances.
The boat retracing the route of the Titanic's ill-fated voyage to America has had to turn back towards Ireland after a passenger suffered a suspected heart-attack. The MS Balmoral was 135 miles off Valentia when the Coast Guard was called for medical help, and the boat has turned back as "a precautionary measure".
As it happens, today also marks the 100th anniversary of the Titanic's launch from Southampton: here's a gallery of the day.
The UN-Arab League envoy to Syria, Kofi Annan, has urged both the Syrian government and the anti-Assad rebels to halt violence within 48 hours without precondition. The sides had been due to observe a ceasefire from today but fighting has continued.
An estimated 890,000 households have now paid or registered for waivers for the household charge – a figure that's still only around half of all the country's homes.
The Labour Relations Commission has appointed a three-man team, led by Labour Court chairman Kevin Duffy, to lead discussions on finding a resolution in the dispute between the Vita Cortex employees and their former bosses.
A British fishing vessel was detained 33 nautical miles off Cork this afternoon, in connection with an alleged breach of fishing regulations.
Rick Santorum has dropped out of the Republican race for the US presidential nomination – effectively guaranteeing that Mitt Romney will face Barack Obama in November.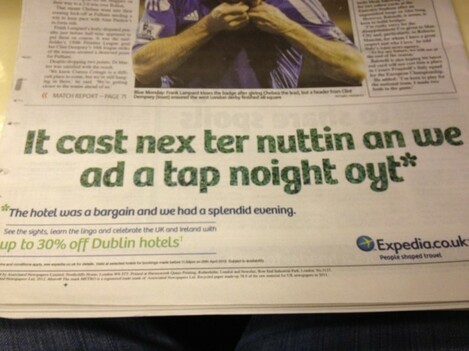 An advert that appeared in this morning's edition of London's Metro freesheet newspaper, encouraging tourism to Ireland in a very… Oirish way. Pic via Dara Maguire on Twitter, used with permission.
Fianna Fáil says it has not been contacted by the authorities in relation to an alleged corrupt payment made to former minister and EU commissioner Pee Flynn by Tom Gilmartin.
A new psychiatric assessment has found that Anders Behring Breivik – the man behind the Utoya Island massacre and Oslo bombing – is not criminally insane.
If you think you're saving less than you ought to, relax: you're in the majority.
A Spanish village has approved a referendum on whether to start growing marijuana in order to pay off their debts. The seven-member town council in Rasquera in Catalonia had already approved it, but the controversial idea was referred to the public for their blessing.
If this (very possibly clever marketing stunt) video doesn't make you want to drop everything and travel the world, then there's something wrong with your stony, stony heart.
If you owned every Apple share in the world, and sold them all for today's market price, you could buy 1,474,360,900 iPads. Today the company reached its highest ever market value.
We'd never come across MickO'Pedia before today, but it's irritatingly funny/racist/funny. It's a simple site – taking a Wikipedia entry and filling it with bleedin' Oirish words, bejaysus.
Car keys? Check. Sunglasses? Check. iPod? Check. Toilet roll?… Yes, toilet roll.
Lady Gaga's coming to Dublin, playing the Aviva in September. Shouldn't that make her Bean Ní Ghágá?
Monkey see, monkey do. Daddy sneeze, baby do too: