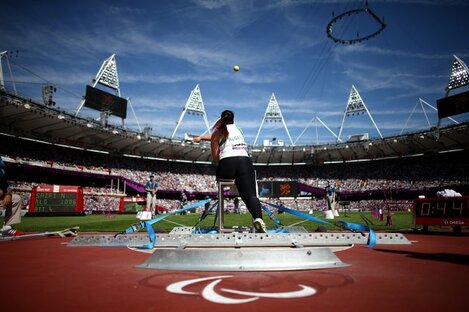 Algeria's Nassima Saifi throws in the Women's Shot Put – F57/58 at the Olympic stadium, London on the final day of the games. (Empics Sport/PA)
HERE ARE THE things you need to know as we round off the day in three easy steps.
THINGS WE LEARNED
#ALAN RYAN: The funeral has taken place of the former Real IRA member Alan Ryan amid a heavy garda presence in north Dublin. Parts of Donaghmede were closed off to traffic as the coffin was carried through the area. Men and women dressed in paramilitary-style uniforms were also in attendance.
#BANK DEBT: A deal on Ireland's banking debt may not be as close as we think with a report from Bloomberg indicating the matter will not be discussed at next week's meeting of EU finance ministers. Despite this the Department of Finance said today it was committed to the timeline for getting a deal before the end of October.
#AER LINGUS: Four Aer Lingus cabin crew were hospitalised in Dublin last night after turbulence on a flight from Milan to Dublin Airport. The Irish airline said it is investigating the matter.
#ALPS SHOOTING: Police investigating the shooting of a British family in the French Alps this week have arrived in southwest England to search the home of the Al-Hilli family. Investigators said today they expected their probe to be 'long and complex'.
#PAY UP: Communications Minister Pat Rabbitte has said that people should be prepared to pay for a national broadcaster as media types gathered in University College Cork today where RTÉ's TV50 conference was being held.
#PARALYMPICS: It's been a remarkable Paralympic Games for Team Ireland with athletes winning treble the amount of medals they were expected to take home but there was no success in the pool tonight as the games came to a close with Darragh McDonald coming fourth in the 100 metre freestyle final. There was also disappointment for James Scully.
THINGS WE LOVED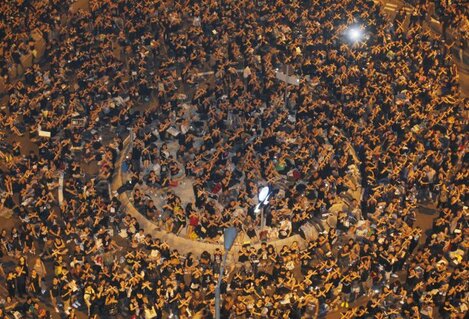 Kin Cheung/AP/Press Association Images
THINGS WE SHARED
Last night's dreadful performance by the Republic of Ireland in Kazakhstan has provided plenty of talking points today. The Boys in Green may have won but the late victory over the 142nd best side in the world had James McClean in a brief rage on Twitter, while there was plenty of debate among the panel over on RTÉ. But the big question is, should Trapattoni stay or go?
This video of a woman being filmed by her son sleepwalking has been doing the rounds in the last day or two and while it might seem a bit harsh, the mother's reaction in the second video is fairly relaxed:
YouTube: stillsoundlyawake