NEED TO CATCH UP? TheJournal.ie brings you a round-up of today's news.
IRELAND
Lakeland's Terenure, Dublin Source: Mike Wyley
INTERNATIONAL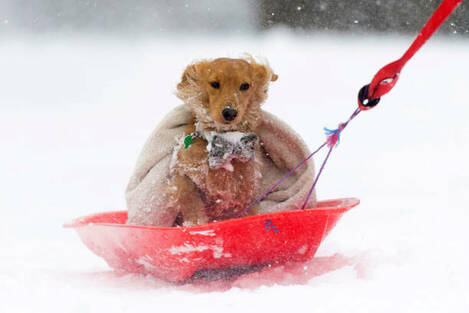 Walton the dog gets a lift on a sledge in the Abbeyhill area of Edinburgh, Scotland Source: Matthew Horwood via Getty Images
#BREXIT: British Prime Minister Theresa May has conceded that no side in the Brexit talks can get exactly what it wants.
#SHOOTING: Two people have been shot and killed on a university campus in the US state of Michigan.
#ENGLAND: An English man who held two members of staff at a bowling alley hostage has been jailed for 12 hours today.
#FRANCE: A French judge has ordered four men to stand trial over a 2013 scandal in which horsemeat was passed off as beef and used in ready-to-eat meals sold across Europe.
PARTING SHOT
Many of us were either trapped indoors today or just didn't fancy heading outside to the snowy conditions.
However, these four snowmen powered through and had a lovely picnic in their back garden.
Oldtown, Newbridge, Kildare Source: Ash Quinn
Get our daily news round up