EVERY WEEK, TheJournal.ie casts its eye over events inside and outside Leinster House that have got people talking.
In politics, as in life, there are people who win and people who lose.
So here are our political winners and losers from the past seven days:
The 5 winners of the week are…
1. Mick Wallace
The much-maligned independent TD has been raising the claims of garda whistleblowers Maurice McCabe and John Wilson for two years, but has been virtually ignored by the establishment, including Alan Shatter. The Justice Minister has never been anything more than dismissive of the claims Wallace and colleagues Clare Daly and Luke Ming Flanagan have raised about garda misconduct and mishandling of cases:

Now it appears Wallace and Co may have been right all along. Not that they will get any great credit for it with the Taoiseach essentially only deciding to take the McCabe allegations seriously when Fianna Fáil leader Micheál Martin raised them. If we've learned anything this week – and we've still an awful lot to learn about what went on here – it's that we ignore and dismiss the likes of Wallace at our peril.
2. Peter Mathews
The vocal independent TD is never afraid to speak his mind and this week introduced a bill allowing Oireachtas members to be responsible only to their conscience and not any orders or instructions from their political parties.
Effecting this change would require a referendum to change the Constitution and Mathews, whose conscience saw him vote against the abortion bill last summer, will almost certainly not have his bill accepted but it's an interesting idea which, as he points out, is already in the German constitution.
3. Brendan Griffin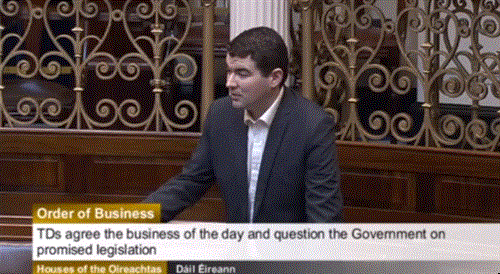 The Order of Business livened up a bit on Wednesday when the Kerry South TD got kicked out of the Dáil for a bit of mischief-making. But Griffin was making a valid point about using the daily slot to allow members to discuss more substantive issues.
Presently TDs can only ask about the status of legislation, but what if they were able to raise issues of importance that day or week, much like they do in the Seanad? Surely it would make the Dáil and the Order of Business more relevant to what's going on in the country.
4. Tony Mulcahy
The Fine Gael senator complained that the Oireachtas Justice Committee's hearings on domestic violence would be ignored because of the 'circus' going on with the GSOC controversy. But his powerful and emotive contribution ensured that they weren't.
We highly recommend that you watch and listen to his contribution last Wednesday afternoon:

YouTube: OireachtasRetortTV
5. James Reilly
The Health Minister's appearances in our losers section are as regular as the crises that flare-up in the health service, but he's a winner this week after getting a winning endorsement from Enda Kenny at a Fine Gael event in Dublin this week. During a lengthy, passionate and rambling speech Kenny told the embattled minister "we will give you all the help you need." Does that include keeping him in the Department of Health beyond the reshuffle?
… and the 5 losers of the week are…
1. Alan Shatter
This was a no brainer. When you're explaining you're losing and the Justice Minister was doing an awful lot of explaining about the GSOC controversy this week and still has an awful lot of explaining to do when it comes the new allegations raised by Fianna Fáil Micheál Martin about criminal cases as serious as murder being mishandled.

Both Martin and Sinn Féin think the minister should resign. The Taoiseach is taking this all very seriously and while Shatter may have no intention of doing what the opposition parties want him to, his position remains under threat as long as these serious issues remain unexplained.
2. Alex White
The junior health minister got himself in a spot of bother over suggestions that free GP care might not be so free. He has attempted to row back on the comments, but it feeds into the general confusion about just what kind of health service we're going to have in the coming years.
As well as all that, White had an unfortunate Twitter mishap this week and became the latest politician to claim his account had been compromised: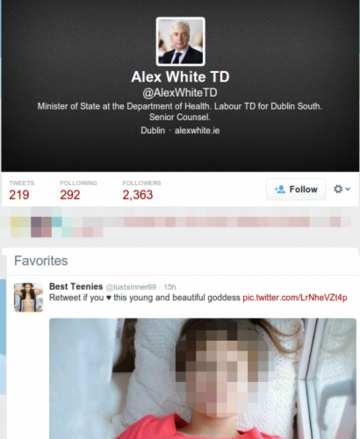 3. Enda Kenny
Amid all the Shatter-related controversies it went largely unnoticed this week that the Taoiseach made a bit of a hames of explaining his position in relation to attending the St Patrick's Day parade in New York, where a ban on LGBT slogans has some calling for an Irish government boycott.
Richard Boyd-Barrett put forward a very reasonable idea that Kenny would wear a rainbow badge in solidarity with the LGBT community, but Kenny was not for turning: "I will be certainly very happy to wear the symbol of Irishness on St Patrick's Day in New York. That is called the shamrock. As I said the parade is about our Irishness and not about our sexuality."
4. Brian Hayes and Ruairí Quinn
Someone has to run the country while the Taoiseach, the Tánaiste and dozens of ministers are off gallivanting for Paddy's Day and this year the thankless task has fallen to the Education Minister and Hayes, the junior finance minister, who'll be busy anyway plotting his European election campaign anyway.
At least Hayes (above) got a vote of confidence from Enda Kenny this week with his party leader declaring at the selection convention on Tuesday: "Brian Hayes is going to make a brilliant MEP. I like him."
5. David Cameron
Irish governments past and present could give their British counterparts a lesson in how to lose referendums from seemingly winnable positions. This week, it emerged that an announcement by Cameron's chancellor that Scotland could not retain the sterling if it voted for independence had the opposite effect of what was intended, and in fact support for independence has increased.
Pics: Oireachtas TV, Photocall Ireland and Twitter