EVERY WEEK, TheJournal.ie casts its eye over events inside and outside Leinster House that have got people talking.
As the saying goes: 'You win some, you lose some.'
Though TDs and Senators have largely vacated Kildare Street for the summer there's still plenty happening politically.
So here are our political winners and losers from the past seven days and a bonus one that we can't decide on…
The winners of the week are…
1. Alex Salmond and the Yes campaign 
An exceptional performance from the Scottish First Minister in a debate with No campaigner Alistair Darling on Monday night seems to have given those fighting for an independent Scotland a timely boost and narrowed the gap to those who argue the country is better off in the UK.
Source: ODN/YouTube
2. Joe McHugh
The hard work has paid off for the new Gaeltacht Minister who gave a solid performance in his first radio interview 'as gaeilge' this week. McHugh was heavily criticised when appointed in July but he's shown a determination to get to grips with the language in recent weeks.
3. Brendan Griffin
There are a lot of ice bucket challenges doing the rounds but the Fine Gael TD put a lot of effort into this. All for a good cause:
Source: Video TheJournal.ie/YouTube
… and the losers of the week are…
1. Paschal Donohoe
The Transport Minister insists he doesn't want to get involved in the Irish Rail dispute as more strike action looms and yet he continues to stoke the fires. This week Donohoe pointed out that striking workers will lose more in wages than if they accepted the pay cuts that are on the table, doing little to further progress on resolving the issue though the LRC has now intervened.
2. Ged Nash 
The new junior jobs minister may be courting the Labour base by talking about wage hikes, but that does little to endear himself to the organisations he's actually expected to work closely with like the Small Firms Association which this week warned against talk of raising workers' pay.
3. David Cameron 
The British Prime Minister lost one of his MPs to the UK Independence Party (UKIP) this week. Douglas Carswell's defection underlines the growing threat that UKIP is posing to the Conservative Party in the UK with a general election less than a year away.
… and the one we couldn't decide on is…
Barack Obama's tan suit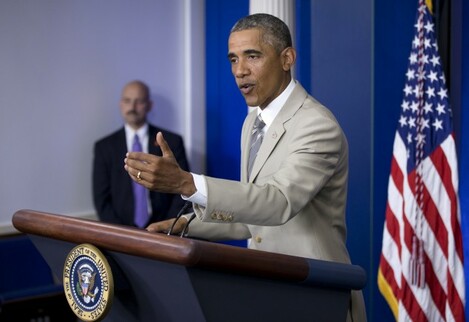 Source: AP/Press Association Images
Of course the substance of what he was saying was far more important but the US President's tan coloured suit generated a huge amount of debate on Thursday night. We're not sure whether it's a good look or not.
We can't decide on this one. So what do you think? Is Barack Obama and his tan suit a winner or a loser this week?