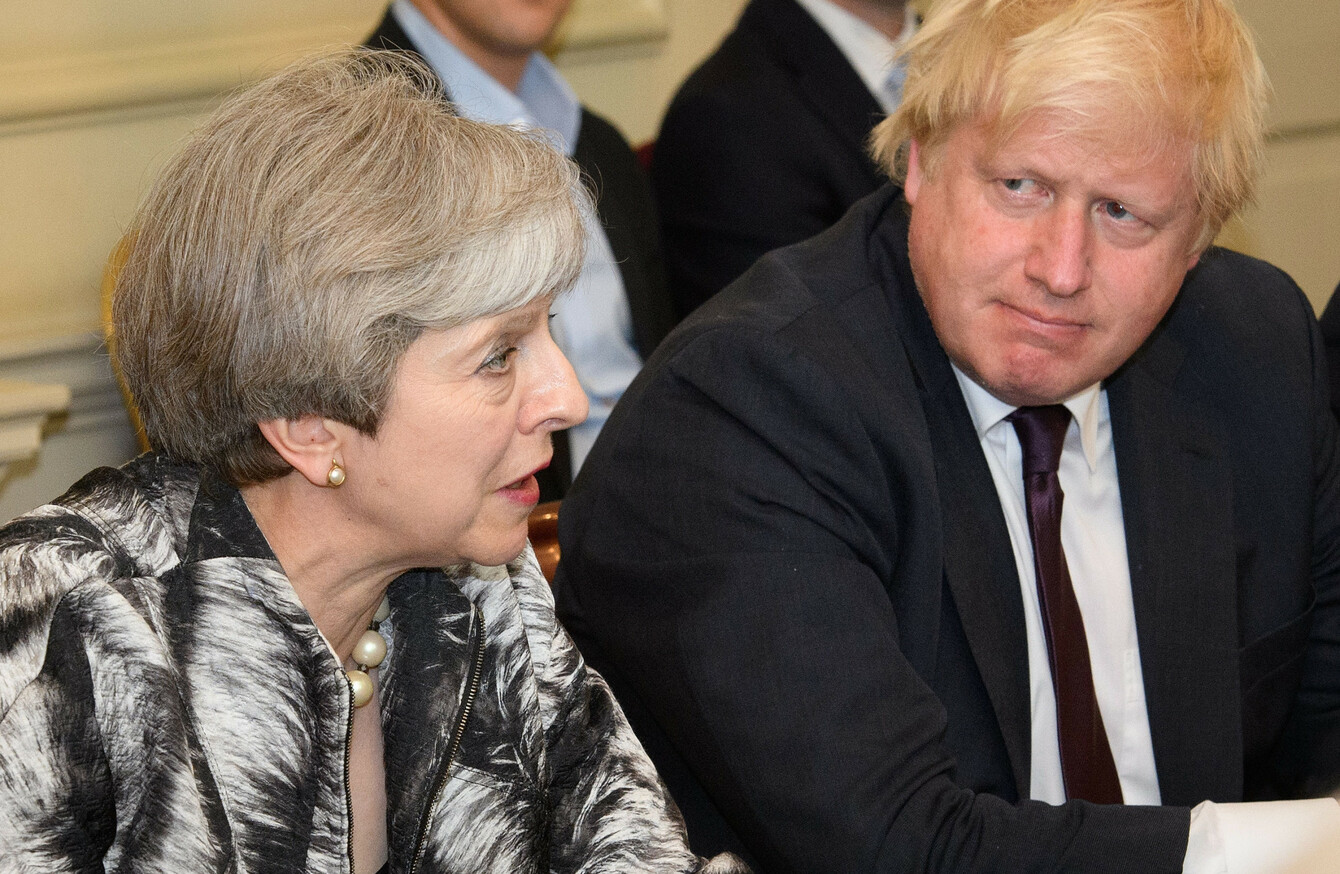 Theresa May may face a leadership challenge from Boris Johnson.
Image: Leon Neal/PA Images
Theresa May may face a leadership challenge from Boris Johnson.
Image: Leon Neal/PA Images
IT'S BEEN A turbulent 24 hours for British Prime Minister Theresa May.
First, the Brexit minister and chief negotiator with the EU stepped down. Then her foreign secretary – and chief rival for leadership of the Conservative party – resigned.
The resignations of David Davis and Boris Johnson have come just days after her cabinet agreed a "collective position" on its Brexit negotiations with the EU.
What kind of deal the UK reaches with the EU has left the British government bitterly divided and, with today's resignations, May's plans for Brexit could now be in ruins with the potential for a challenge to her leadership now appearing likely.
Here's how we got here:
'Brexit means Brexit'?
Phrases like "Brexit means Brexit" and "nothing's agreed until everything is agreed" have been worn thin by the deadline set in place for the UK to leave the EU.
That date is 29 March 2019 and an awful lot still has to be decided.  The EU and the UK are divided on a large number of issue, including customs and trade negotiations, the free movement of EU citizens and the issue of the Irish border.
Meanwhile, large divisions exist within May's own Conservatives party and cabinet over what sort of approach the UK should take to Brexit.
Both the Irish government and the EU have been sceptical to Britain's proposals to solve all the problems that Brexit will create so far.
The hard Brexiteers among the Tories – who count Boris Johnson and Jacob Rees-Mogg among their ranks – want a complete break from the EU.
They want the UK to leave the EU's Customs Union and Single Market, and have adopted a hardline approach to negotiations with the EU.
(All sides insist that there can be no hard border between the North and the Republic post-Brexit but no solution has been found so far to reconcile leaving the Customs Union and Single Market and avoiding a hard border. However, a time-limited backstop has been agreed that would keep things as they are until December 2021 at the latest in lieu of a satisfactory deal.)
On the other hand, remainers within the Conservative party have sought to give parliament the power to given the opportunity to intervene to stop Britain crashing out of the bloc.
Theresa May has attempted to navigate the tricky waters between both sides of her party, but fell decisively down on the softer side of Brexit with the "collective position" on the negotiations agreed by her Cabinet on Friday.
'Free trade area'
After a marathon day-long meeting with her ministers on Friday, Theresa May outlined the UK's stance to negotiations, which has been dubbed the Chequers agreement.
"Today in detailed discussions, the Cabinet has agreed our collective position for the future of our negotiations with the EU," she said in a statement.
In a video shared on the UK Prime Minister's Twitter page, the 12 key principles the UK would approach negotiations with were outlined.
But the key principles are quite vague. They include "ending free movement", "no more sending vasts sums of money each year to the EU", and "a new business friendly customs model with freedom to strike new trade deals around the world".
Interestingly enough in relation to the Irish border problem, the UK government is proposing a new "UK-EU free trade area with a common rulebook for industrial goods and agricultural products".
This would require the UK and EU to agree on what regulations it applies to goods – but the EU is unlikely to lower its standard of regulation of goods in order to create a customs arrangement with the UK post-Brexit.
It also reaffirmed its commitment to "no hard border between Northern Ireland and Ireland or between Northern Ireland and Great Britain".
In a letter purporting to be from May herself to Tory MPs on Friday, it instructs Cabinet members to agree with the proposal outlined, hinting that there they will be out of a job if they don't comply.
'Weak'
In his resignation letter, former Brexit secretary David Davis said that the Chequers agreement has the UK in "at best a weak negotiating position, and possibly an inescapable one".
He made the point that Theresa May's approach would leave the UK in a largely similar position to the way it deals with the EU now.
Davis said that the supposed control that the UK would be taking back from the EU through Brexit would be "illusory" under May's plans.
He said the common rulebook idea "hands control of large swathes of our economy to the EU and is certainly not returning control of our laws in any real sense".
He later told BBC Radio's Today show that "it seems to me we are giving too much away too easily".
Boris Johnson, meanwhile, has been a vocal opponent of May's approach from the get-go.
Johnson called the UK's post-Brexit customs plans "crazy" in an interview in May.
"That's not taking back control of your trade policy," he said. "It's not taking back control of your laws, it's not taking back control of your borders, and it's actually not taking back control of your money either because tariffs would get paid centrally back to Brussels."
It was reported yesterday that Johnson had described May's Brexit proposals as "polishing a turd" in the course of the day-long meeting of ministers at the Prime Minister's country retreat.
Johnson was fancied to compete with May to become Prime Minister after David Cameron's resignation, but his campaign never got off the ground. Now, it's a very different story.
What happens now?
Theresa May now has a battle on her hands.
Two senior ministers have stepped down. After disagreeing with her policies for quite some time, Boris Johnson's resignation has now lain down the gauntlet to May.
He could be a rallying point for hardline Brexiteers opposed to the Prime Minister's approach to Brexit.
Removing May from her job would be difficult, however. It requires 48 MPs to write to the Conservative's backbench committee to trigger a vote of no confidence in May.
With 330 Conservative seats in parliament, it's likely May would win such a vote. But, if she didn't, then that would open the door for a leadership challenge from Johnson.
And, with a party bitterly divided, a general election could be on the cards in the near future with Jeremy Corbyn's Labour party hopeful of exploiting the current chaos and building on the gains made in the general election last year.
With only nine months left until Britain leaves the EU, its government is precariously placed.
With reporting from Cormac Fitzgerald