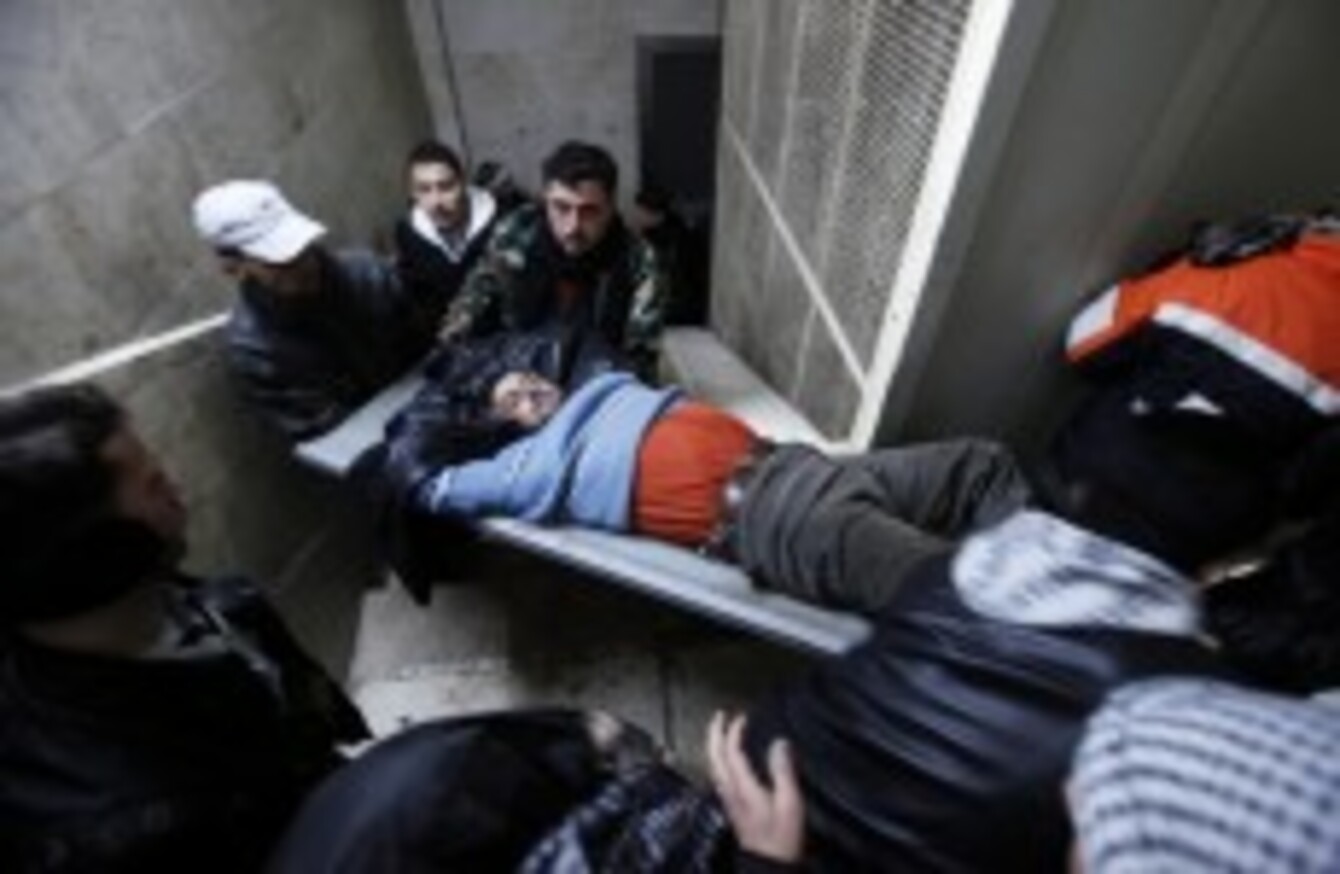 An injured Syrian rebel fighter is carried into a local hospital in Idlib, Syria
Image: STR/AP/Press Association Images
An injured Syrian rebel fighter is carried into a local hospital in Idlib, Syria
Image: STR/AP/Press Association Images
RECENT DAYS HAVE seen a surge of violence in Syria, with regime security forces shelling civilians in Homs and fighting street battles with the 'Free Syrian Army' of lightly armed rebels.
Hundreds have died in the attacks, according to reports, with many more wounded. Those injured are often unable to go to hospital, for fear of being arrested and detained.
International medical humanitarian organisation Médecins Sans Frontières has collected testimonies from wounded people who managed to escape to neighbouring countries. They present a chilling picture of torture, abuse, and even unnecessary amputations.
Here are some of their stories:
1. "They tied a detonator to my hand": A 34-year-old man's story
I was injured in December, and I was detained during a demonstration against the president. I was detained and tortured for 15 days, and on the last day, day 15, they put the picture of Bashar al-Assad in front of me and told me to kneel to the photo, saying, "kneel to Allah Bashar." I told him I only kneel to God and I tore the picture. They went crazy when I was tearing the photo, as if I was tearing out their soul.
So they took me to the colonel. They beat me badly, to the point that I was about to faint. They tied my hands behind my back and took me to the colonel and he said, "my son"- he didn't really say "my son," he cursed me, but I will put it like this because it was a very bad insult. He asked, "Don't you know that whoever cuts the picture or lays a hand on the president, we will cut off their hands." I said, "As you wish, sir." He kicked me, and I fell from the top of the stairs down to the last one.
After that, they covered my eyes and spread my arms and tied them (like a crucifix), and they taped something to my hand. I didn't know what it was but later found out that it was an electric detonator. They put up some sort of a shield and they blew it up.
Within less than a minute, I felt something warm on my feet. It was my blood. I was bleeding heavily and I lost consciousness. I woke up in hospital, I wasn't totally conscious in the hospital, but my friends found out I was there. They kidnapped me from hospital and took me to a house, and they brought doctors who came and treated me in that house.
In detention: they curse and insult and were constantly beating us and they tie up people's arms like [they're on a] crucifix. Some guys were subject to the removal of their fingernails. Others were flogged, and there are others who had their backs broken. They put them on a certain board; they make the person lie on it and then the sides of the board are lifted and the back cracks.
They use many methods. With me, they taped a detonator to my hand; it had TNT, which was tied to a long string linked to a battery. Then they put on the electric detonator and blew it up. I lost three fingers and two-thirds of the remaining two, along with most of the palm of my hand.
Photo: A Syrian rebel (not in story) retreats for medical treatment following an exchange of fire with army troops in Idlib (AP/Press Association Images)
2. 'Some died next to me': A 29-year-old man's story
I was injured November 31st. There was an attack by the Syrian security forces. There were tanks and there was firing by the tanks. My mission was a media one. I was supposed to film and show the truth on free channels and Al Jazeera. It was a horrific attack.
There was a man who was wanted by the security and they stormed his house and broke the glass. They couldn't find him but found his father. I was filming all of this from the bedroom of a house next door. I was moving and the snipers saw me and they were trying to hit me or shoot me in the head. There were several shots on my arm. It was an explosive bullet. It destroyed three fingers and a quarter of my hand.
I was lucky because I went into a house where there was a woman delivering. They took me into the house and put me in the place of the woman. And the security were after me. When they arrived in that house and saw the blood, the people were shouting and saying, "Why are you coming here? There is a woman having a baby!" And that is how I was saved. The security went to other locations.
But the doctors could not do much for me. I was bleeding heavily; they were tightening [a tourniquet] around the wound to try and stop the bleeding. The pain was so bad I wished I was dead. And I call on all those who care about human rights to ensure we receive at least local anaesthesia, because the pain I endured was too much.
After the security left, the guys came to move us to another location. In the situation that we have in Syria, you cannot go to a hospital, because if you do, they either amputate the limb that you are suffering from or they take you to prison. I was detained twice and what we saw is that some of those in prison are left to have their wounds rot. Their injuries rotted and they were not taken to hospital. Some died next to me, while others were urinating blood from the internal bleeding they were suffering from. And no organizations or doctors or MSF are allowed to go into prison.
#Open journalism No news is bad news Support The Journal

Your contributions will help us continue to deliver the stories that are important to you

Support us now
The field hospital [is normally in someone's house, moving from one house to another]. There were no ambulances; any ambulance was targeted and shot at. And the doctors who are brave enough are also watched or arrested, or they rape his wife in order to prevent him from taking any action. Or they place them under house arrest.
Photo: An injured Syrian rebel fighter is carried into a local hospital in Idlib (AP/Press Association Images)
3. 'We were all electrocuted': A 24-year-old man's story
I WAS INJURED around eight months ago. We were in a peaceful demonstration and were demanding reforms. They started firing tear gas bombs, and shrapnel hit me in the chest. It was the Syrian security who did this. Then there was shooting with live bullets so the guys carried us and took us to a mosque. I needed an operation, but I could not go to hospital because it was filled with security people.
They used basic material for treatment, like bandaging and antibiotic pills. The security was surrounding all the hospitals and anyone who goes there will be detained. Now, the impact of the shrapnel hit my chest, where there is excessive tissue, but this tissue needed to be removed according to the doctor.
I have gone without treatment for seven months. I was also detained. That happened on the 27th or 28th day of Ramadan. I went out after the Eid.
Tortured? Yes. They took me at 1am, and they kept beating me until 4am. We were also tied with hands apart and chained, and they used whips and kicked and insulted me. There was no medical treatment in detention. We barely got food. There were 60 people in a room, some sleep standing up, others sitting down. Those who have their names called out go out, but we don't know where to.
After one or two hours they come back exhausted from the beatings and the torture. They put us in a yard and make us take off our clothes, and they spray us with water and they stand far or on top of a chair, and they electrocute the wet floor. We were all electrocuted. They also use a certain chair to crack the back of the person. Those who are injured or have broken bones are not treated. They have to endure until they are released.
For more information on MSF's work around Syria, visit msf.ie.