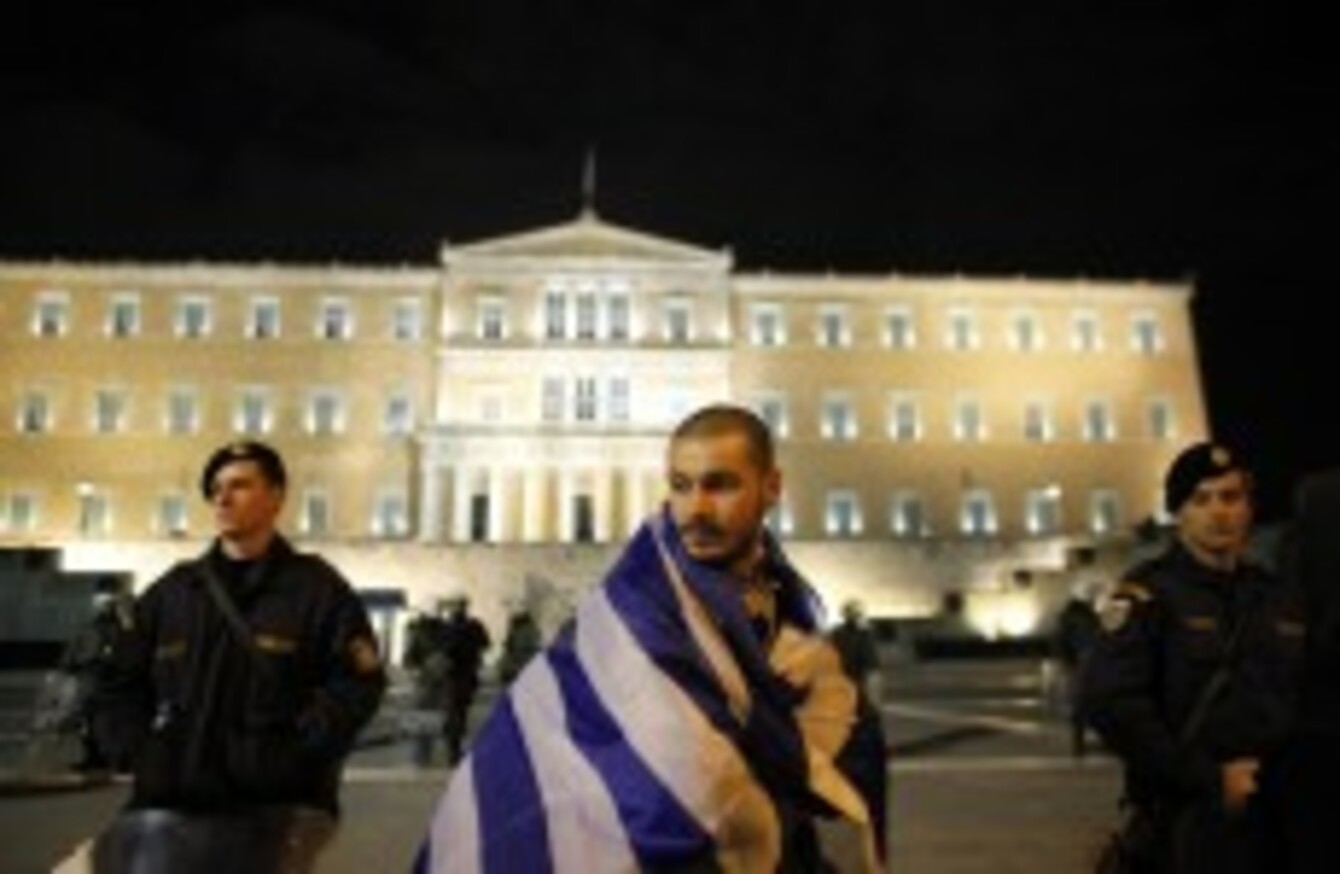 Image: Kostas Tsironis/AP
Image: Kostas Tsironis/AP
GREECE'S NATIONAL BANK has made an unusual intervention in the country's general election campaigns, portraying an apocalyptic picture of what would happen if the country was to leave the eurozone.
The National Bank of Greece said incomes would fall by 'no less' than 55 per cent, with similar falls in the values of property and bank deposits.
The bank said the average income of each person in the country would fall from its current level of €19,400 per year to around €8,700, according to Greece's English-language newspaper Ekathimerini.
Unemployment would also continue to rise – from its current level of 21.7 to over 34 per cent, meaning one in three people would be unemployed.
It also warned that GDP would fall by 22 per cent, on top of the tumbling economic output of the last two years.
That's not all – the bank goes on to say that with a reintroduced drachma being devalued by up to 65 per cent, bank interest rates would reach 37 per cent while inflation would spiral to 32 per cent.
In dealing with its mounting national debts, meanwhile, Greece would be faced with having to enforce a huge write-down – with the debts still being issued in euro while Greece operated on a massively devalued national currency.
The bank suggests a default of up to 80 per cent would be needed in order to bring the debt bank under control.
In parallel with this, non-performing loans at the country's banks would gobble up a third of their total deposits – a deposit book which is falling all the time amid continuing uncertainty about Greece's fiscal future.
It also warns that the prospect of leaving the eurozone should no longer be considered a hypothetical "case study", and says the economic situation is now so delicate that a euro exit could arise simply as the result of "improper handling".
New opinion polls in Greece this morning show over 80 per cent of people believing Greece should stay in the eurozone "at all costs", though an almost equal chunk of the population want the terms of its EU-IMF bailout to be dramatically relaxed.
The left-wing Syriza coalition remains highly popular, however, with the support of 22 per cent of voters – only one point behind the conservative, and pro-bailout, New Democracy.
Greece will hold a second election on June 17 after the first one provided an inconclusive result and made it impossible for a government to be formed.