THOUSANDS OF PEOPLE have been attending some of a series of anti-nuclear rallies across Japan today to mark the three month anniversary of the devastating 9.0-magnitude earthquake and tsunami which struck on 11 March.
Over 15,000 people were killed and another 8,000 are missing, presumed dead.
The disasters triggered the world's worst nuclear crisis since the Chernobyl accident in the 1980s. Three of the Fukushima power plant's six nuclear reactors suffered a meltdown during the crisis and plant operators are still working to shut the plant down completely.
More than 80,000 people who lived in the area surrounding Fukushima were forced to evacuate from their homes and, unable to return, many are still living in emergency shelters. Last week, Japanese officials more than doubled the original estimate of the level of radiation leaked in the disaster.
The Fukushima crisis has renewed a national debate on the use of nuclear power, which Japan is heavily reliant on. Damage caused to Fukushima and another major nuclear power plant forced both to stop producing energy, which people fear will lead to an electricity shortage over the summer. In an effort to ease pressure on electricity supplies, the government launched a campaign to encourage workers to dress in lighter clothing in the office, thus sparing air conditioning.
The AFP reports that frustration over the post-earthquake recovery has been growing, particularly as so many people continue to live in shelters, unable to work and relying on donated meals.
- Additional reporting by the AP
[caption id="attachment_153865" align="alignnone" width="512" caption="Relatives of victims offer prayers in front of a small shrine built outside the Ohkawa Elementary School where 68 children out of enrolled 108 were killed and six are still missing after the 11 March tsunami hit the area in Ishinomaki, Miyagi Prefecture, 11 June, 2011. (AP Photo/Kyodo News) "]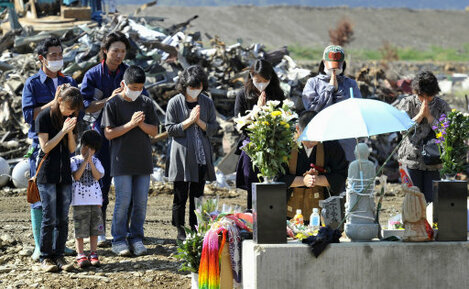 [/caption]