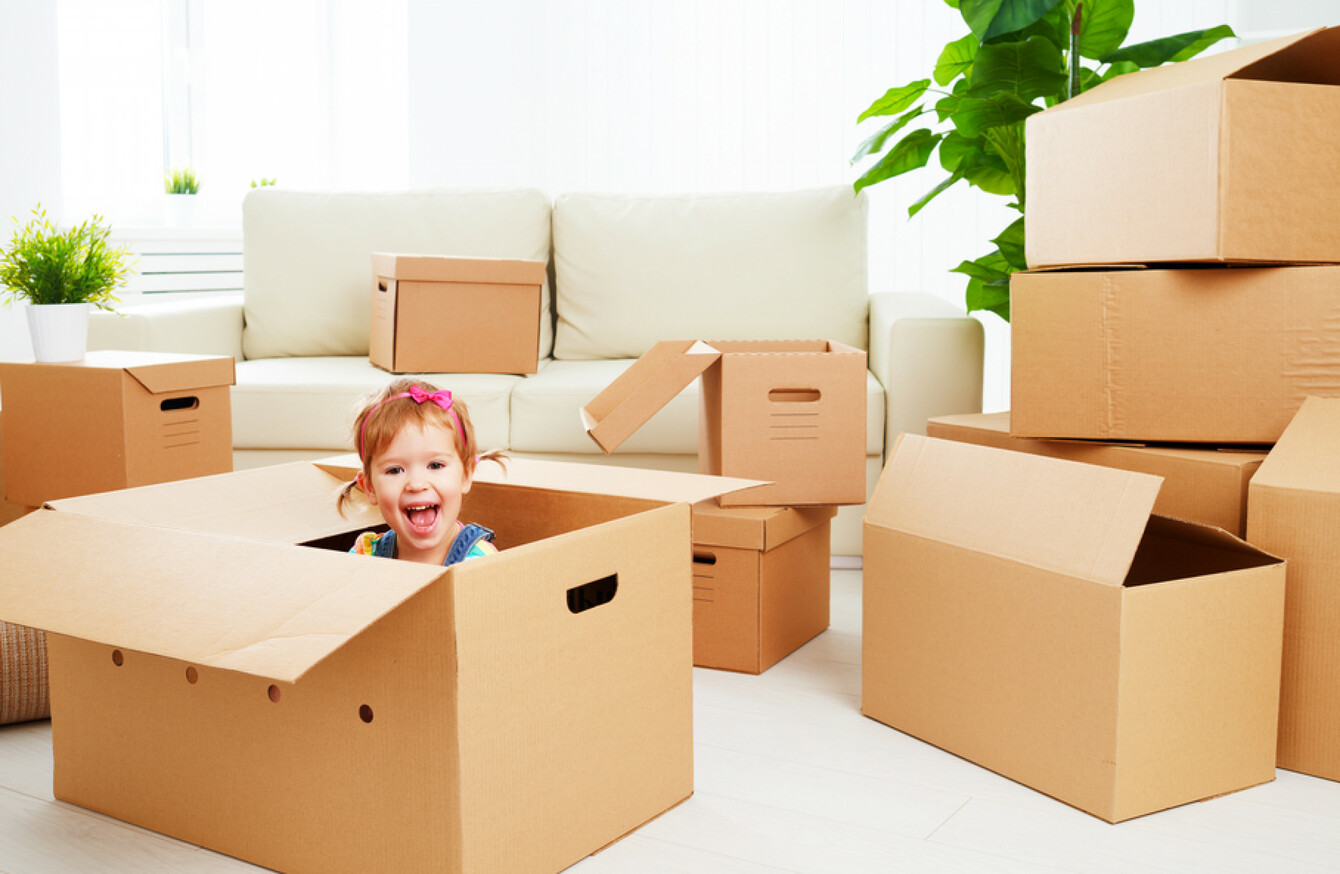 Image: Shutterstock/Evgeny Atamanenko
Image: Shutterstock/Evgeny Atamanenko
NO MATTER HOW far you're headed, everyone in your family has adjusting to do when you move house.
Your kids will be starting new school or childcare routines, and you'll need to work on building a new support system and making new friends. Thinking ahead to these adjustments, both for kids and adults, can help you all settle into your home more quickly.
Four months ago we moved our family back from Houston, Texas, where we'd spent three years and gained two children.
With the gift of hindsight, I've realised that while I spent a tonne of time thinking and planning for the logistics of the 4,000 mile move, I should have begun to prepare our whole family for adjusting once we actually walked in the door of our new home.
I've learned a thing or two about how I'd prepare myself and our family if I had the move to do over again, but since we're staying put for a while, I'll share them with you in the hopes that someone else can benefit from the lessons I've learned.
If you have a move on the horizon, these tips will help you all settle more quickly into your new home. 
For Kids… 
1. Bring comfort items/sheets
Whether you're moving 40 minutes down the road, or 4,000 miles away, one of the best ways to help a child get settled in a new space is to replicate their sleeping situation in the new home. Bring their sheets and pillows and get them set up as soon as possible so they have a sense of calm and familiarity in the new space. 
2. Find similar new routines
Do you go to the same chipper every Wednesday night? The same coffee shop as a family on Saturday mornings? Scout out a few new traditions in your new home that can fill the gap that you all might be feeling in your new life. A new coffee shop for hot chocolate can be a lovely new routine that functions as positive reinforcement for your kids.
3. New school? Make a visit there early on
Your kids may be adjusting to a new school or childcare, so if you can set up a time for them to visit before you move, that can help them picture what would otherwise be a big unknown. Introducing them to their new teachers and a few students, and then talking about those people by name can help them start to feel like they actually know people in this new place.
4. Get paperwork sorted as soon as you can
Our kids were born abroad, so we had the task of getting PPS numbers for them and sorting out their citizenship when we first arrived here. If you have those sorts of tasks to do, block out time as soon as possible to cross those off your list. You're bound to need those details in order to check off other parts of your list, like getting a GP card or sorting child benefit.
For Adults…
5. Get help minding kids so you can adjust
Book a babysitter or bring the grandparents with you for a few days when you first move. It seems tricky to spend time away from your kids during such upheaval, but in the end, having your house unpacked more quickly will help everyone settle more quickly. If you aren't moving very far, you can go ahead and set up house before you bring your kids over.
6. Remember that you need to make new friends too
Making friends as an adult is no small task, and it takes time. The best advice you can take is to put yourself out there in the school drop-off line, at the playground or even at a coffee shop. I met my best friend in Houston simply because we sat next to each other in a cafe and I said hello because thought she looked friendly. It wasn't the easiest conversation to start, but it was well worth it!
7. Mine local Facebook groups for insider knowledge
Since I had children in the States, I had to find new resources for all those parenting questions I had. Where can I buy a nappy bin? How do I find a good GP? Have a look on Facebook for groups that might be able to help you answer those questions. An acquaintance added me to a childminder-finder group and I've been able to ask the mums in that group other questions as well.
8. Take breaks from unpacking
If you're undertaking a large move, you will burn out quickly if you don't take breaks. I'd prefer to plough through the to-do list before stopping, but staying up until midnight to get everything put away or painted or organised for weeks on end isn't sustainable. You'll need to take breaks and walk away from the pile of boxes in order to make it to the end of this part of the journey!
For All Of You…
9. Remember that it takes a while to feel like home
Having made a few intercontinental moves in the last decade, I always remind myself that it tends to take a full year for a new place to feel like home. If, in six months, you still feel unsettled, remind yourself (and your kids) that adjusting to a new home is a slow process.
10. Talk about your old home with love, not sadness
When we left Houston last summer, a friend said she hoped we would soon be able to think of Houston fondly rather than sadly. One of the ways we've achieved that is to talk about our old home lovingly with our kids. If they express that they miss something, we talk about what they miss and how it made them feel. We try not to shy away from feelings of homesickness and instead help them remember their old home and the memories we made there.
11. Plan fun activities in your new area
Everyone in the family needs time to enjoy their new neighborhood or city. Plan adventures to explore your new home outside of your house. Check out museums or playgrounds, and begin the process of making new memories in your new home.
We're giving away an overnight stay with dinner at the luxurious Lyrath Estate in Kilkenny. Want to win? Enter here – and don't forget to subscribe to our Family Newsletter below!