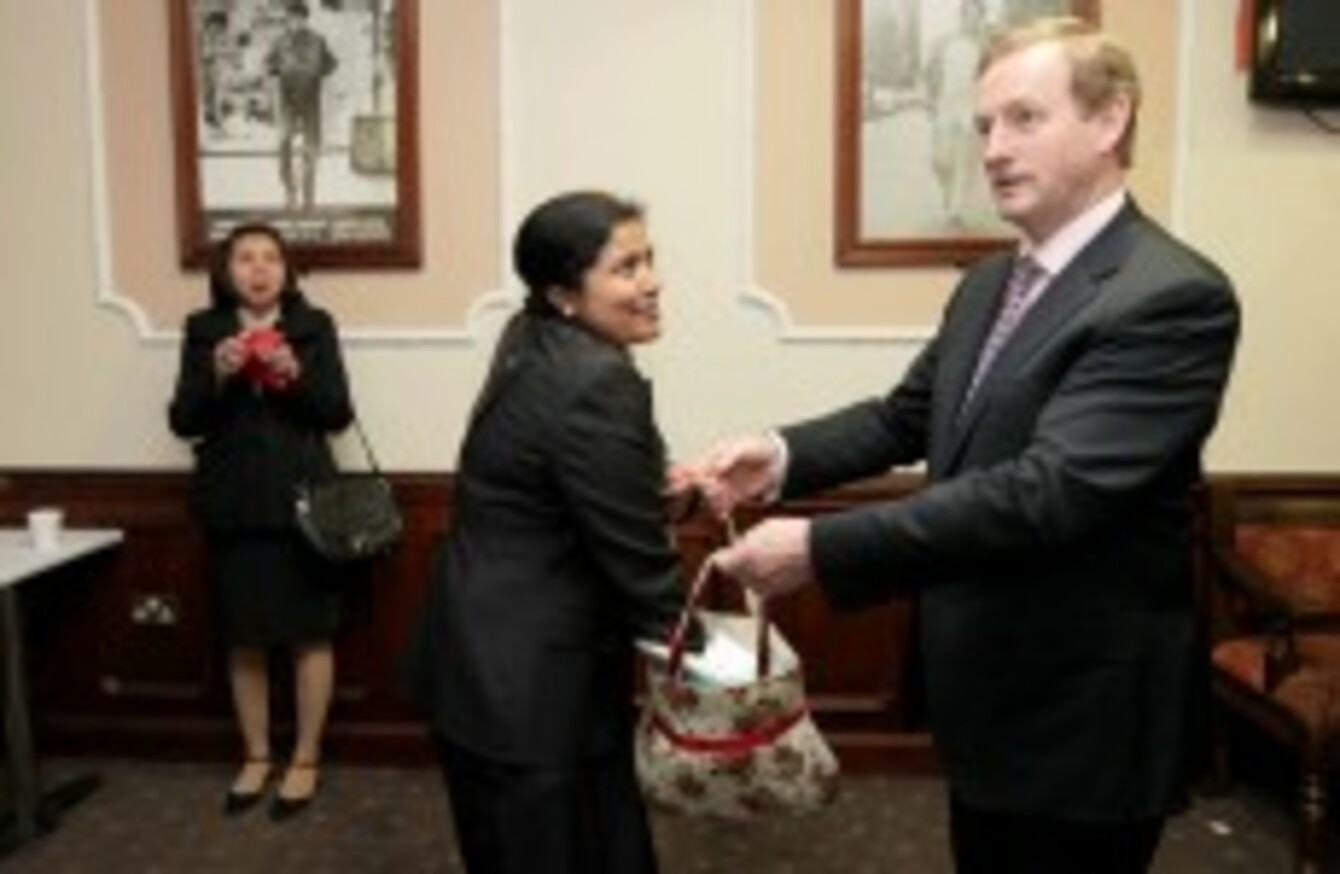 Enda Kenny holds open a bag for Maria Joseph at the Citizenship Ceremony in Dublin on Thursday.
Image: Mark Stedman/Photocall Ireland
Enda Kenny holds open a bag for Maria Joseph at the Citizenship Ceremony in Dublin on Thursday.
Image: Mark Stedman/Photocall Ireland
EVERY WEEK, WE take a look at the best comments left by you lot, our lovely readers, here on TheJournal.ie.
As always, the comments have attracted a lot of debate and discussion. This week you've been talking a lot about the only TD in Ireland who doesn't claim expenses, Magda's story, Groundhog Day, allowances for communion dresses, Facebook's billions, public sector retirements and keyboard warriors. Yes, it's been a strange week.
So without any further ado and in no particular order, here's a round-up of our favourite comments from the week.
The news that TDs claimed over €6 million in expenses last year angered a lot of commenters. Rossa Graham noted the hypocrisy between government expenses and cuts in vital services:
I am donating a kidney to my brother. the whole process has been going on now for quiet a while. We were told this week that funding might be an issue. People are going to die in our hospitals while that shower live it up on expenses. We are a warrior nation. Why are we not fighting??
Meanwhile Andy Crowe questioned why TDs were able to claim expenses in the first place:
This is a depressing read. I live in Dublin and commute to work in Scotland. I pay all my tax in Ireland. Yet according to the revenue none of my travel expenses or the €7000 I paid last year in B&B accommodation are allowable claims.
Exciting new footage of new North Korean leader Kim Jong-un stroking mattresses and touching larged stuffed animals appeared early in the week. It was pretty dramatic stuff (um…) and it led to this astute political analysis from Enda Lee:
He's better then his dad, Kim Jong il use to just point at stuff. The way Kim Jong un touches that mattress is surely a sign he's a more hands on leader.
A survey showing that half of drivers with penalty points thought that they were caught unfairly sparked a huge discussion among readers. Truck driver Michael J Hartnett explained why he disagreed with the points system:
I'll give it to you from a professional drivers perspective. I like most truck drivers have accumilated lots of points on my license. 3 speeding offenses were commited on dual carriageways @ night time & were in the order of 10 to 20 kmh over the limit. Twice on the phone one of those times i have no defense the other i answered stopped @ trffic lights. Now i have a relative & she has no points & she truly is the most dangerous driver of them all. I now have no points because im unemployed but when i go back to work i will probably have them again. Its the nature of my job i have to break the law to make money & until that changes i disagree with the points system.
One for the football fans. On Tuesday night TheScore.ie covered the story of a man who handcuffed himself to a goalpost during Everton's game with Manchester City – which led to this amazing/terrible (depending on your sense of humour) pun from James Gaffney:
Perhaps he was lonely and just wanted some Kompany…
The discussion of the 'Magda' article in this week's Irish Independent led
Pilib O Muireagan
to comment about how people on the dole can be viewed:
Im Irish and have been out of work for the past 18 months like this woman. Ive a box full of letters from jobs ive applied for but still no work. The fact she has done courses with the aim of setting up her own business is something that many Irish will not do. As for the people calling limits to the dole in.this current climate this is not possible. You look at the amount of people umemployed and look at the amount of jobs availible. It dont add up. I sincerely hope those who used the word "scrounger" and those who are calling for a limit on the dole lose their job and then come back.and tell us its possible.to.live on 188 a week
Hilarious that the accompanying image was um, knitted hearts… #onlyinireland
French leader Nicolas Sarkozy's announcement that he intends to impose a 'Robin Hood' tax led Adam Long to note this on European politics:
Sarkozy is willing to say anything at this point in order to cling to office but he is lacking in credibility. Hollande is comfortably ahead in the polls and his lead actually grows in the second and final round of voting. Merkel also faces a tough re-election battle next year and is on course to lose to a left-wing coalition.

Merkel and Sarkozy have shown an abysmal lack of leadership throughout this crisis and have made it increasingly difficult for those of us who remain staunchly pro-European to defend the whole EU project. We need new political leadership at the heart of Europe.
The announcement on Wednesday that there could be billions of euro worth of natural gas under Leitrim and Fermanagh led to a big discussion about fracking. Alice Charles explained her reasons for being against it:
I think those of you who are jumping to the support of fracking haven't researched what it actually involves. My parents land is identified for it, so we have been reading reports in relation to it from all over the world. Fracking involves drilling deep down into the earth and creating explosions to shatter and crack hard shale rocks to release the gas inside. Water, sand and chemicals are injected into the rock at high pressure which allows the gas to flow out to the head of the well.

In so doing, there have been numerous cases of severe groundwater contamination, reduced air quality due to the release of toxins into the atmosphere and the UK has stated that earthquakes have and do result from fracking and of course there is the long term public health concerns that are well documented in the US. All this is set to happen in Fermanagh & Leitrim, in areas designated as being of European Scientific Importance because of their flora and fauna, of Outstanding Natural Beauty and located in an UNESCO Geopark. These designations have resulted in severe restrictions on farming practices for the last 2 decades to protect this unique environment. In addition, the Marble Arch Caves & Geopark attracts a huge amount of tourists, who will not be coming if this practice starts.

The promotion of fracking is our Governments, North and South, merely looking for short term gain in the form of gas supplies for 20 years, but long term pain in terms of the environmental destruction and public health problems. My family could very well sit back and get rich, but we merely have the loan of this earth and want to pass on our family farm to the next generation in better condition that we found it, not destroy it! Our Government's would be better off concentrating on developing our renewable energy sector to its full potential and tourism initiatives for Fermanagh and Leitrim rather than this brianless initiative!
#Open journalism No news is bad news Support The Journal

Your contributions will help us continue to deliver the stories that are important to you

Support us now
And finally, in the second slightly North Korean-themed comment of the week, Simon Cunnane had this to say about the photograph of Taoiseach Enda Kenny holding open a bag for a woman at the Citizenship Ceremony in Dublin on Thursday (see above):
He could be on to something there…
Spotted any good comments? Let us know – mail christine@thejournal.ie with any suggestions for next week's Comments of the Week.