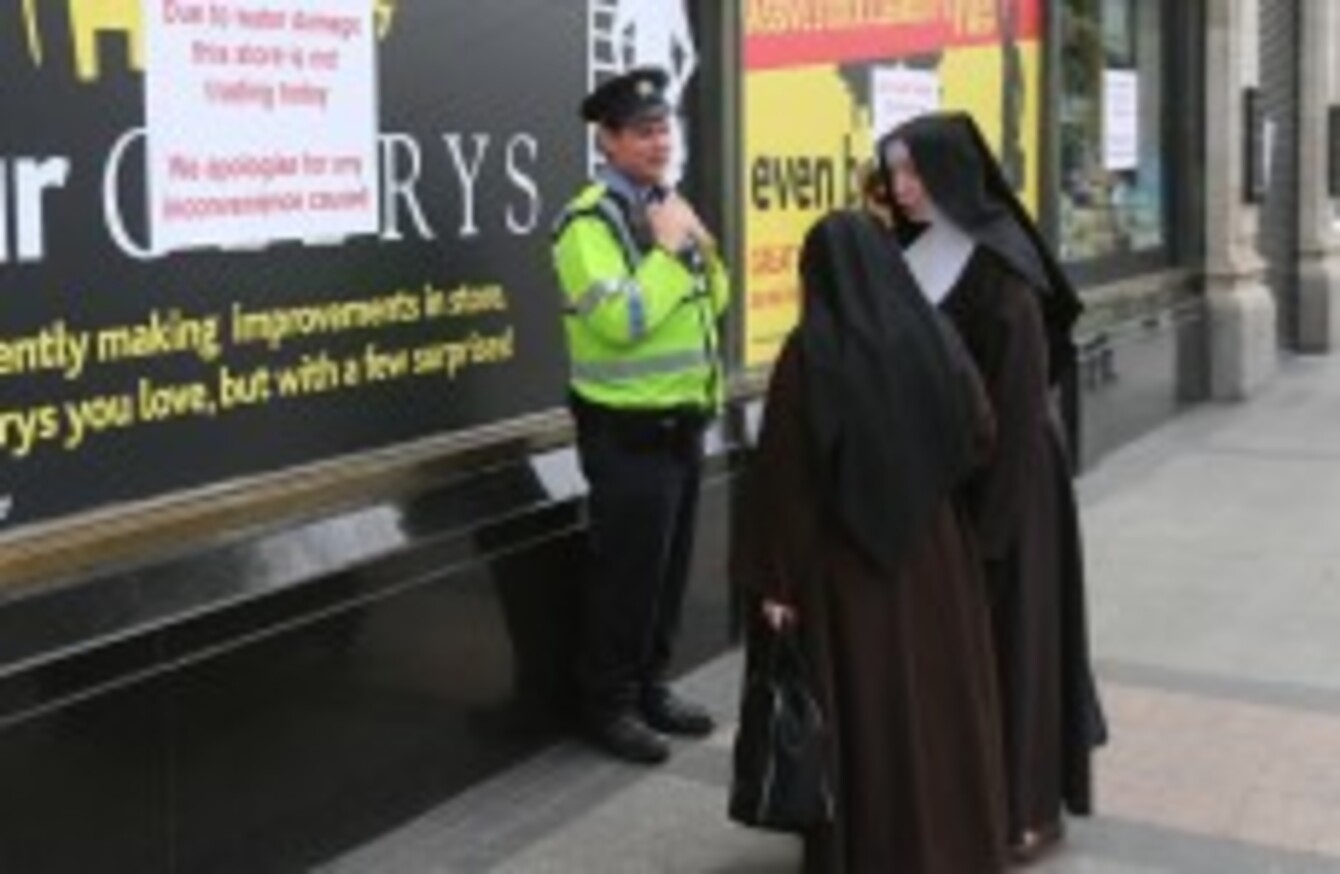 Two nuns talk to a garda outside Clerys department store which was closed due to water damage on Thursday
Image: Niall Carson/PA Wire
Two nuns talk to a garda outside Clerys department store which was closed due to water damage on Thursday
Image: Niall Carson/PA Wire
EVERY SATURDAY MORNING we take a look at all the best comments left on the site by our readers over the past week.
This week there was a lot of talk about blocking online porn, Irish abortion cases in the UK, the Council of State meeting on the Protection of Life During Pregnancy Bill, Irish names, and unexpected thunderstorms.
So here, in no particular order, are the standout comments from the week that was.
The top 5 articles which received the most comments this week
1. Challenge: Can you pronounce these baffling Irish names? (338 comments)
2. Chocolate bars: A definitive ranking from worst to best (337 comments)
3. Poll: Should the Irish government ban smoking? (316 comments)
4. How does Irish abortion law compare to the rest of the EU? (291 comments)
5. Permanent TSB tells customer in arrears of €200 to sell her house (283 comments)
Some of the best comments left on the site this week
(Caravan via Shutterstock)
Let's get the most controversial ones out of the way early. Yesterday we published this article by Michael Freeman with a definitive (ahem) ranking of chocolate bars from greatest to worst. Despite the hours of rigorous testing that went into the piece, a lot of people disagreed. A LOT. We liked this one from Jonathan Nolan…:
No offense Michael, but that list deserves punishment. I'm sending the Milky Bar kid after you.
… and from Brian Cavavan:
Bounty and Daim in top three? Are you high on coconut?
A lot of commenters who work from home appreciated this piece about the problems that they face – including this from Dan Walsh:
I worked from home for 3 years and apart from the fact that you get more time for yourself, I don't miss it in the slightest. My gas/electricity bills went through the roof and I was starting to talk to the cat for far too long. When your pet starts answering back, it's time for a new job.
A lot of readers had suggestions for things that made their childhood summers magical. Here's one we liked from Niamh Corcoran:
i used ta love hangin out with my two best friends in the summer it was always more fun as u were allowed out for longer. we used ta have the same routine every evening we would go pub cause shops were closed and each gt packet of king a curly wurly and can of coke and sit down at the phone box and have some good convos my friend was always first to get called in and i was left with my male friend who eventually became my bf for yrs. i wish i could call the two of them nw and do this . those were such good days
One of the best threads of the week was on this article about Irish women sharing their harrowing and often undiscussed experiences of pregnancy, birth and miscarriage. The whole thread is worth a read, but here's two of the comments which got a lot of thumbs up and a positive reaction from readers. Firstly, from Janet De Hora…:
Heartbreaking to here such horrible stories. When I had my daughter, I was in a ward with 6 others, all with new babies. In the middle of the night, a lady was brought in, 6 months pregnant, and was told LOUDLY by the nurse that she was probably losing her baby. That lady and her husband cried all night; as did the rest of us. It was awful for them, surrounded by new babies, and awful for us new mums too- we felt guilty, and also mad at the hospital for putting us in a position where we felt we couldn't share the joys of our new little ones.
… and from Gina_ius:
My feeling is that because miscarriage is unfortunately so common (1 in 4 or 5 pregnancies) it can perhaps be treated in a clinical fashion ie without compassion by some (NB some) staff. In the course of five maternity experiences (three miscarriages, two healthy babies) I received mostly wonderful, but some horrendous, care.
Thoughts, empathy and thanks to all parents posting their experiences here and over on #maternityire. Better out than in, as they say.
This comment is impressive for its comprehensiveness and the sheer good advice. There was a warning this week about an outbreak of hepatitis A linked to imported frozen berries – so Jane Forrester offered this advice for anyone trying to avoid buying berries by growing their own:
Don't try to grow them from seeds. You grow redcurrant, blackcurrant, jostaberry, gooseberry, and blueberries on young bushes bought from a garden centre, in the autumn. You only need about 1 square metre for each of these. The young plants are small but they will grow to fill this space.
All you have to do is keep the weeds down, pick the fruit when it's ready (end May, June, July, Aug), prune the bushes as necessary and give some organic fertiliser in the autumn. You will get enough berries to feed a family of 4 and plenty more to freeze or make jam.
Loganberries and raspberries grow on canes also obtainable from garden centres. One loganberry will grow along a fence or wall ( it needs about 3 to 4 metres length) and will give you tons of delicious fruit from its second year.  Six autumn-fruiting (not summer-fruiting) raspberry canes planted in a row will give you plenty of raspberries that will be ready in August to October, when the other fruits are nearly finished. There is really no need to buy imported soft fruit. It all grows really well in Ireland. The expensive thing about growing it commercially is paying someone to pick it, and getting it to market while it's still fresh.  So they are picked unripe and put in plastic punnets to prevent squashing. Do it yourself. Pick when they are truly ripe: the flavour is unbelievable. They will be as fresh as the time it takes you to run from your garden to your kitchen. It's an enjoyable task and saves your money and health.
The 5 most popular comments on the site this week
(Pic: zizazou76 and Francesco Z via Flickr/Creative Commons)
1. First up this week is this comment from marty who got 1,609 thumbs up for this comment beneath the article about how a woman with mortgage arrears of €200 was advised by Permanent TSB to sell her home.
So you could owe a bank €2 Million, they'll be nice to you.

The smaller the amount, they'll harass you. Nice shower of Bankers!
2. In second place was Lee Cahill with 1,369 thumbs up for this succinct comment expressing his dissatisfaction with the chocolate list:
This list is all wrong!
3. In third place: this comment from from John, who got 1,307 thumbs up for this comment beneath the article about a woman who was ejected from a McDonald's after the horse she brought with her (stay with us) defecated on the floor:
The poor horse was probably shitting himself thinking he was going to end up in a burger
4. Albert McEinstein got 1,276 thumbs up on the chocolate article:
5. Last but not least in this week's top 5 was this comment from mattoid, also on the Permanent TSB mortgage article, with 1,218 thumbs up:
and if the bank owes billions its the taxpayer's problem, apparently…