TOURISM CHIEFS HAVE hailed an "extremely impressive" 10% boost in visits to Ireland from overseas in the first half of 2014, and are predicting the best season since the start of the downturn.
CSO figures released yesterday showed there were nearly 3.5 million trips to Ireland from abroad between January and June 2014, a 10.3% rise on the same period last year.
In particular, our British cousins have been visiting in significantly higher numbers so far this year, with a 13.6% increase on 12 months ago.
There were 574,500 trips from across the Atlantic in the US and Canada between January and June, and Tourism Ireland CEO Niall Gibbons predicted a further boost to visits with the Croke Park Classic American football match at the end of August.

Source: CSO
Welcoming the data this morning, a spokesperson for Tourism Ireland told TheJournal.ie that improved flights into the country had played a big part in this boost.
As an island, air access is crucial to tourism, and for example, in the last year we have seen the introduction of direct Aer Lingus routes from San Francisco and Toronto, as well as an Air Canada flight from Toronto.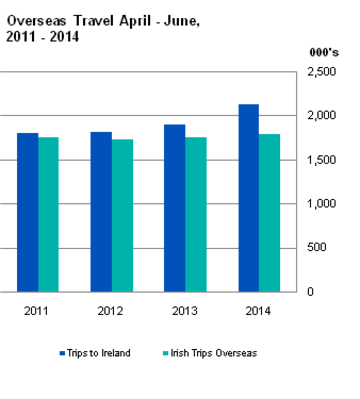 Source: CSO
For his part, Fáilte Ireland CEO Shaun Quinn predicted "our best tourism season since the downturn began," based on the year so far.
The increase in numbers from the UK is extremely impressive and the performance of our biggest overseas market is exceeding all expectations.
All our other key markets are also delivering extra visitors, tourism businesses around the country are upbeat and we seem set for our best tourism season since the downturn began.