DART PASSENGERS WERE left stranded between Bray and Greystones for more than three hours last night.
The Dart couldn't move from Bray Head after overhead wires got caught on the Dart's pantograph and were torn down and damaged.
Speaking to TheJournal.ie Barry Kenny from Irish Rail said because of the location of the train they couldn't get a Dart down beside it to transport passengers.
"We couldn't get a Dart down to it so we had to get a commuter train as it's operated by diesel and not the overhead wires."
Thirty passengers were on the Dart and Irish Rail needed extra staff to assist the passengers to make it safe.
The train got stuck at 9.30pm and passengers were brought back to Bray station at 12.40am.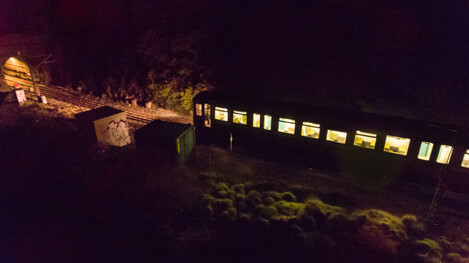 Source: Kyle O' Connell via Irish Film & Television Services
All Dart services were suspended between Greystones and Bray this morning due to the damage but Irish Rail says the line is now reopening.
Dublin Bus are accepting valid tickets between Bray and Greystones.
Kenny said significant damage has been caused and crews are working to restore the line.
It's indicative of the damage that the Dart was only moved off the line at 5.15 this morning.
Asked what caused the damage, Kenny said, "We don't know yet. We'll be investigating that and trying to establish if it was a technical issue."