A LOT OF Ireland is still in recovery mode following all the storms and rain this December.
Many areas are still flooded, with rail services in some parts of the country still not operating fully.
The Carrick-on-Shannon to Longford line reopened just yesterday, and Laura Gaynor took one of the first trains.
A video she posted to Twitter showed water all around the train, but also the entire train appears to be tilted at an angle as it crawls through the still flooded area.
If the video doesn't load, you can watch it here
"Really hope we're not about to topple over into the Shannon!" said Laura on Facebook.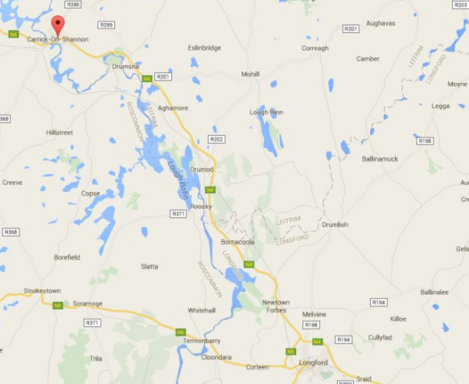 The video was taken on the rail line in the flooded areas between Longford and Carrick-on-Shannon Source: Google Maps
Entirely safe
A spokesperson for Irish Rail told Thejournal.ie that the tilt in the track was completely normal.
"There's an actual tilt when trains are on rail lines that are going around a curve. It's deliberate that there's an actual curve there," said the spokesperson.
"Ordinarily when you're going around the track at speed you'd barely notice it."
A speed restriction of 5mph is still in place in the area due to the flooding, so trains are moving much slower, hence why the tilt is noticeable.
"It's entirely safe and it does look quite dramatic," said the spokesperson.