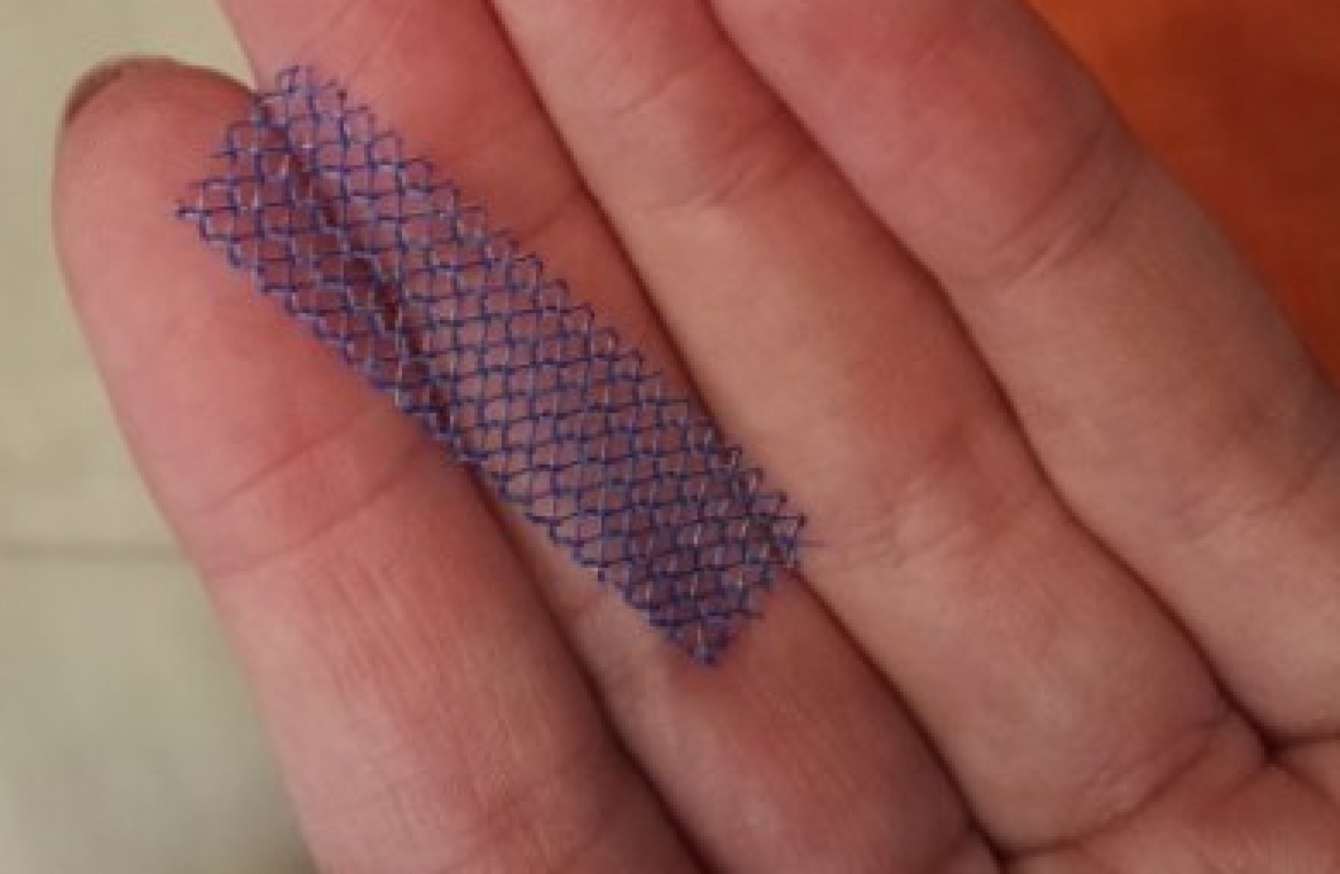 A piece of mesh tape.
Image: Michelle Hennessy/TheJournal.ie
A piece of mesh tape.
Image: Michelle Hennessy/TheJournal.ie
HEALTH MINISTER SIMON Harris has announced that his department's Chief Medical Officer (CMO) has requested the HSE stop the use of all procedures involving transvaginal mesh devices in public hospitals.
The pause on the use of the mesh will cover the management of Stress Urinary Incontinence (SUI) or Pelvic Organ Prolapse (POP) where it is safe to do so.
This announcement follows a review by the Department of Health together with the HSE and the Health Products Regulatory Agency (HPRA), of the decision by health authorities in England and Northern Ireland to pause the use of mesh in those countries until a set of conditions to mitigate the risks of injury are met.
Thousands of women across the world have suffered complications after having a vaginal mesh device implanted. These devices, made with polypropylene – a type of plastic – are used in surgeries to address stress urinary incontinence and pelvic prolapse, conditions women can suffer after natural childbirth.
These complications include chronic pain and recurrent urinary tract infections and have been life-changing in many cases. Some women have reported that the mesh device moved and eroded through the walls of their vaginas, causing pain and resulting in further surgeries to remove sections of the mesh.
A statement from Minister Harris said:
"There is understandable public and patient anxiety about the ongoing safety of mesh devices following the considerable publicity that this issue has received and this has been heightened by recent developments in the NHS.
"It is important that this be addressed as comprehensively as possible. A pause on the use of mesh procedures, pending confirmation by the Executive that the key recommendations below have been implemented, is now considered proportionate and necessary to provide public assurance that these procedures are being carried out in accordance with internationally accepted good practice."
Melanie Power, solicitor and the founder of the Mesh Survivors Ireland support group said:
"Mesh Survivors Ireland are relieved that finally there is a recognition of the appalling and life altering injuries caused by mesh for both stress urinary incontinence and pelvic organ prolapse. women had to take to the streets and discuss their most intimate issues in media in order for these complications to be recognised. We look forward to meeting with Minister Harris in August to hear the pathways that will be put in place for women with mesh complications as currently women are paying privately to go to the UK for treatment."
This pause should remain in place until the HSE confirms implementation of recommendations relating to training, informed consent and the development of an agreed dataset of mesh procedures.
Patients affected by the cancellation will be contacted by the HSE as soon as possible to advise them that their surgery has been postponed. Concerned patients are advised to contact their consultant.