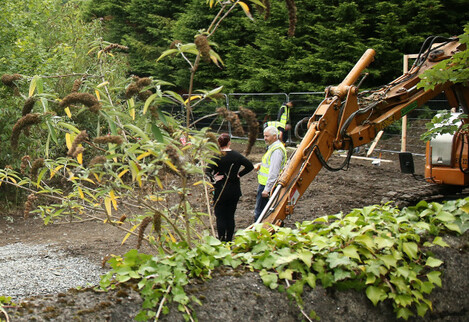 Searches at the Chapelizod site on Monday. Source: Niall Carson
A GUN HAS been found at the Dublin site being searched as part of the investigation into the disappearance of Trevor Deely in December 2000.
The firearm was uncovered at the wooded site in Chapelizod yesterday, it's understood.
The area, close to the River Liffey in the west Dublin suburb, was cordoned off on Saturday as a search by Garda investigators began.
Ground was cleared over the weekend and excavation work was begun earlier this week.
It's been reported that gardaí were told a criminal killed the 22-year-old the night he went missing and buried his body in the area, sparking the renewed investigation.
Gardaí hand out leaflets on Haddington Road in Dublin in April of this year. Source: PA Wire/PA Images
The case has become one of the most high-profile missing person inquiries in Ireland.
Despite the publicity around the 22-year-old's disappearance, this is the first time in 16-and-a-half years that investigators have received information significant enough for them to focus on a specific area of land.
The night Trevor went missing

Trevor, from Naas in Co Kildare, attended his work Christmas party at the Hilton Hotel on Charlemont Place in Dublin city on the night of 7 December 2000. After the party, he moved on with some colleagues to Buck Whaleys nightclub on Lower Leeson Street.
At around 3.30am on the morning of 8 December, Trevor went to the Bank of Ireland Asset Management building where he worked. It was raining heavily that night and he was going inside to pick up an umbrella.
Inside, he had a coffee with a colleague and less than a half hour later, he left with an umbrella in his hand. The last sighting of the young man was captured on CCTV at the Bank of Ireland ATM on Haddington Road at 4.14am.
Trevor did not turn up for work the next day – a Friday – but it was not until the following Monday that anyone realised he had gone missing.
Source: TheJournal.ie/YouTube
Detective Inspector Paul Costello, speaking on Saturday, said the freshly launched operation was the most significant search to be carried out since Trevor's disappearance.
A Garda spokesperson did not comment on yesterday's find of the firearm, saying the force did not comment on ongoing investigations.