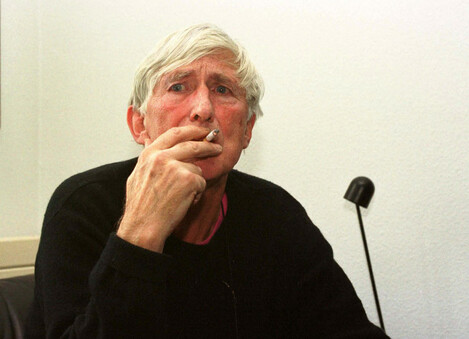 Tomi Ungerer Source: Antonio Pisacreta
TRIBUTES HAVE BEEN paid to renowned French cartoonist and author Tomi Ungerer following his death in Cork on Saturday at the age of 87. 
Ungerer, an activist who protested against racial segregation and the Vietnam war, died during the night, former advisor and friend of 35 years Robert Walter said. 
"His wife called me Saturday morning on the phone," Walter said, adding that Ungerer died at his daughter's home.
"He was an all-round genius, a man who was talented in everything. He loved literature. He used to say 'I write about what I draw and I draw what I write'."
Originally from Alsace in eastern France, Ungerer lived in the United States and Canada before finally settling in Ireland. 
Some of Tomi Ungerer's film poster illustrations. RIP pic.twitter.com/2ol5xq8waY

— Brandon Schaefer (@seekandspeak) February 9, 2019
His output ranged from celebrated children's books like 'The Three Robbers' and 'The Moon Man' to erotic drawings as well as satirical paintings and political posters. He wrote in three languages: English, French and German.
He published over 140 books which have been translated into 30 languages.
Paying tribute on Twitter, UK illustrator David Litchfield described Ungerer as "amazing". 
Inspired by @librarymice I would like to share some art by the amazing Tomi Ungerer who sadly passed away today ❤️ pic.twitter.com/SfBsQ3NFkX

— David Litchfield (@dc_litchfield) February 9, 2019
Publishing house Phaidon, meanwhile, thanked the late French artist for "a lifetime of fantastic work and fun."
So sad to report that our beloved Tomi Ungerer has died. Rest in peace Tomi. Thank you for a lifetime of fantastic work and fun. From all your friends at Phaidon. pic.twitter.com/rQ3TitXl6S

— Phaidon (@Phaidon) February 9, 2019
Ungerer donated more than 11,000 original works of art, sculptures, books and toys to a museum devoted to his work and life, which opened in 2007 in his birthplace Strasbourg.
Since then, the Tomi Ungerer Museum has been voted as one of the ten best museums in Europe by the Council of Europe.
He was awarded the Legion of Honour by France in 1990 and was elevated to Commander of the Legion of Honour in 2018.
With reporting from © – AFP 2019