TWO MONTHS AFTER a car driven by a 68-year-old man careened into it, the Front Gate of Trinity College is back in business.
And you can thank these guys for their role in installing it: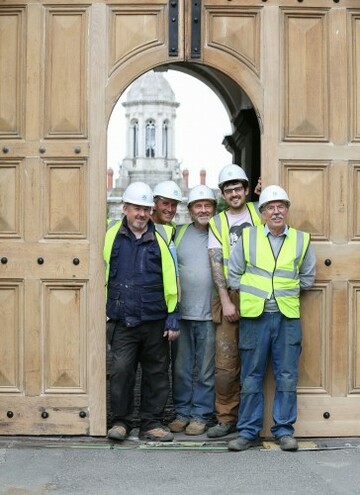 Mark Corcoran, Mark Money, Colm Guturie, Jonney King and Ian Picket from Dunwoody & Dobson. Source: Paul Sharp/Sharppix
The brand new gate is a far cry from April 2, at 6.30am, when it was left looking like this: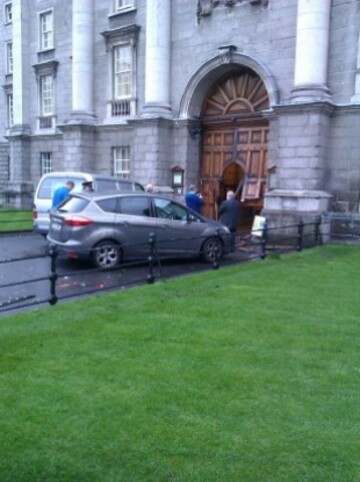 Source: Stephen Coyle
The Front Gate was erected in the early 1870s during refurbishment in the College, replacing the original 1759 gates.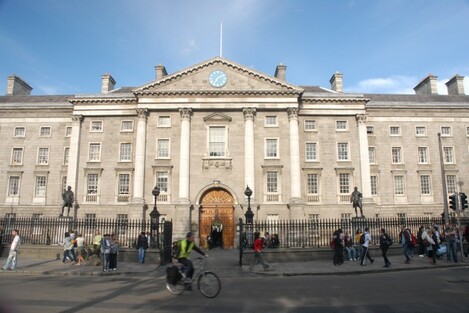 Before the damage Source: Paul Sharp/Sharppix
But an early-morning drive by a 68-year-old man led to their premature removal. He was subsequently arrested by gardaí.
Thankfully, the damage didn't mean the gate was written off.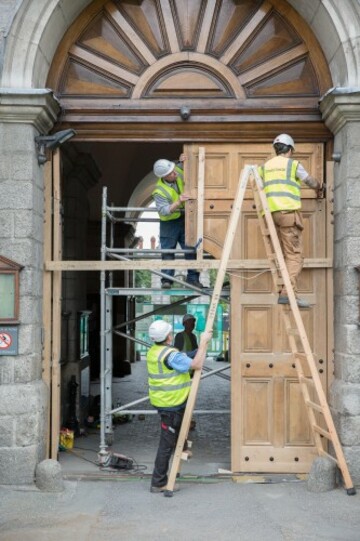 Source: Paul Sharp/Sharppix
Craftsmen from the Trinity College Buildings Maintenance Department took down the damaged wooden gate, bringing it to the joinery workshops of Dunwoody & Dobson, who are specialist heritage building contractors.
Source: Paul Sharp/Sharppix
They sourced matching timber for the gate, and used this to repair or replace the damaged sections of framing and panels.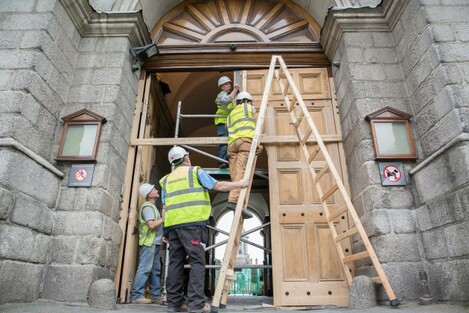 Source: PAUL SHARP
They also replaced the original door frames with new oak posts that were re-made to the same design.
Notice the change in colour? That's because the surface finish of the remaining timber was stripped back to bare wood.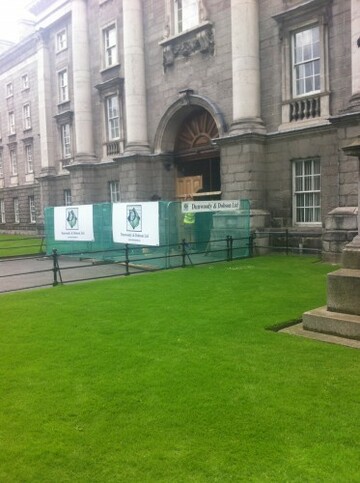 Source: Aoife Barry/TheJournal.ie
To finish off the job, the entire gate was French polished.
The gate was hung in seven pieces this week, which is why the front gate was blocked off to pedestrians for a few days (they also fixed the cobbled stones outside the main gate while they were at it).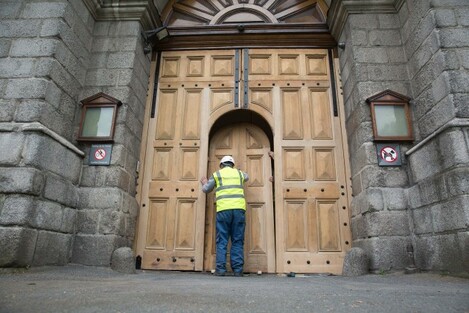 Source: Paul Sharp/Sharppix