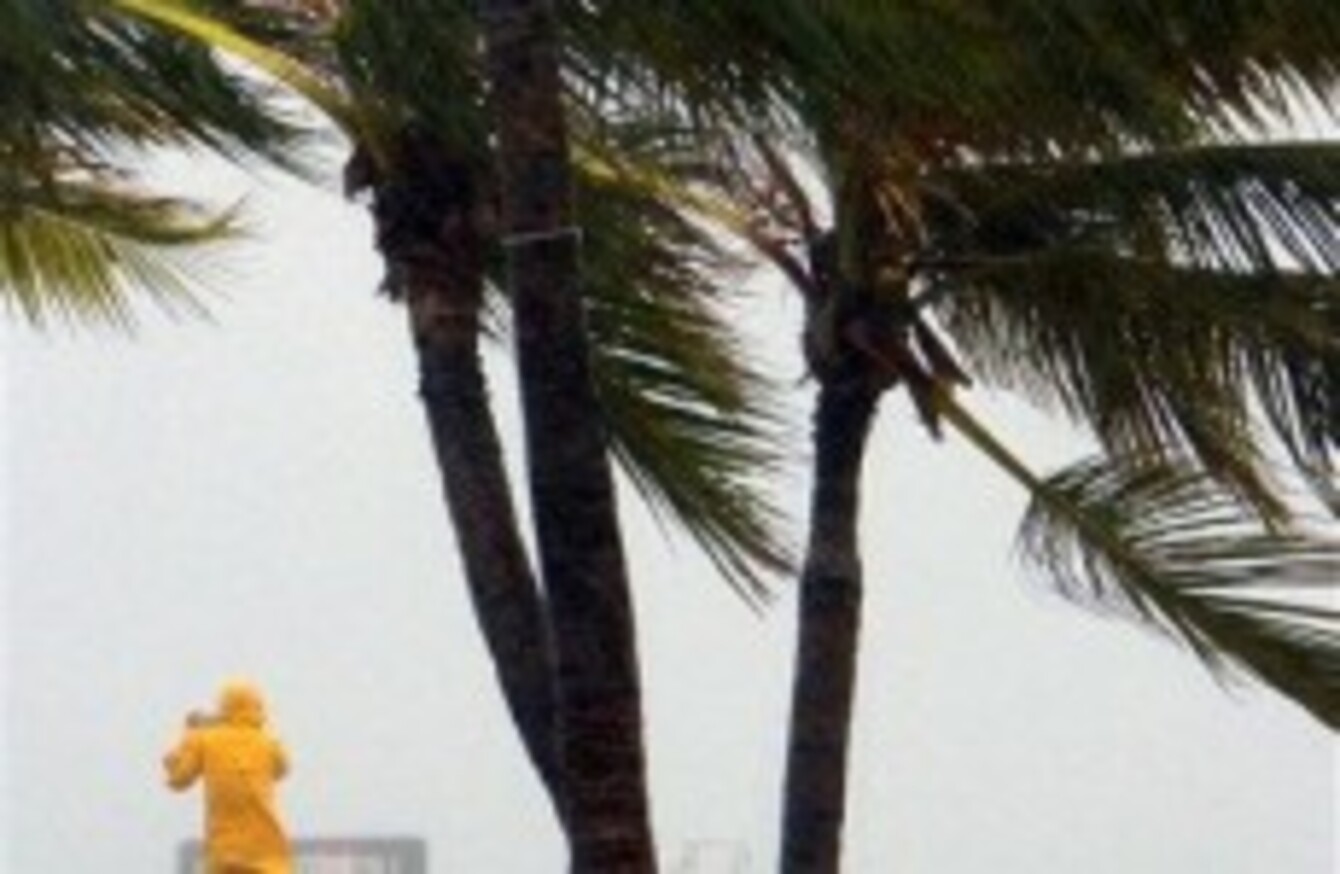 A person braves the rain at Clarence Higgs Beach in Key West, Florida.
Image: AP Photo/The Miami Herald, Walter Michot
A person braves the rain at Clarence Higgs Beach in Key West, Florida.
Image: AP Photo/The Miami Herald, Walter Michot
TROPICAL STORM ISAAC  churns towards the northern Gulf Coast and promises to give the Republican National Convention a good drenching after lashing the Florida Keys and Miami area with wind and rain.
The National Hurricane Center predicted Isaac would grow a Category 2 hurricane over the warm Gulf of Mexico and possibly hit late Tuesday somewhere along a stretch that starts west of New Orleans and runs to the edge of the Florida Panhandle. That would be one day shy of seven years after Hurricane Katrina struck catastrophically in 2005.
A Category 2 hurricane has sustained winds of between 154 to 177 kph and a strong storm surge. Louisiana Governor Bobby Jindal called a state of emergency, and 53,000 residents of St. Charles Parish near New Orleans were told to leave ahead of the storm.
Mississippi Governor Phil Bryant and Alabama Governor Robert Bentley also declared states of emergency, while oil companies began evacuating workers and cutting production at Gulf offshore rigs in Isaac's projected path.
As of 2 am (local time – 7am Irish time) today, the storm was centered about 175 kilometres west of Key West, Florida, according to the National Hurricane Center in Miami. Isaac had top sustained winds of 100 kph and was moving west-northwest near 22 kph.
Florida, historically the state most prone to hurricanes, has been hurricane-free since it was hit four times each in 2004 and 2005. Isaac will likely prove barely a memory for South Florida and Keys residents, who mostly took the storm in stride as its center passed just south of Key West on Sunday.
"This is routine for us," said Annie Lopez, 47, a lifelong Key West resident. "It's down to a science."
Added Jean Claude Philemy of Miami: "Every year it's almost the same. We can deal with it."
The storm did knock out power temporarily for around 16,000 customers throughout South Florida, and 555 flights were canceled at Miami International Airport. That forced some people to shuffle their travel plans and kept many, at least for a day, from enjoying their beach vacations.
"I have friends who tell me to come in January," said Peter Muller, who was visiting Miami with his family from Germany. They spent part of Sunday at a Miami-area mall. "Maybe they know best."
In the low-lying Keys, isolated patches of flooding were reported and some roads were littered with downed palm fronds and small branches. But officials said damage appeared to be minimal, and many Keys residents held true to their any-excuse-for-a-party reputation.
"The storm was the most fun thing ever!" exclaimed Sergey Jadzevics, who were taking pictures on famed Duval Street in Key West, a fresh bottle of vodka in hand.
"It's not really scary," added Kevin Furcrown, another Key West resident. "It's more of a hassle than anything."
The Gulf Coast hasn't been hit by a hurricane since 2008, when Dolly, Ike and Gustav all struck the region.
Before reaching Florida, Isaac was blamed for eight deaths in Haiti and two more in the Dominican Republic, and downed trees and power lines in Cuba. It bore down on the Keys two days after the 20th anniversary of Hurricane Andrew, which caused more than $25 billion in damage and killed 26 people in South Florida.
By MATT SEDENSKY