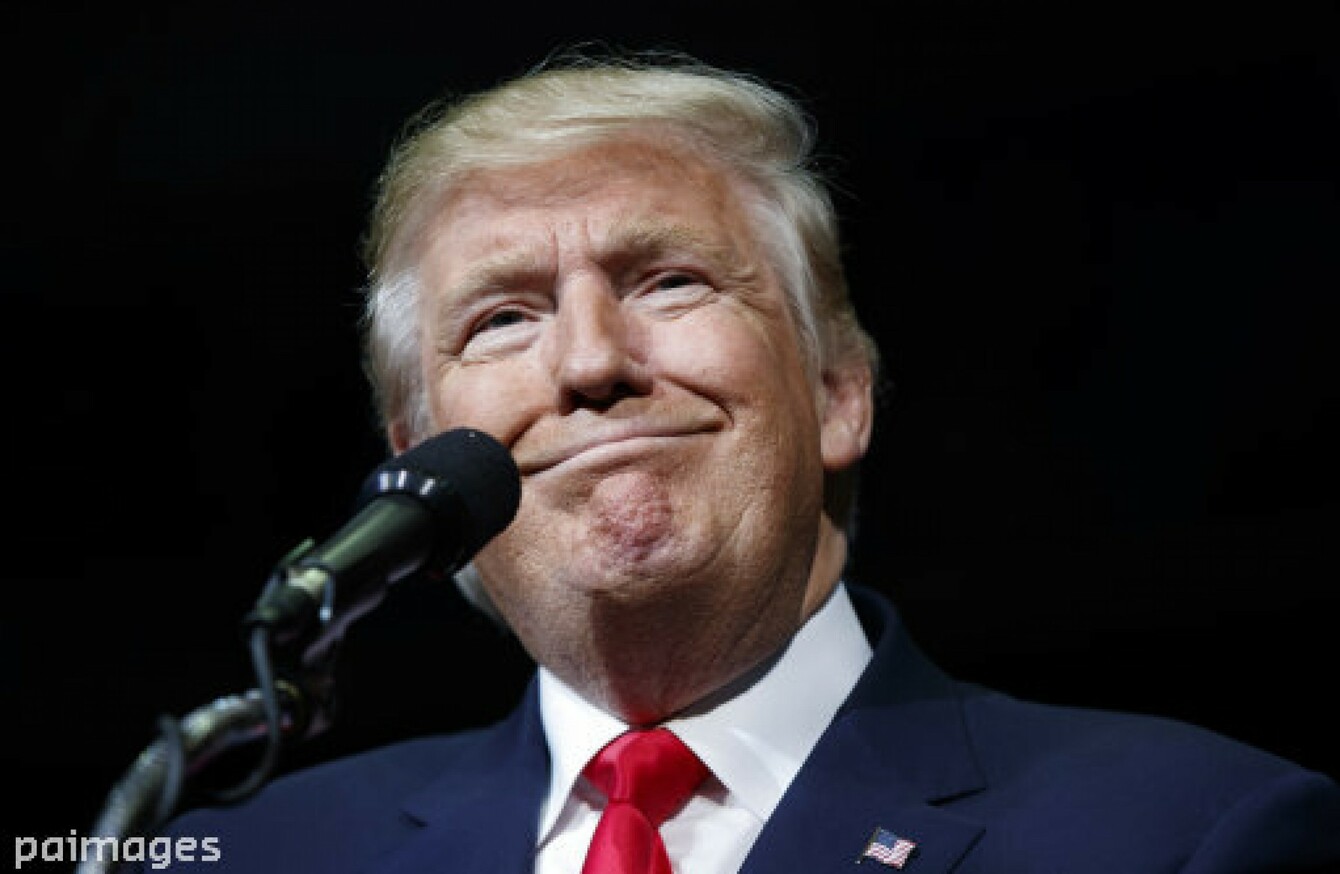 Republican presidential candidate Donald Trump speaks during a rally.
Image: Evan Vucci/PA
Republican presidential candidate Donald Trump speaks during a rally.
Image: Evan Vucci/PA
DONALD TRUMP WENT from locker room banter to outright threat yesterday as he vowed to expand attacks against Hillary Clinton and her husband if more damning recordings of the Republican presidential nominee are released.
"If they want to release more tapes saying inappropriate things, we'll continue to talk about Bill and Hillary Clinton doing inappropriate things. There are so many of them, folks," Trump told a rally in Ambridge, Pennsylvania.
"I was getting beaten up for 72 hours for inappropriate words, locker room talk, whatever you want to call it," Trump said.
But Bill Clinton has sexually assaulted innocent women and Hillary Clinton was attacking those women viciously. Bill Clinton was the worst abuser of women to ever sit in the Oval Office. He was a predator.
At one point the Trump crowd broke into extended chants of "Lock her up! Lock her up!"
Trump is reeling from the release Friday of a 2005 video that caught him making lewd comments about women, and the fallout has plunged his White House bid into crisis with barely four weeks before the 8 November election.
The video was obtained and published by The Washington Post, not the Clinton campaign.
In it, Trump was speaking with Billy Bush, then host of the Access Hollywood entertainment show, as he arrived on the set of a soap opera to tape a cameo appearance.
A former producer of The Apprentice, the reality show hosted by Trump, has since said that more footage exists in which he says "far worse".
Source: NBC News/YouTube
Allegations by cast and crew say that the Republican presidential nominee frequently used lewd and sexist language while shooting the show.
The executive producer, however, says he doesn't have the right to release footage from the show.
MGM, which owns executive producer Mark Burnett's production company, also says it cannot legally release the footage.
Neither Burnett nor MGM immediately responded to questions  seeking details about the specific requirements they say block them from releasing the footage.
The Associated Press previously asked Burnett to provide the original The Apprentice footage for review earlier this year, and renewed calls last week.
The statement issued yesterday comes on the heels of an AP story published last week.
Regardless, Trump has come out swinging on the campaign trail, calling on voters to hold Hillary Clinton accountable as an enabler of her husband's alleged abuses.
"For decades Hillary Clinton has been deeply familiar with her husband's predatory behaviour, and instead of trying to stop it, she made it possible for him to take advantage of even more women," he said.
She put even more women in harm's way and then she goes out and says 'Oh I love women, I'm going to help women.' She's a total hypocrite.
#Open journalism No news is bad news Support The Journal

Your contributions will help us continue to deliver the stories that are important to you

Support us now
Trump lashed out at his rival about her husband during Sunday night's debate, saying actions by the couple in decades past were far worse than his "locker room talk."
He threw down the gauntlet by hosting a press event minutes before the debate, with three women who in the past accused Bill Clinton of sexual assault.
Trump then invited the women, including Juanita Broaddrick who has accused Clinton of raping her in 1978, to attend the debate, where the former president was also in attendance.
"Last night I decided we would expose the hypocrisy of the Clintons and the media, and our politicians, to the entire world," he said.
During the debate, Hillary Clinton declined to wade into Trump's mentions of her husband.
© – AFP 2016 with reporting by Associated Press