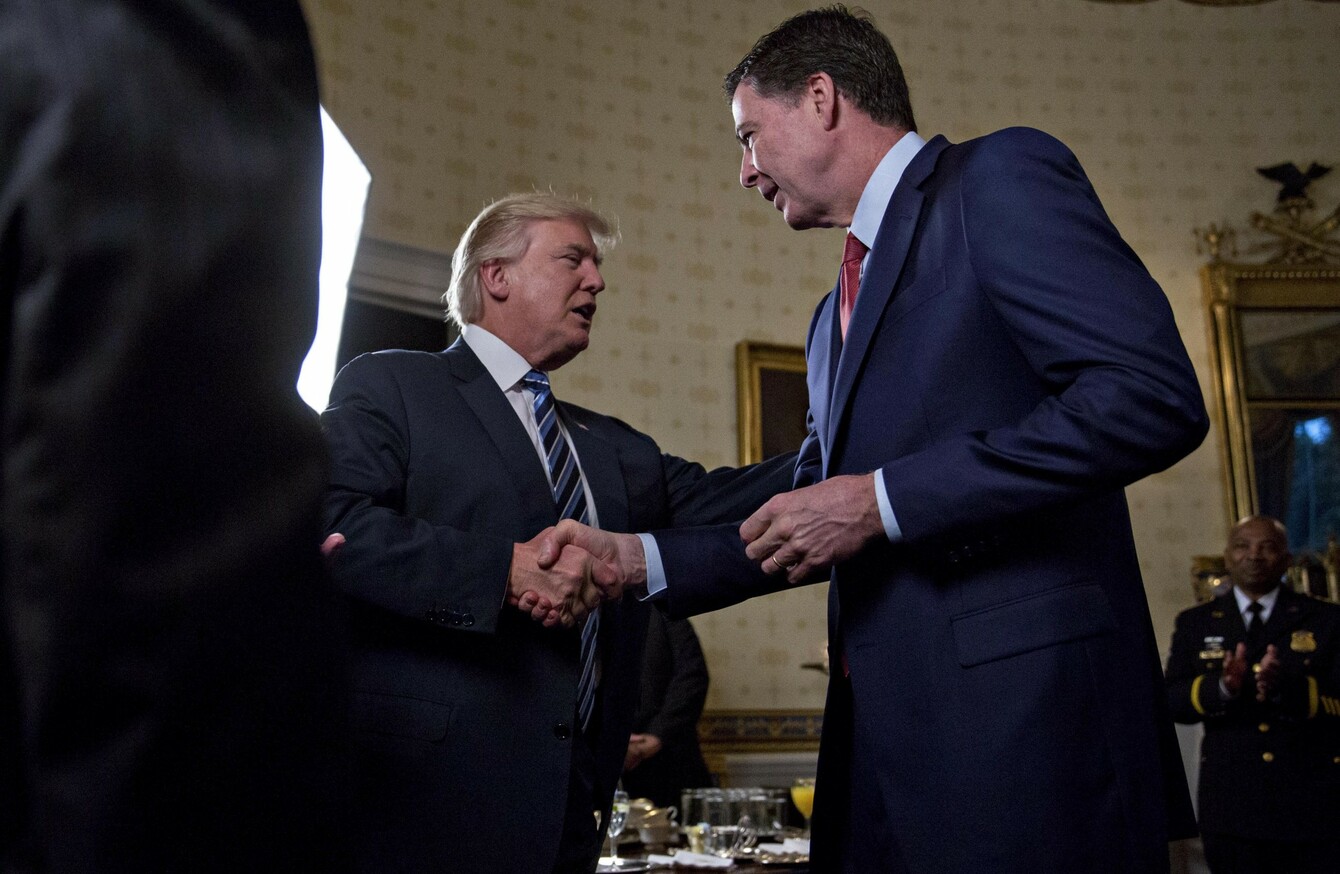 Image: Andrew Harrer/Bloomberg
Image: Andrew Harrer/Bloomberg
THE REPUBLICAN CHAIRMAN of the House oversight committee in the US has written to the FBI following reports that President Donald Trump had appealed to FBI Director James Comey to abandon the bureau's investigation into National Security Adviser Michael Flynn.
Jason Chaffetz sent a letter to the FBI requesting that the organisation turn over all documents and recordings that detail communications between Comey and Trump. He said he would give the FBI a week and then "if we need a subpoena we'll do it".
The request follows an explosive report in the New York Times last night which said that Trump had asked former FBI director Comey to drop an investigation into Flynn over his Russian contacts.
The bombshell Comey news came as the beleaguered administration was still struggling mightily to explain Monday's revelation that the president had disclosed highly classified information to the Russian foreign minister and the country's ambassador to the United States.
The White House last night strongly defended the president, categorically denying that account reported in the Times.
Comey is reported to have written in a memo in February that Trump has asked him to stop his investigation.
The Flynn investigation was part of a broader probe into Russian interference in last year's presidential election.
Comey's memo, an apparent effort to create a paper trail of his contacts with the White House, would be the clearest evidence to date that the president has tried to influence the investigation.
Response 
The House's top Democrat Elijah Cummings of Maryland, a constant Trump critic, called the allegation of Trump pressure on Comey "explosive" and said "it appears like a textbook case of criminal obstruction of justice".
Republicans weren't going that far. But John McCain, chairman of the Senate Armed Services Committee, said the Trump-Russia reports were "deeply disturbing" and could impede allies' willingness to share intelligence with the U.S.
Mitch McConnell, the Republican leader of the Senate, said simply: "It would be helpful to have less drama emanating from the White House".
The White House vigorously denied all the reports.
"While the president has repeatedly expressed his view that General Flynn is a decent man who served and protected our country, the president has never asked Mr Comey or anyone else to end any investigation, including any investigation involving General Flynn," a White House statement said.
Trump fired Flynn on 13 February, on grounds that he had misled Vice President Mike Pence and other officials about his contacts with Russians.
"Pay Trump bribes here"
Following on from the White House controversy, an artist last night projected the words "Pay Trump bribes here" on the entrance of the Trump International Hotel in Washington.
The display was apparently a reference to questions around Trump's business affairs with foreign governments.
With reporting from Cormac Fitzgerald