US BUSINESSMAN AND occasional presidential hopeful Donald Trump will be touching down in Shannon in the next few weeks as he arrives in Ireland to check out one of his most recent purchases.
The billionaire — best known in recent years for his role as host of The Apprentice, his 'birther' campaign against Barack Obama, and for his role as a Fox News pundit  — added the Doonbeg Golf Club & Lodge to his portfolio back in February.
It's 16th golf club in the Trump Organisation's portfolio, and his first in Ireland. The 400-acre development is being renamed as Trump International Hotel & Golf Links, Ireland.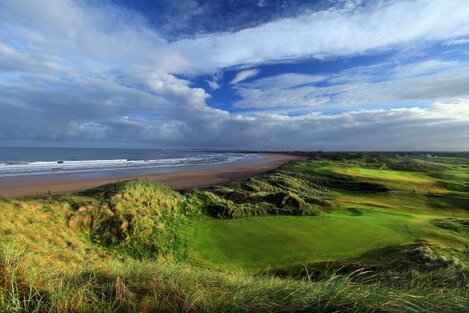 Doonbeg's par four 15th hole (INPHO/Getty Images)
The Greg Norman-designed resort was acquired by investment firm South Street Partners last year, and receivers were appointed in mid-January.
Trump purchased it for a reported €15 million, saying at the time that it would "soon be an unparalleled resort destination with the highest standards of luxury".
The Lodge at Doonbeg includes 218 hotel suites as well as an expansive spa and several restaurants.
'The Donald', as he is popularly known, will be arriving in on Monday week. He'll be spending around 24 hours at the venue, where he is expected to meet with staff and discuss future plans for the destination.