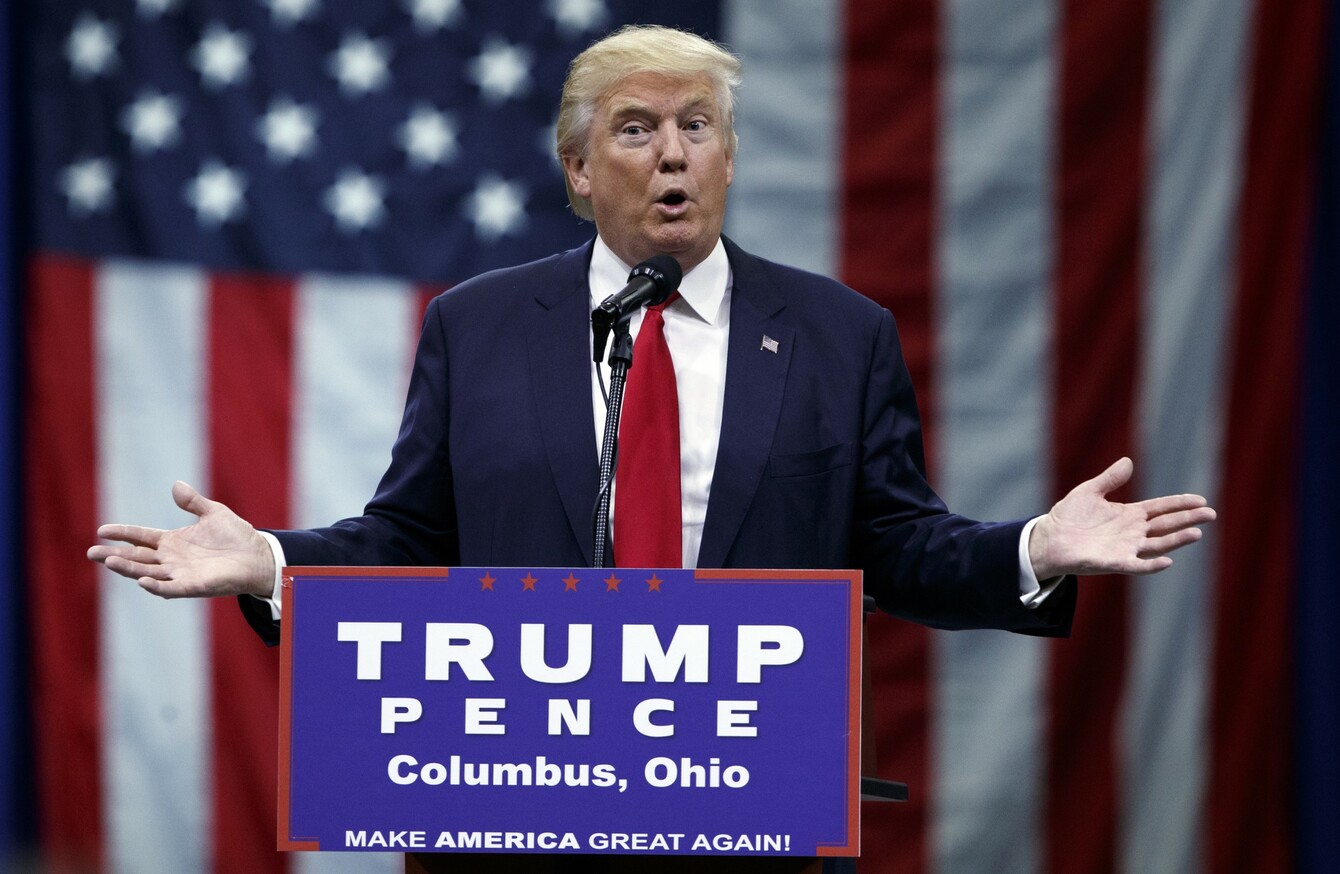 Image: Evan Vucci
Image: Evan Vucci
VETERANS GROUPS AND Republicans have savaged Donald Trump's war of words with the parents of a slain Muslim American soldier, the latest example of the presidential nominee making statements considered beyond the pale.
The feud has shaken the US presidential campaign and become a flash point 99 days before the November election that pits Republican Trump against Democrat Hillary Clinton.
Criticism has poured in from outraged veterans groups, relatives of soldiers killed in action and even President Barack Obama.
The episode has dominated US headlines since last Thursday, when Pakistani immigrant Khizr Khan galvanised the Democratic National Convention with a tribute to his dead son in which he rebuked the Republican nominee for having "sacrificed nothing" for the country.
In an interview aired on ABC on Sunday, Trump insisted he had made "a lot of sacrifices" while suggesting that Khan's wife, who stood silent on the convention stage as her husband spoke, had not been allowed to talk.
Yesterday, Trump renewed his assault, tweeting:
Mr. Khan, who does not know me, viciously attacked me from the stage of the DNC and is now all over TV doing the same – Nice!
The families of 23 other slain US soldiers berated Trump for remarks they called "repugnant and personally offensive".
"We feel we must speak out and demand you apologise to the Khans, to all Gold Star families, and to all Americans for your offensive, and frankly anti-American, comments," they said in an open letter.
Army captain Humayun Khan was killed by a suicide bomber in Iraq in 2004.
Veterans of Foreign Wars, the largest US war veterans group, heaped scorn on Trump's "out of bounds" criticism of a fallen soldier's mother.
"Election year or not, the VFW will not tolerate anyone berating a Gold Star family member for exercising his or her right of speech or expression," VFW leader Brian Duffy said.
Republican backlash 
Trump's running mate Mike Pence attempted to walk back his ticket's rhetoric yesterday, telling an angry Air Force mother whose son is serving in the military that "Captain Khan is an American hero".
"We honour him and honour his family as we do all Gold Star families," Pence told the woman in Carson City, Nevada, after she asked the vice presidential nominee how he could tolerate Trump's "disrespect".
Few high-profile Republicans have backed Trump in his battle with the Khans.
Source: CNN/YouTube
The mogul's sustained hostility toward the couple – alarming partly because criticism of Gold Star families has traditionally been off-limits in American political discourse – incensed Senator John McCain, a former prisoner of war once mocked by Trump for being captured in Vietnam.
"I cannot emphasise enough how deeply I disagree with Mr Trump's statement," McCain said in a lengthy and scathing statement.
While our party has bestowed upon him the nomination, it is not accompanied by unfettered license to defame those who are the best among us.
Former 2016 White House candidate Jeb Bush blasted Trump's statements as "incredibly disrespectful," while the chairman of the Republican National Committee signaled he, too, was shocked by the billionaire.
"I think this family should be off limits," Reince Priebus told CNN.
Ultimate sacrifice 
With the two sides slinging criticism, Khan accused Trump of Islamophobia, assailing his "ignorance and arrogance," expressing exasperation on NBC that the provocative billionaire "can get up and malign the entire nation".
Obama issued his own thinly veiled attack on Trump, telling a group of disabled veterans he was tired of some people "trash-talking" America's military and troops.
"No one has given more for our freedom and our security than our Gold Star families," the president said.
Ghazala Khan, whom Trump questioned for standing quietly as her husband talked about their son, spoke out in yesterday's Washington Post.
"Without saying a thing, all the world, all America, felt my pain," she wrote.
#Open journalism No news is bad news Support The Journal

Your contributions will help us continue to deliver the stories that are important to you

Support us now
Trump scrambled to pivot away from taking on military families, tweeting that the issue was "not about Mr. Khan, who is all over the place doing interviews, but rather RADICAL ISLAMIC TERRORISM and the US. Get smart!"
For months, Trump warned that the Democratic primary system was "rigged" against Clinton's nomination rival Bernie Sanders, but yesterday he stoked distrust about the larger election.
"I am afraid the election is going to be rigged. I have to be honest," he told a rally in Columbus, Ohio.
Later in the day, in Mechanicsburg, Pennsylvania, Trump made an unprecedented move by calling Clinton "the devil."
Lambasting Sanders for giving in to Clinton's nomination, he said the Vermont senator "made a deal with the devil. She's the devil. He made a deal with the devil. It's true."
Polls
A CNN poll yesterday showed Clinton with a nine point lead over Trump, 52-43, reflecting a seven-point bounce in support after her party's convention.
Meanwhile, a CBS News poll found that six in 10 voters believe Trump is not prepared to be president, while 60 percent believe Clinton is prepared for the job.
Clinton yesterday welcomed the endorsement of American billionaire and investment pioneer Warren Buffett, who joined her onstage in Omaha, Nebraska to berate Trump for not releasing his tax returns because he is being audited.
"You're only afraid if you got something to be afraid about," Buffet told the crowd.
He's not afraid of the IRS. He's afraid because of you.