Eric Trump, left, and Donald Trump Jr, executive vice presidents of the Trump Organization Source: AP
THE SONS OF US President Donald Trump have said their company is launching a new hotel chain inspired by their travels for their father's election campaign.
The name of the new hotel chain is American Idea. It was inspired by stories heard in small towns on the campaign trail. The owner is now, of course, president of the United States.
However, the Trump Organization has said it is not exploiting the presidency for profit.
The suggestion is "pure, unadulterated nonsense", Eric Danziger, CEO of the company's hotel division, Trump Hotels, said. "I'm sure you've heard of American Express. I'm sure you've heard of American Airlines … We didn't invent the word 'American'."
President Trump has been criticised for raising membership fees at his Mar-a-Lago club in Florida, boasting of his new Washington hotel that has become a favorite spot for foreign diplomats, and benefiting from trademark approvals from China for possible future business there.
Now comes his company's latest venture: a hotel chain.
The American Idea chain was unveiled on Monday night in New York at a Trump Tower party hosted by the president's two adult sons, Eric and Don Jr, and featuring a video showing the Washington Mall.
The first family plans to franchise the mid-market hotels, taking a cut of revenue, and leaving the management and ownership of the buildings to other developers. The first three are planned for Mississippi.
"They're cashing in on the red states," Kathleen Clark, a government ethics expert and law professor at Washington University in St Louis, said. "I'm not surprised that the Trump family would look to opportunities to commercially exploit his political success."
Ethics
Ethics expert Edwin Williamson, a former State Department legal adviser, isn't so bothered by the new chain. He noted the president is not bound by the federal ethics laws that limit other public officials from pursuing business interests while in office, and said he thinks Trump critics and the media are too fast to see conflicts of interest where there are none.
"There may be people who want do business with them because they are the president's sons. But I don't know what you do about that," Williamson said. He added that the deals struck will probably be "normal business transactions that meet the standard of the marketplace".
The first outside partners for American Idea were introduced on Monday and quickly established their appeal as embodiments of the American dream. Sons of a refugee from India, Suresh and Dinesh Chawla spoke of an America full of promise and profit if you work hard enough — and maybe get advice from a real estate mogul along the way.
Suresh told the story of how his late father, founder of Chawla Hotels of Cleveland, Mississippi, was brazen enough to call Donald Trump looking for money for his new hotel chain more than quarter of a century ago.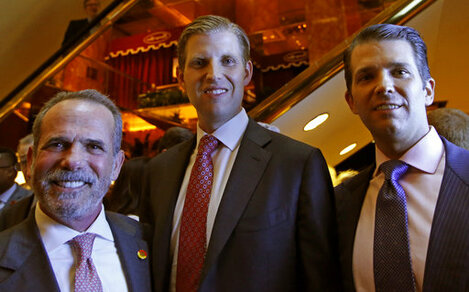 Eric Danziger, CEO of Trump Hotels, left, with Eric Trump and Donald Trump Jr Source: AP
Trump turned the immigrant down, calling his venture "small fry". But he did spend time on the phone, Suresh said, giving advice on ways to secure a loan elsewhere. Chawla Hotels now owns 17 hotels.
As a franchising fee, Trump Hotels CEO Danziger said he expects to earn less than the typical 9 to 12% cut of revenue charged by others, at least initially while the chain is rolled out.
The Chawla brothers plan to convert three Mississippi hotels now under other franchisee names to the American Idea brand, one each in Cleveland, Clarksdale and Greenville. Danziger wouldn't say how many American Idea hotels he hopes to build, but he talked big in an interview.
"It can go anywhere in the United States, anywhere there is an extended stay or mid-scale (hotel), that can be an American Idea," he said.
The Trump Organization is also opening a fourth property with Chawla Hotels under its Scion brand, a more upscale, boutique chain launched last year. That one will open in Cleveland, Mississippi. Danziger said in March that he hoped to open as many as 100 Scion hotels in three years.
Conflict of interest?
Washington University's Clark said the new chains raise many conflicts of issues questions. Do the developers have other motives in striking a deal with the president's company, perhaps to influence public policy? Will local governments help the developers in securing zoning changes or permits to curry favour with the president?
The new chains are "problematic for the same reason all his other businesses are problematic: It provides opportunity for people to influence him by sending business his way," Clark said.
The rollout of the Scion chain hit a snag earlier this year because of just such conflicts issues. A Dallas developer who had signed a letter of intent with the Trump Organization revealed that he planned to raise money for a Scion hotel in the city from unnamed investors from Turkey, Qatar and Kazakhstan.
The Trump Organization cancelled talks with the developer after several news articles raised questions about whether the foreign investors might try to use their investments to influence the new administration.
Danziger said the Dallas developer would never have gotten past his company's vetting, which had only begun as the media got hold of the story.
Before Trump took the oath of office, he announced a series of steps to help address concerns that his sprawling business holdings could lead to conflicts. He handed management control of his company to his two adult sons, vowed to make "no new foreign deals" while president and hired an outside council to vet any new deals his sons would strike in the US.
Danziger has expressed confidence that these steps can help avoid any ethical trouble.
As far as the Chawlas are concerned, Danziger said, they've been fully vetted. Their company, he said, is 100% owned by the two brothers. And he suggested they were perfect partners for a company under scrutiny.
"I wish I had their clean background," he quipped. "It was easy to approve."