US PRESIDENT DONALD Trump said that ties between the United States and France were "unbreakable" after a warm meeting with French President Emmanuel Macron.
"The friendship between our two nations and ourselves is unbreakable," Trump said after talks focused on joint US-French efforts to fight terrorism in the Middle East and Africa.
French President Emmanuel Macron will attend a Bastille Day military parade today alongside his American counterpart Donald Trump, before marking the first anniversary of a deadly terror attack in Nice.
France has been under a state of emergency since November 2015, when 130 people were slaughtered in a wave of coordinated violence across Paris.
Macron office said he will give a short speech at the start of the parade to evoke the spirit of a national holiday even though it coincides with the Nice assault's anniversary.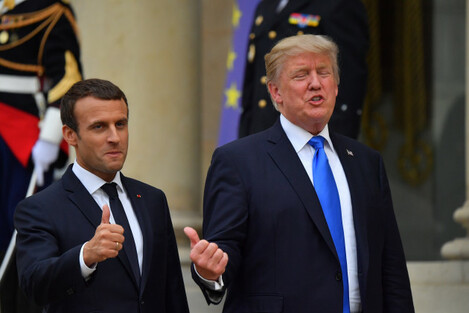 French President Emmanuel Macron and US counterpart Donald Trump Source: Liewig Christian/ABACA via PA Images
"This is a wonderful national celebration," said Trump during a joint news conference with Macron, adding, "We look very much forward to it. Spectacular."
Our two nations are forever joined together by the spirit of revolution and the fight for freedom.
'You're in such great shape… beautiful'
Yesterday the US First Lady Melania Trump toured Notre Dame cathedral with her French counterpart Brigitte Macron, stopping to pray before a statue of the Virgin Mary.
The 47-year-old practising Catholic was in Paris at the start of a Bastille Day visit by the US first couple.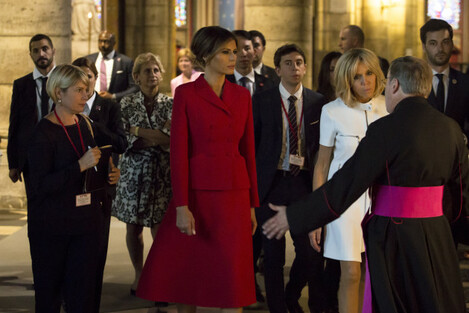 United States First Lady Melania Trump and French First Lady Brigitte Macron arrive to visit Notre Dame Cathedrale Source: Pool/ABACA via PA Images
Security forces kept tourists and passers-by, smartphones in hand, at a distance as Trump and Macron arrived at the soaring Gothic landmark in the heart of the French capital.
The pair took in the highlights of the sanctuary with its rector Patrick Chauvet as their guide. They then boarded a boat for a cruise on the Seine river.
In the morning Trump visited the Necker Sick Children's hospital, meeting several patients and encouraging them with comments such as "good luck" and "stay strong".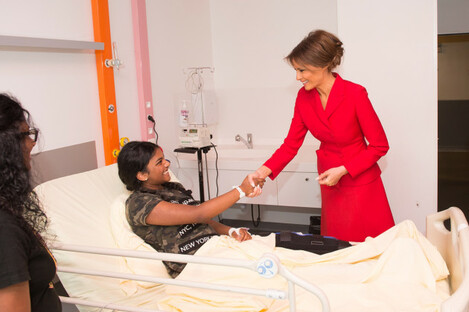 US First Lady Melania Trump greets a young patient Source: Andrea Hanks via PA Images
At the official start of the visit, the Macrons and Trumps had toured Napoleon's tomb at the Invalides military complex.
There, the US president complimented 64-year-old Brigitte Macron, saying, "You know, you're in such great shape… beautiful."
Source: Guardian Wires/YouTube
Yesterday evening the two couples dined at a Michelin-starred restaurant on the Eiffel Tower.
Alain Ducasse, 60, who has won a total of 21 Michelin stars for his restaurants dotted across the globe, told AFP that he wanted to "share a certain idea of French gastronomy" there when he opened it in 2007.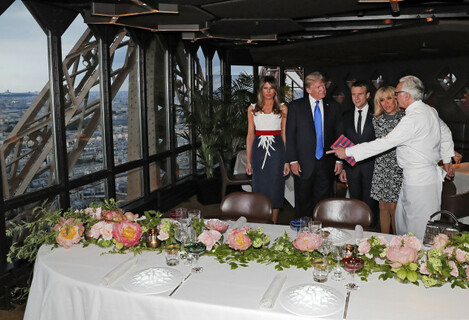 French chef Alain Ducasse gestures as, Brigitte Macron, Emmanuel Macron, Donald Trump and Melania Trump gather for dinner. Source: Yves Herman via Press Association Images
The Eiffel Tower dinner is a rare departure from the established tradition of visiting heads being entertained at the Elysee Palace, the official residence of French presidents.
The Michelin guide calls the restaurant "the summit of French heritage" even though it only gives it one of three possible stars for its food.
The decision to host Trump at Paris's most famous tourist landmark is seen as part of a charm offensive by Macron to build bridges with the US leader, who has often looked isolated on the international stage.