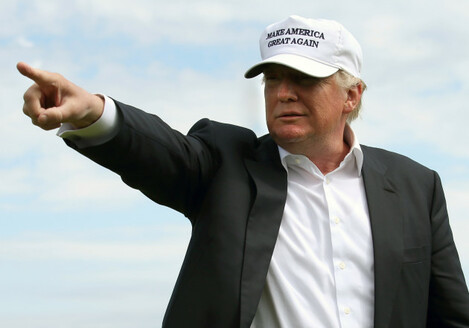 File photo. Source: Andrew Milligan/PA Wire/PA Images
WELL IT'S HAPPENED.
The United States of America has cast its votes and billionaire Donald Trump is the new president-elect.
The 2016 presidential campaign was acerbic, inflammatory and fiercely fought.
With all the divisive rhetoric and personal attacks, there was little time for the proper debate of the actual policy positions of both candidates.
But from building a wall between the US and Mexico, to booting out illegal immigrants, to investing heavily in the army, President elect Trump has many plans up his sleeves for the US.
Here are five of his main policy positions in a number of key areas.
1. Immigration

Donald Trump embraces the mother who child was killed by a person living in the country without legal permission after delivering an immigration policy speech during a campaign rally at the Phoenix Convention Centre in August. Source: AP Photo/Matt York
One the main cornerstones of his entire campaign, Trump's stance on immigration issues incensed his rivals and prompted accusations of hate-speech.
But the message obviously resonated strongly with the US electorate.
At the centre of this is his pledge to build "a great, great wall" between the US and Mexico.
The pledge to build the wall is officially contained in Trump's policy proposals under a "10 Point Plan to Put America First".
Number 1:
Begin working on an impenetrable physical wall on the southern border, on day one. Mexico will pay for the wall.
The policy then includes a document on different ways the US could make Mexico do this.
These include amending laws to forbid wire money transfers between the US and Mexico unless a person can prove citizenship; shutting down trade with Mexico; and cancelling legitimate visas for Mexicans travelling to the US.
All these would be put in place to compel Mexico to foot the bill for the wall, the document states.
"We have the moral high ground here, and all the leverage," the document states.
It is time we use it in order to Make America Great Again.
Other points in Trump's immigration plan include:
Turning "off the jobs and benefits magnet"
Reversing President Obama's amnesties for migrants
Deport all criminal illegal immigrants
2. Healthcare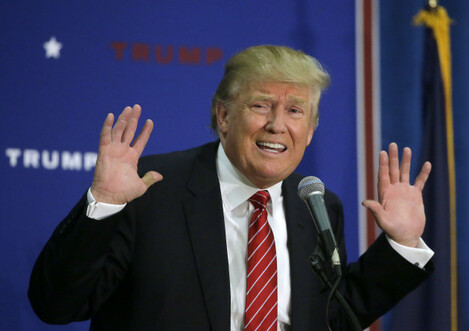 Donald Trump talks during a campaign stop in 2015 about his plans for healthcare. Source: AP Photo/Steven Senne
Under healthcare, Trump has a number of policy objectives aimed at reversing moves made by President Obama over the course of his term in office.
Top of the list of these is repealing and replacing the Obamacare health platform.
Trump has also set out a number of policy objectives  like:
"Allow people to purchase insurance across state lines, in all 50 states, creating a dynamic market"
"Work with Congress to create a patient-centred health care system that promotes choice, quality, and affordability"
"Maximise flexibility for states via block grants so that local leaders can design innovative Medicaid programs that will better serve their low-income citizens"
3. Foreign policy and defeating Isis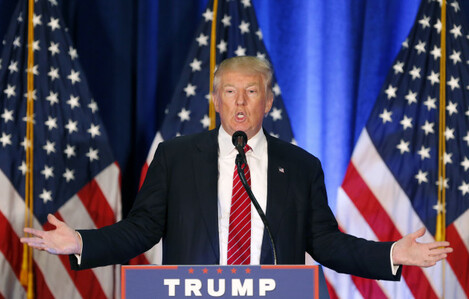 Source: AP Photo/Gerald Herbert, File
Another key element of Trump's rise to the presidency was his ability to address people's worries and fears around Islamic State and America's foreign policy.
At the forefront of this is the plan to rely on "peace through strength" to help achieve stability in the world.
This will be done by strengthening the US military as well enforcing strict rules in other key areas around increasing "safety" in the US.
These include:
Suspending on a temporary basis immigration from "some of the most dangerous and volatile regions" of the world
Working to aggressively defeat Islamic State through joint military operations
Ensuring "security procedures and refugee policy takes into account the security of the American people"
Ending "the current strategy of nation-building and regime change"
4. The Second Amendment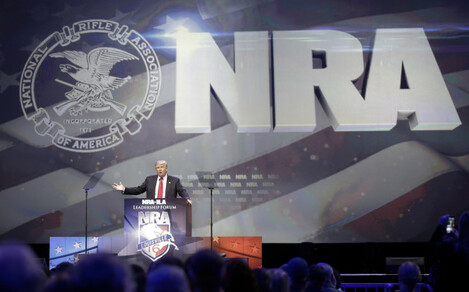 Donald Trump speaks at the National Rifle Association convention in May. Source: AP Photo/Mark Humphrey
The right to bear arms enshrined in the US constitution under the 2nd Amendment came to the forefront of much of the debate during this election.
Increasing calls for gun regulation and control in the wake of a series of brutal mass shootings in recent American history were met with fierce resistance by the gun lobby.
Donald Trump positioned himself squarely with the gun enthusiasts with this particular issue. From his policy positions:
Defend the Second Amendment of our Constitution. The right of the people to keep and bear Arms shall not be infringed upon. Period.
The Trump administration's plans to protect the 2nd Amendment will centre around increasing law enforcement and prosecutions for "violent criminals".
It also seeks to "empower law-abiding gun owners to defend themselves".
Law enforcement does a tremendous job, but they can't be everywhere all of the time.
Another protection for the 2nd involves fixing the "broken mental health system".
From the policy proposals;
All of the tragic mass murders that occurred in the past several years have something in common – there were red flags that were ignored. We can't allow that to continue.
5. Economy
A TV screen shows US President-elect Donald Trump under a ticker screen showing falling stocks in red at the Athens' Stock Exchange. Source: AP Photo/Thanassis Stavrakis
And last but not least, it's the economy (stupid).
Trump's statements on "bringing jobs back to America" and increasing the workforce certainly helped to galvanise a large number of disenfranchised voters.
However, his policies on the economy are vague – focusing on sweeping statements about improving matters.
His proposals include creating "a dynamic booming economy that will create 25 million new jobs over the next decade".
The administration also hopes to develop an "America-First trade policy".
It also states that it will "boost growth to 3.5 percent per year on average, with the potential to reach a 4 percent growth rate".
However specific details on how these measures will be achieved are sketchy.
Interested President elect Trump's other policy positions? Take a look at his website here