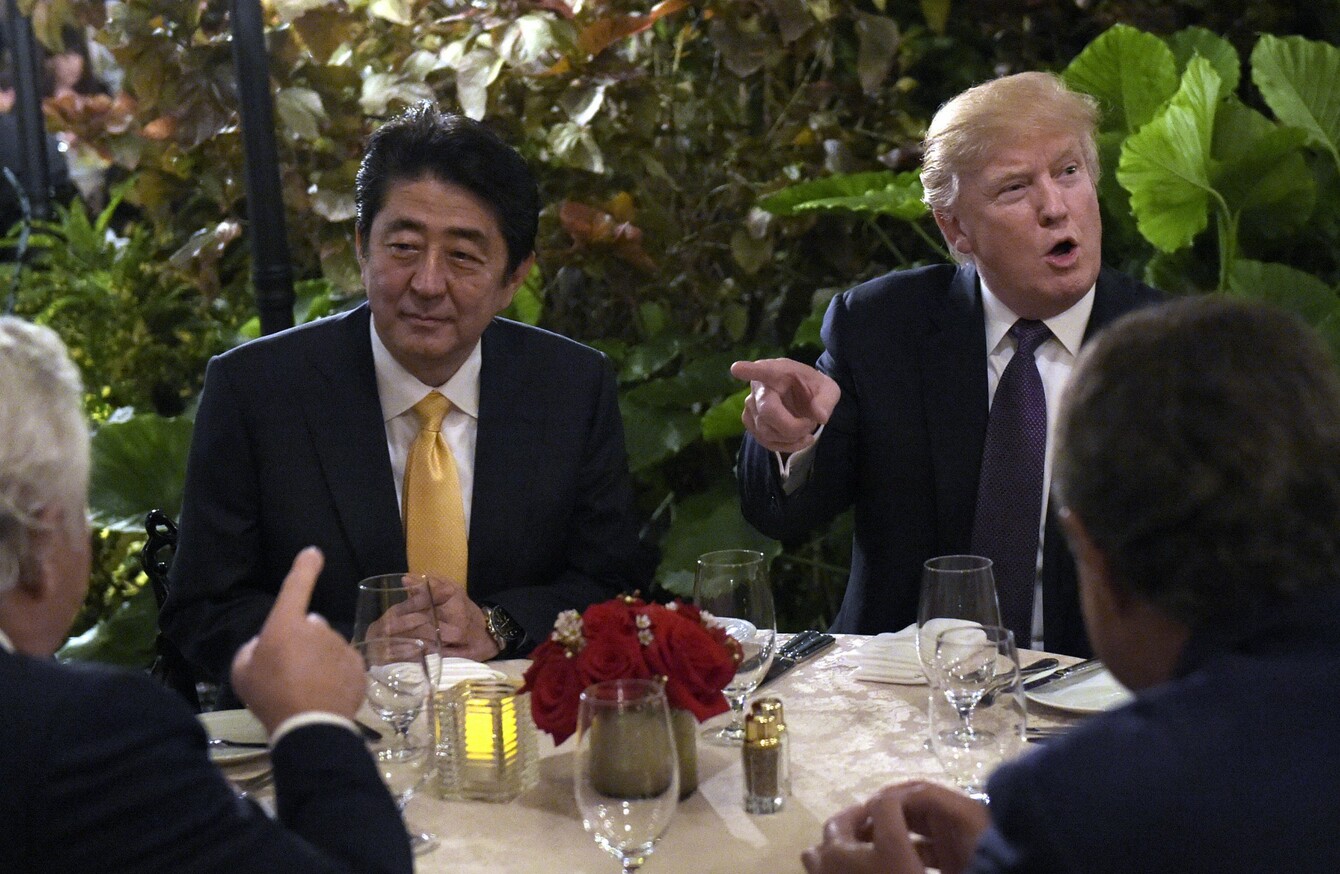 Image: Susan Walsh/PA
Image: Susan Walsh/PA
PRESIDENT DONALD TRUMP has said he is considering signing a "brand new order" while the ban is held up in court.
Speaking to reporters on Air Force One as he flew to Florida for the weekend, the president said he expected his administration to win the legal battle over his original directive.
But he said the White House was also weighing other alternatives, including making changes to the order, which suspended the nation's refugee program and barred all entries from seven Muslim-majority countries.
In Virginia, a lawyer for the state asked a judge to impose a preliminary injunction barring the government from enforcing a portion of Trump's executive order that bars anyone from Iran, Iraq, Libya, Somalia, Sudan, Syria and Yemen from entering the US for 90 days.
'Strong hands'
Meanwhile, Trump welcomed Japanese Prime Minister Shinzo Abe with a brotherly hug and warm words of admiration yesterday, as he ditched previously hard-charging rhetoric toward Tokyo during a White House summit.
Trump praised his guest's "strong hands," the pair's "very, very good chemistry" and rolled out a White House military honor guard in a remarkable public display of diplomatic affection.
"When I greeted him today at the car," Trump said after an Oval Office meeting, "I shook hands, but I grabbed him and hugged him, because that's the way we feel."
The odd political couple had lunch at the White House before heading to Trump's Mar-a-Lago estate in Florida for further talks and a round of golf.
At Palm Beach airport, the pair were welcomed by a swarm of black SUVs, and a group of onlookers wearing red "Make America Great Again" hats.
Dozens of Palm Beach residents lined the sidewalks along the route to Trump's estate, photographing the motorcade and waving American flags.
The sporting gambit recalled the diplomatic exploits of Abe's grandfather, prime minister Nobusuke Kishi, who once donned a polo shirt to play with avid golfer president Dwight Eisenhower.
Abe is in the United States on a similar charm offensive.
Then, the topic was post-war reconciliation. This time, the Japanese leader is trying to build a personal rapport with the mercurial new US president and head off simmering disputes.
With reporting by AFP