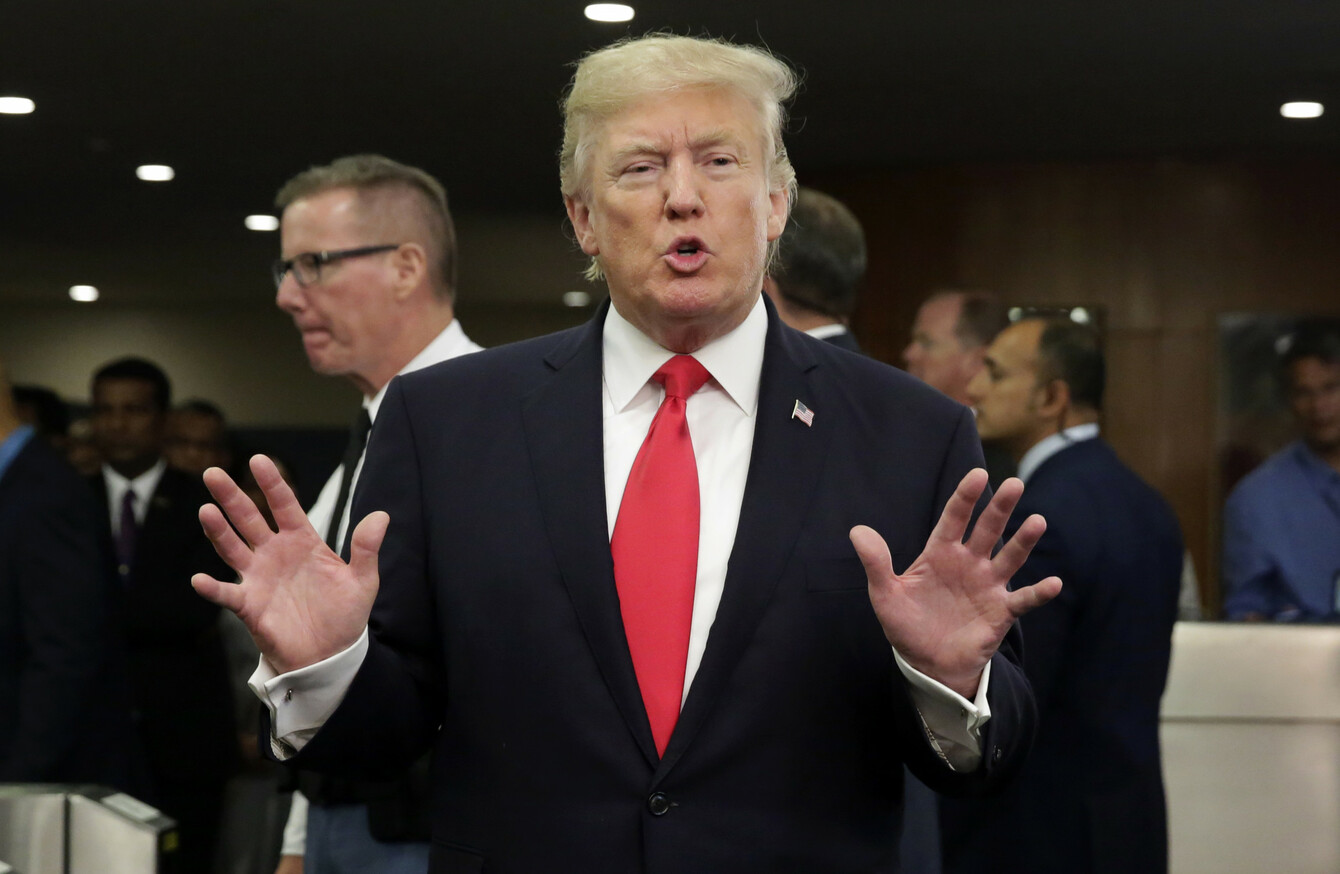 Image: Richard Drew via AP
Image: Richard Drew via AP
US PRESIDENT DONALD Trump has warned that Venezuela is "collapsing", suggesting the US may take additional steps to restore democracy.
Trump told Latin American allies gathered on the fringes of the United Nations General Assembly that President Nicolas Maduro "defied his own people" and was guilty of "disastrous rule" that may necessitate further punitive measures.
"The Venezuelan people are starving. Their country is collapsing," he said.
"It was one of the wealthiest countries in the world for a long period of time and now the people are starving and the country is collapsing, who would think that was possible?"
https://twitter.com/realDonaldTrump/status/909995135009804288
Washington has already slapped sanctions on the crisis-stricken country and Trump warned on 11 August that the US was mulling a range of options against Venezuela, "including a possible military option if necessary".
Trump did not repeat that warning but said the US was prepared to take further action, without offering details.
"Their democratic institutions are being destroyed," he said.
The situation is completely unacceptable. As responsible neighbours and friends of the Venezuelan people, our goal must be to help them and restore their democracy.
The meeting was attended by Colombia's Juan Manuel Santos, Brazil's Michel Temer, Panama's Juan Carlos Varela and Argentina's vice president Gabriela Michetti.
"The socialist dictatorship of Nicolas Maduro has inflicted terrible misery and suffering on the good people of that country," Trump told the room.
https://twitter.com/GhostAnons/status/909936755230507008
"His corrupt regime destroyed a thriving nation by imposing a failed ideology that has produced poverty and despair everywhere it has been tried," he said.
"I ask every country represented here to do more to address this unbelievably serious crisis. We call for the full restoration of democracy and political freedoms in Venezuela and we want it to happen very, very soon."
Anxious world leaders
Meanwhile, world leaders open their annual debate at the UN today, and many are eager to hear Trump deliver his maiden address amid global anxiety over North Korea and Iran.
Trump will take to the podium at the General Assembly just after Brazil's Michel Temer.
The US leader will outline his foreign policy priorities, from confronting North Korea over its nuclear and missile tests to decide the fate of the Iran nuclear deal.
A top White House aide said Trump will take aim at "rogue regimes that threaten world stability and peace", singling out Pyongyang and Tehran during his 30-minute remarks and urging responsible nations to step in to curb their behaviour.
Trump will argue nation states should be free to pursue their interests unfettered – a contentious message for delegates to the world's foremost multilateral forum.
UN reform
Along with his Venezuelan speech yesterday, Trump vowed to push for reform at a UN level.
He called on the UN Secretary General to "use his authority to cut through the bureaucracy, reform outdated systems and make firm decisions to advance the UN's core mission".
Further, we encourage all member states to look at ways to take bold stands at the United Nations with an eye toward changing business as usual and not being beholden to ways of the past which were not working.
With reporting by AFP.