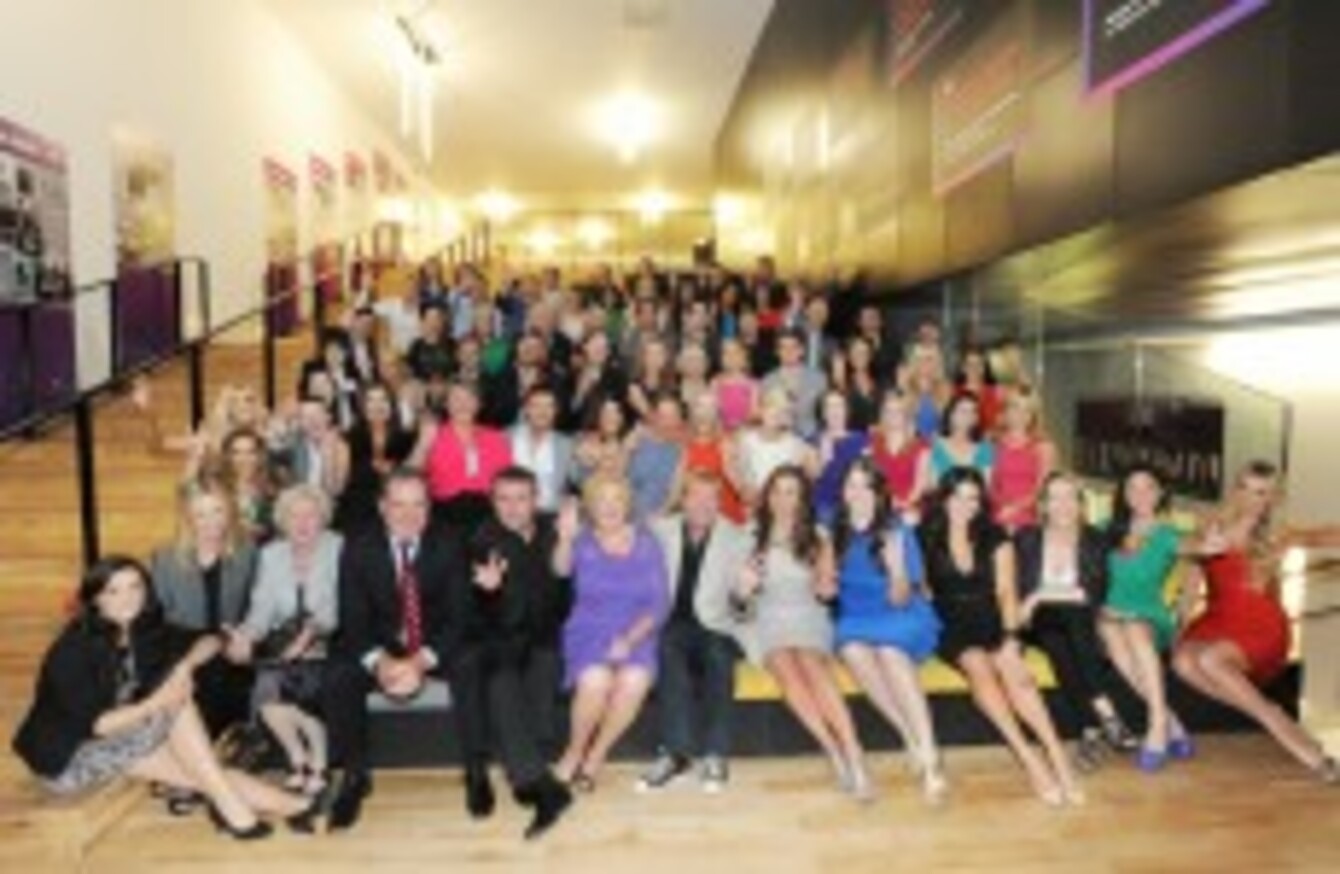 Cast and crew at TV3's autumn launch this week in Dublin.
Image: Sasko Lazarov/Photocall Ireland
Cast and crew at TV3's autumn launch this week in Dublin.
Image: Sasko Lazarov/Photocall Ireland
WHEN TELEVISION EXECUTIVES complain about a "broken market" and emphasise how much of a bad year its been by saying 'brutal' not once, not twice but thrice you'd think they'd be pretty miserable but that isn't necessarily the case at TV3
While much airtime and many paragraphs have been devoted to the troubles at RTÉ this year, TV3 has not been without its problems particularly with the sharp decline in advertising revenue.
The man responsible for the content we see on Ireland's leading independent channel, Director of Programming Ben Frow, outlines the problems he has faced in 2012: "This has been a brutal, brutal, brutal year for me personally, much harder than 2008 and 2009.
"Financially it's just been a lot tougher, we don't seem to be coming out of any kind of recession. Our ambition is limitless but we can only do so much unless some people step up to plate and help us out a bit. The team are good but we're not miracle workers."
TV3 has debts of around €81 million and has seen ad revenue fall sharply since the economic collapse and recession.
"The market's broken it's as simple as that," says the station's commercial director Pat Kiely, adding: "You've three state channels which are being propped up through interventions from government and then you have UK broadcasters who overspill into the market."
"It's been an extraordinary situation for Ben to have grown the amount of Irish conent, for us to have grown our share, to have bucked the international trend of terrestrial channels, [who are] losing viewership. We've actually grown our viewership."
Snobbery
TV3′s gripes are well established at this stage. That RTÉ can operate with both the licence fee and commercial advertising gives then an unfair advantage in the market place, in the independent broadcaster's view. Things need to change.
Kiely indicates that a model where RTÉ took all of the licence fee – which would include scrapping the Broadcasting Authority of Ireland Sound and Vision fund from which TV3′s new drama series Deception has benefitted from – but had their dominance in the ad market reduced would change the way the market, the "broken market" operates.
"We're one of the only markets where television advertising is cheaper than press advertising and TV advertising in Ireland is about 35 per cent cheaper than the European average where everything else in the [Irish] market is about five per cent more expensive than the European average. So we're completely in the wrong territory there," he claims.
Kiely also claims that millions more euro in revenue could be generated for his station if the market had a different structure but in the nearly 14 years that TV3 has been existence there has been little appetite at government level to drastically change the television market in Ireland.
Aside from all that Frow believes that the criticism levelled at TV3 programming, most recently from the likes of David Norris who took aim at Tallafornia is part of a "snobbery about TV3″.
"Tallafornia is half an hour a week," Frow says. "He's [Norris] entitled to have his opinion about Tallafornia but at the same time I'd like him to say that Vincent Browne was good.
He continues: "I just feel that there is an inherent snobbery towards TV3. But I suppose there is an inherent snobbery towards ITV. Maybe commerciality and snobs don't go hand-in-hand, I don't know."
RTÉ
Frow says there are few things that he wouldn't want to do if he were given the money but the restrictions limit the scope.
Speaking of money, TV3 has spent a reported €1.2 million on Deception including a grant from the BAI's Sound and Vision fund but Kiely still feels as if it will be operating within the constraints placed on it by the dominance of RTÉ in the market for sometime to come.
"It's incredibly furstrating, incredibly frustrating," Kiely says on government inaction in the TV market. "I just think it's unpopular, it seems to be unpopular politically to take on RTÉ."
Frow adds: "I find it utterly depressing that no one will step up to the plate and it's like nobody cares, you know. I think TV3 has such an important role to play in this country.
"It's an independent voice, you can't just have RTÉ dominating everything. Everyone seems to be utterly terrified of rattling RTÉ's cage."
And yet this has been a rotten time for RTÉ with the 'tweetgate' controversy and the Fr Kevin Reynolds libel, a debacle which Frow described as "major f*** up" which would have closed down TV3.
He stands by that but is less robust in talking about the State broadcaster's troubles now: "It's too easy for me to slag off RTÉ or slag off their current affairs. I'm just not going to do it. I'm not going to slag off anybody.
"This is a time when this country needs to pull together and there won't be a TV3 if things don't change. It can't keep doing what it's doing. RTÉ's had a big old rap over the knuckles, it's made some changes.
"Has it made big enough changes? I don't know. But let's move on from that now. I think we've got to start looking to the future."
HD studio
The future involves a new multi-million euro HD studio currently being fitted out right beside its Ballymount base in Dublin.
Described as the biggest studio in the country, TV3 hopes that not only does it allow it to move to High Definition programming but that it could generate much needed revenue.
"It'll serve us a purpose in terms of making more programmes but it will only be one part of the strategy there. The broader commercial strategy is to bring in other commercial broadcasters," Kiely says.
The plan is that not only could Vincent Browne be filmed in front of a live studio audience but that other broadcasters, even RTÉ, could rent the space to do their own filming.
"It's a big cost, it needs to start paying for itself but it's part of this overall position of us getting bigger and RTÉ getting smaller," Kiely adds.
TV3 On…
… sports coverage:
Pat Kiely: "We broke what was an in effect an 80-year RTÉ monopoly on the GAA Championship if you include radio three years ago, right in the middle of a recession."
… recruiting Adele King and programme ambitions:
Ben Frow: "I'd like to do more comedy. I'd love to get Adele King on board and do a comedy series with her.
"I'd like Deception to turn into an ongoing drama series for us, I'd like to do more reality shows, I'd like to have a bigger documentary department where we can do some more authorative documentaries and I'd like to do some format shows.
"I really want to have more shows that are returnable, where we can sell formats abroad, where we can have international presence with our content and our ideas."
… on David Norris and Tallafornia:
Ben Frow: "I loved David Norris' quote on Tallafornia but it's (the programme) not aimed at David Norris. Tallafornia is actually a really tame programme, an incredibly tame programme when you actually watch it. I'd have liked it to be a lot raunchier. It's saucy in the second series but it's fun.
"It's not trying to break taboo or anything like that. It's a slice of life in a way and it's not aimed at David Norris or anyone of that age. It's aimed at young people on a Friday night when it's way past the watershed and I have done programmes in my time that are a lot more risky or offensive or controversial than Tallafornia."
… on the RTÉ 'share deal' dispute which was resolved this year:
Pat Kiely: "It cost us millions, cost us millions. I spoke to someone recently in the advertising industry who said to me: 'In my time in this particular agency I think this deal cost you millions'. It did cost us millions."