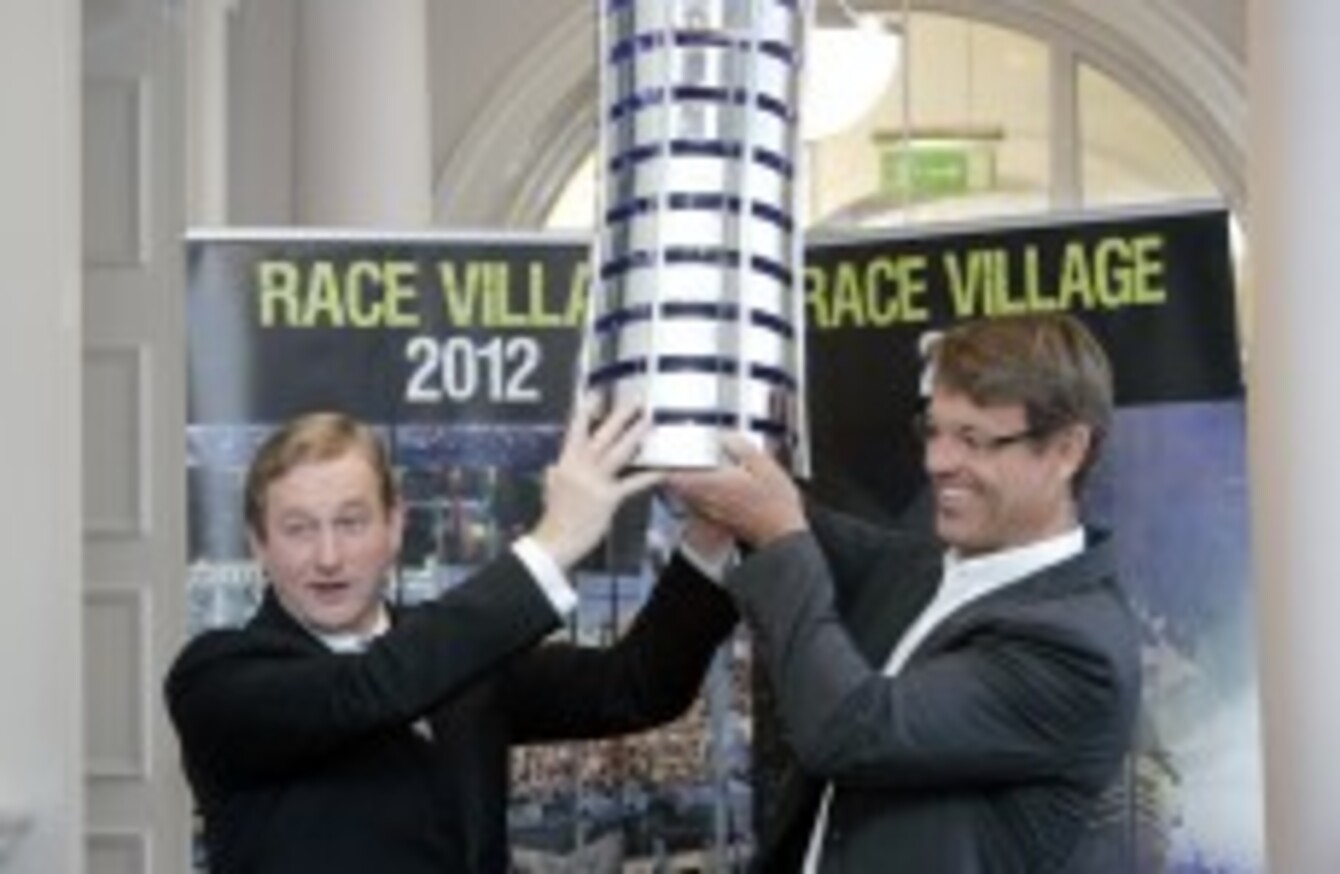 Taoiseach Enda Kenny with Knut Frostad, chief executive of the Volvo Ocean Race, pictured at the launch
Image: Mark Stedman/Photocall Ireland
Taoiseach Enda Kenny with Knut Frostad, chief executive of the Volvo Ocean Race, pictured at the launch
Image: Mark Stedman/Photocall Ireland
WANT TO BE kept up to date with the progress of the 39,000 mile Volvo Ocean Race, which is on track to reach Galway in three weeks' time?
Well, you're in luck, as up-to-the minute updates will be tweeted to millions of people around the world from a high tech 'Twitter Buoy' which will go live in Galway Bay today.
The Galway 'Twitter' Buoy was launched by the Irish Lights vessel Granuaile at a location close to Mutton Island and will transmit a constant flow of data on the race, the weather conditions being experienced by the sailors and other ocean and meteorological data.
To keep up to date, all you have to do is follow the  Galway Twitter Buoy @Galwaybuoy, which will transmit until mid-July.
This the first time a Twitter account has been used to transmit updates on the race, and it has come about through a collaboration between the Commissioners of Irish Lights, the Marine Institute, Techworks Marine, Smartbay Ireland and IMERC (Irish Maritime and Energy Resource Cluster) partners.
Buoy
The navigational buoy is eight metres high and fitted with multiple environmental sensors and electronic transceivers including AIS (Automatic Identification system) and RACON (Radar beacon).
Yvonne Shields, chief executive of the Commissioners of Irish Lights, said:
While fog signals and whistles may be a thing of the past, the Commissioners of Irish Lights are working on new aids to navigation using next generation technologies to communicate with sea goers and navigators around our coasts.
Events
There will be a number of events connected to the Volvo Ocean Race taking place over the next few weeks, including the Ocean Wealth Showcase, which will highlight Ireland's marine resources, at the Volvo Global Village from 30th June to 8th July.
An Ocean Wealth Exhibition will run from 30th June- 8th July; there will be family fun days during the same time and a marine career and recruitment event on 5th and 6th July.
Getting more from our Marine Resources through Technology will be the subject of the 3rd Annual Smart Ocean Conference at the Marine Institute on Monday 2nd July.
A symposium on the marine environment on 6th July will feature a number of expert speakers, while the inaugural Smart Ocean Innovation Exchange on 3rd July aims to support companies to innovate in the Marine Sector and encourage investment opportunities.
The week-long showcase will end on Saturday 7th and Sunday 8th July with a 'Stay Safe at Sea' event, which will include safety talks and advice.