TWITTER EXPERIENCED A better than expected second quarter this year after beating expectations and seeing its stock grow by more than 30% after trading at one point.
The site's monthly average users (MAUs) increased to 271 million, compared to the 255 million it had three months ago. This was a 6% increase, the same rate it grew by in the first quarter, but it was the biggest increase in users it's experienced in any of the past five quarters.
Mobile MAUs reached 211 million, representing 78% of all MAUs, and timeline views reached 173 billion, compared to 157 billion last quarter.
Financial earnings were also positive with revenue reaching $312 million, an increase from the $250 million earned during the first quarter. However, the company did record a net loss of $145 million.
Mobile advertising still accounts for the majority of Twitter's advertising revenue, making up 81% of the $277 million earned during this quarter.
Investors were pretty happy with the earnings report as stock rose by over 30% less than an hour after the report was announced. At the time of writing, it's fallen to 29% and is now valued at just under $50 per share.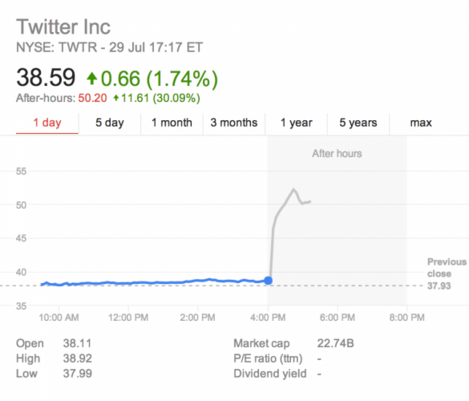 Source: Google Finance
One factor behind its increase in users could be put down to Twitter's efforts in tying in with the World Cup, incorporating features like real-time scoring, event and match timelines and push notifications to improve the experience.
However, its CEO Dick Costolo told CNBC that this wasn't the sole reason for its growth, saying the increase was down to "product changes that have driven new user growth, live events drive more engagement from active users."
During his Q&A with investors, Costolo reiterated that the event increased engagement and not users.
He also mentioned that the company will be focusing on direct messaging and that the reach of Twitter – taking into account those who aren't signed up to the site, but check it anyway – is two to three times the size of its current userbase of 271 million.
Twitter was expected to release new user metrics to show its reach beyond logged-in users, but has delayed it. It's unclear when exactly Twitter will reveal these new metrics to investors.