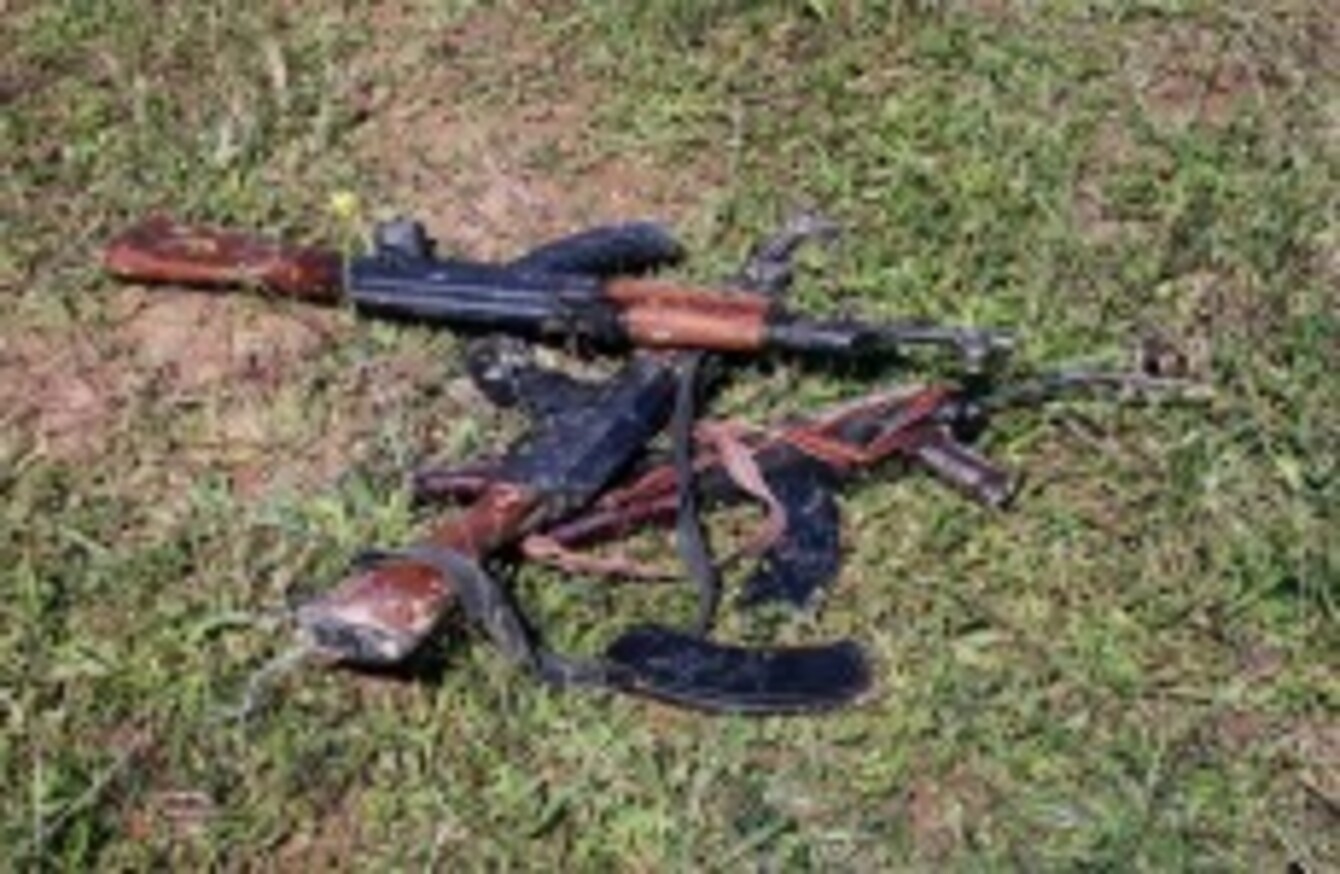 AK-47s seized by Iraqi security forces are seen in Hawija, 150 miles (240 kilometers) north of Baghdad, Iraq.
Image: STR/AP/Press Association Images
AK-47s seized by Iraqi security forces are seen in Hawija, 150 miles (240 kilometers) north of Baghdad, Iraq.
Image: STR/AP/Press Association Images
Warning: Graphic images
TWO DAYS OF violence in Iraq have killed 125 people, 99 of them in clashes and attacks involving security forces, protesters and their supporters, officials said today.
At least 268 people have been wounded, 194 of them in protest-related unrest, which prompted two Sunni ministers to quit and has sent tensions in the country soaring.
The violence, which began with clashes at a protest site in northern Iraq after security forces moved in, is the deadliest so far linked to demonstrations that erupted in Sunni Muslim areas of the Shiite-majority country more than four months ago.
The protesters have called for the resignation of Shiite Prime Minister Nuri al-Maliki and railed against the alleged targeting of their community by the authorities.
On Wednesday, five soldiers and seven gunmen were killed and 63 people, including 20 soldiers, wounded in fighting in the Sulaiman Bek area north of Baghdad, security officers and an official said.
MP Ashwaq al-Jaf said dozens were wounded in military air attacks in the area, and a high-ranking army officer confirmed helicopters were used in the fighting.
In other violence that officers said was also apparently in revenge for Tuesday's clashes, gunmen attacked a Sahwa anti-Al-Qaeda militia checkpoint in Khales northeast of Baghdad. They killed four militiamen and wounded a fifth, a police lieutenant colonel and a doctor said.
Gunmen also wounded a policeman in the northern city of Mosul, while a soldier was hurt in another shooting to its south, police and a doctor said. Three gunmen were also killed in the Mosul attack.
Apparently unrelated violence, including a car bomb in Baghdad and attacks in three other areas, killed at least 11 people and wounded 33, officials said.
The body of a gunman killed during clashes with Iraqi security forces lies on the ground in Hawija, 150 miles north of Baghdad, Iraq. (AP Photo)
The trouble began early on Tuesday when clashes broke out after security forces moved into an area near Hawijah in northern Iraq, where protests have been held since January.
The initial fighting killed 53 people, while a series of revenge attacks left another 27 dead on Tuesday, and 15 more were killed in apparently unrelated unrest the same day.
Two Sunni ministers quit in the wake of the initial violence, bringing to four the number of Sunni cabinet members who have resigned since 1 March.
Abdulghafur al-Samarraie and Saleh al-Haidari, top clerics who respectively head the Sunni and Shiite religious endowments, held a joint news conference warning against sectarian strife and calling for politicians to meet on Friday.
Samarraie warned of "malicious plans… with the goal of taking the country towards sectarian conflict," and said he and Haidari agreed "to move quickly to extinguish the strife and stop the conspiracy."
In mourning
On Wednesday, mourners buried dozens of people killed the day before.
Hundreds of them walked on the main road past the provincial council building in Kirkuk city alongside vehicles carrying 34 coffins.
They chanted "We sacrifice for you, Iraq" and "We will take revenge for the martyrs of Hawijah," continuing on to Hawijah, to the west of the city, where the dead were buried.
"What happened was a massacre, and the situation is catastrophic and dangerous, and we should work on easing the tension," said Kirkuk Deputy Governor Rakan Said.
A protest organiser and a doctor said on Wednesday that two soldiers who were kidnapped by demonstrators the day before near Ramadi, west of Baghdad, had been released.
Abdulrazzaq al-Shammari also said demonstrators were demanding that soldiers withdraw from all cities in Anbar province, where Ramadi is located, and stay in their main bases.