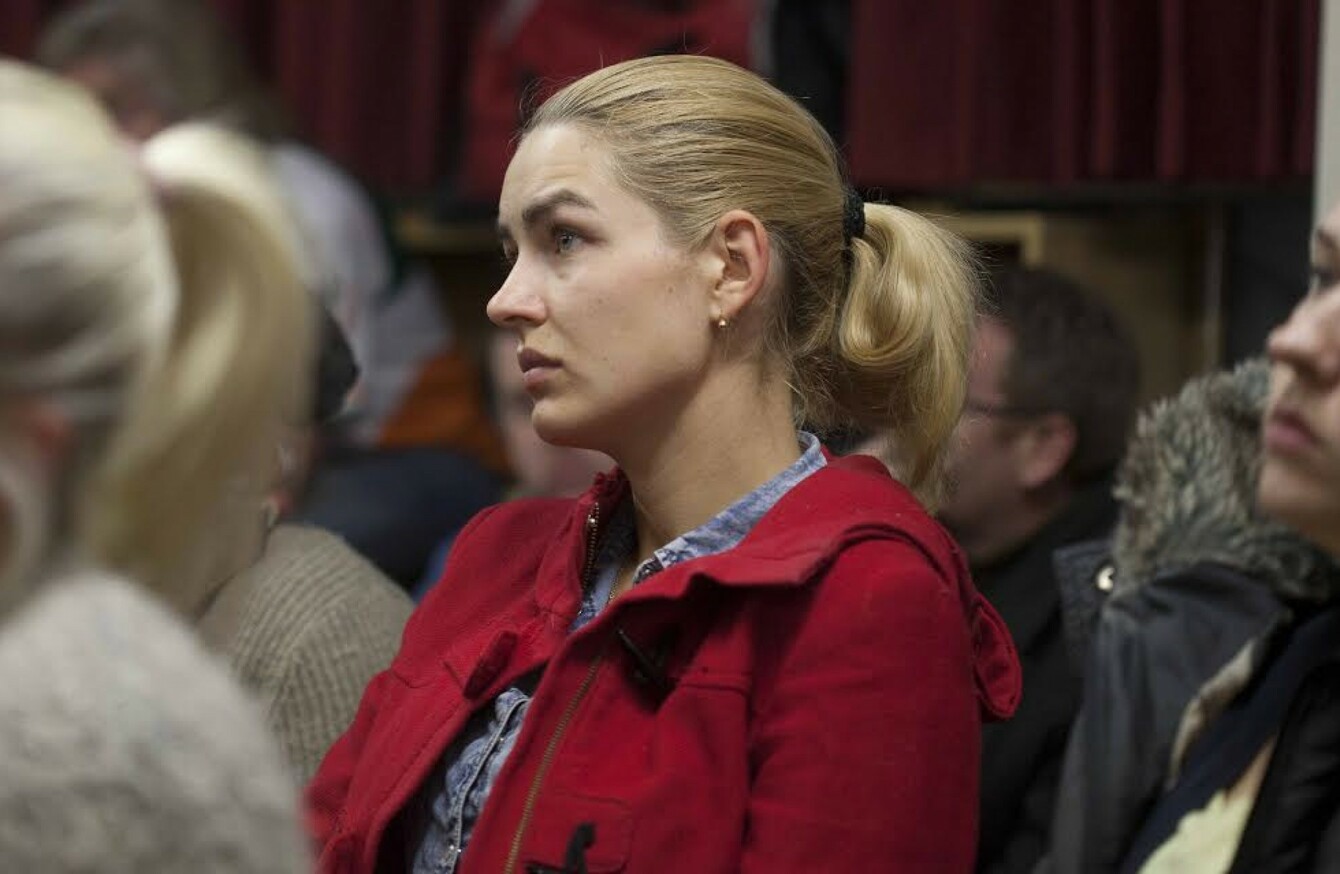 A Cruise Park tenant listens to speakers at last night's meeting of residents.
Image: RollingNews.ie
A Cruise Park tenant listens to speakers at last night's meeting of residents.
Image: RollingNews.ie
RESIDENTS SET TO lose their homes in a west Dublin estate have been advised not to leave the houses until they can find alternative accommodation.
Dozens of families living in Cruise Park, Tyrrelstown, were told in recent weeks that their leases will not be renewed following the sale of 103 houses in the area.
It comes after Goldman Sachs purchased a €89 million loan from Ulster Bank that Irish property developer Twinlite had secured on the development.
But local Sinn Féin councillor Paul Donnelly said today that he was advising affected tenants to remain put – past the end of their contracts, if necessary – until they can find other property to rent.
Donnelly said the residents could buy themselves more time by referring their case to the Private Residential Tenancies Board (PRTB), whose determination orders are enforced through the Circuit Court.
He called on Twinlite to issue a written assurance that no family would be forced to leave their home without new accommodation.
National housing charity Threshold has committed to working with residents who are concerned about becoming homeless.
The charity said that yesterday that there are only 23 properties currently available to rent in the Dublin 15 area, which has a population of over 100,000.
'Devastating'
Funke Tobun, who lives on Cruise Park Drive with her husband and three children, told TheJournal.ie yesterday that she has been under serious strain since receiving her letter of notice two weeks ago.
"I have settled and my children know their way around Tyrrelstown. They go to school there," she said.
It is devastating to wake up and be told the house is being sold and we all have to leave and become homeless.
Donnelly, who held a emergency meeting in the area last night, said many residents were terrified about their futures.
A lot of people are very afraid and very stressed. You can see the sheer terror in their faces.
It's not even anger at the moment: it's shock.
Under current legislation, a tenant who has been renting for six months generally acquires the right to remain in a property for a further three-and-a-half years.
The regulation applies even where a tenant has signed a lease for a shorter period.
However, a tenancy of over six months can be terminated if the landlord intends to sell the dwelling within three months of the lease's termination date.
Twinlite said in a statement on Sunday that the Cruise Park homes would be sold according to the rules governing private residential tenancies.
It said the move would involve securing "vacant possession on a number of residential properties, prior to selling them, in order to generate the maximum value".
Threshold has encouraged tenants in need of advice to call its freephone on 1800 454 454.