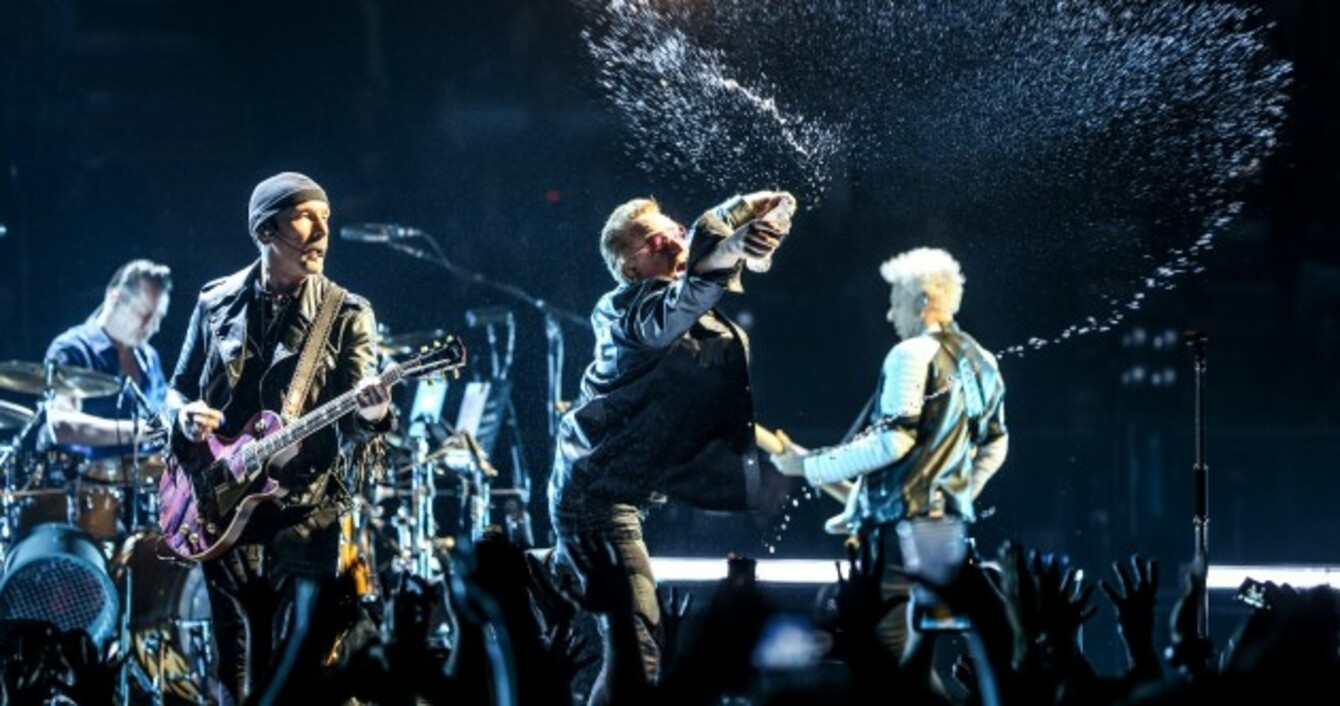 Image: Associated Press
Image: Associated Press
(A version of this article was originally posted on 14 September)
AFTER MUCH SPECULATION, U2 finally confirmed in September that they would be playing four nights in the 3Arena (the Point) as part of their European tour this November.
The gigs are long-since sold out – and the band have already been wowing fans on Irish shores at their gigs in Belfast.
So what can the lucky fans who secured tickets for the Dublin shows look forward to in the next few days?
Here's how the tour has been going down so far… 
Source: RockArchives/YouTube
The band didn't have the most promising start to their world tour – with The Edge taking a tumble off the stage mid-set, inciting a slew of inevitable jokes. 
After Bono's long lay off following his bike crash injury it had people worried – but he was fine! 
This was the set-list from the opening night… 
Fans were pretty impressed with the state-of-the-art stage show: 
Source: RTE2fm/YouTube
And the reviews were pretty positive too. Case in point, Rolling Stone: 
Tragedy struck the tour in the opening weeks however, as the band's long-serving tour manager Dennis Sheehan passed away: 
Since then the lads have been back to their usual on-stage tricks – like inviting their own tribute band to perform alongside them. 
And of course, there have been some inevitable Bono speeches along the way.
The band arrived in Europe at the start of this month, and speculation about Irish gigs gathered pace as a result.
The Edge seemed cautiously optimistic, telling The Irish Times:
"This show is designed for a type of venue and unfortunately there isn't one, certainly in the south, I think there might be one in the Belfast area so we're looking at that as well."
Just a few days later, the concerts were confirmed.
"We're grateful to our overworked crew who finally cracked the reconfiguring to fit these venues," Edge said.
There has been more drama since – with the band forced to cancel their gigs in Paris last weekend in the wake of Friday's terror attacks.
Bono paid tribute to the victims of the atrocity in Belfast on Wednesday, telling the crowd: "We refuse to hate because we know that love will do a better job."
Want to see more? There's plenty of footage from the gigs so far on the group's website.