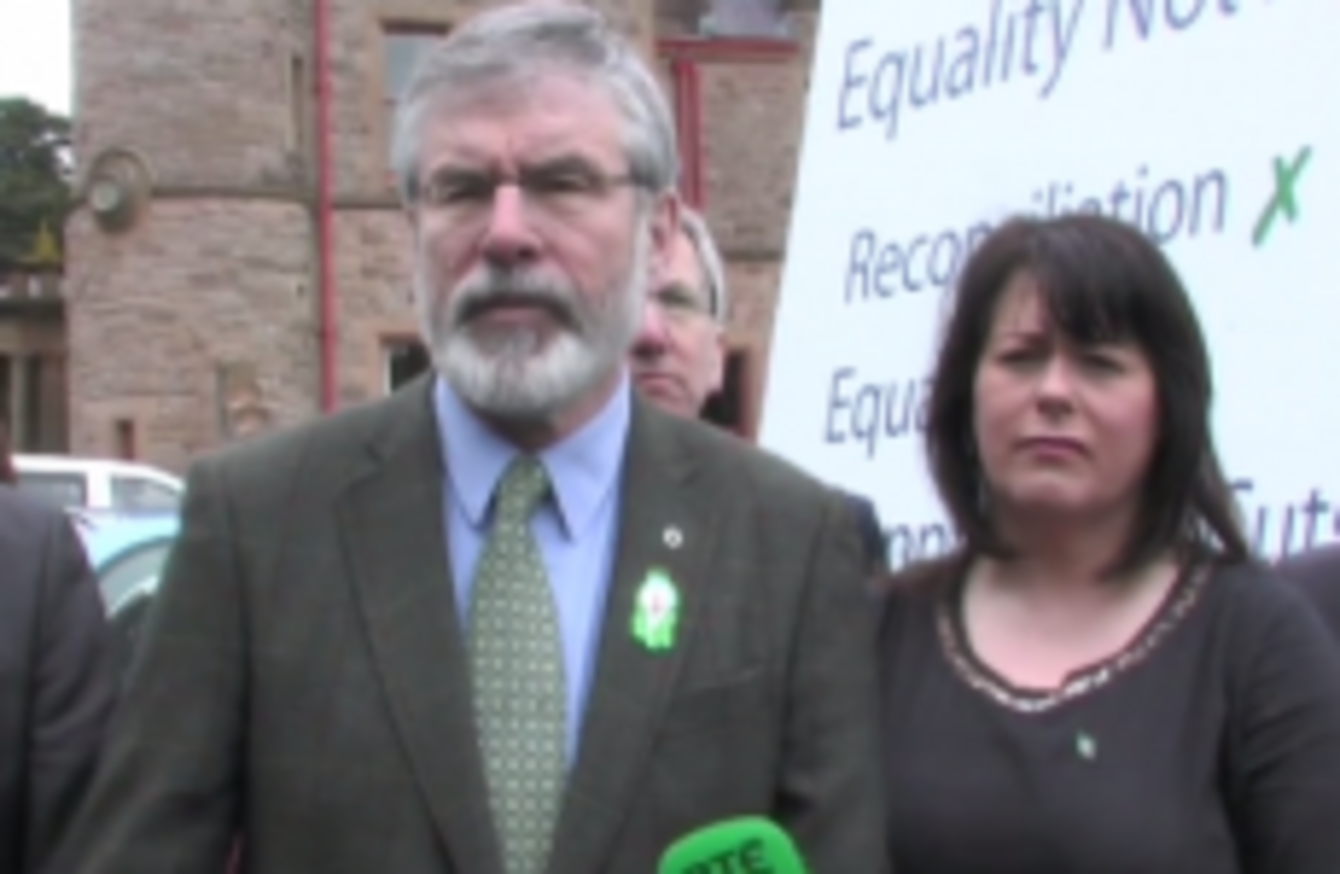 Image: Youtube/AnPhoblacht
Image: Youtube/AnPhoblacht
Updated 10.41 pm
GERRY ADAMS SAYS suggestions that his party will end their abstentionism and take their seats in Westminster are "a distraction".
Speaking to BBC News as Sinn Féin began their Westminster election campaign, Adams said that his party are "active abstentionists".
"The party is very settled on this issue," he added.
UK Prime Minister David Cameron today dissolved parliament to allow preparations for the general election to get officially underway.
Labour and the Conservatives are running evenly in opinion polls making a hung parliament a virtual certainty.
It means there is already talk about potential post-election coalitions the Conservative Party even went so far as to suggest that Sinn Féin could support a Labour-led government.
The idea was rubbished by both sides and Adams today reiterated his party's stance against taking their seats as MPs.
Sinn Féin today launched a 'People's Pact' to start their campaign, urging UK voters to choose "equality not austerity".
"It doesn't matter to us whether it comes from London or from Dublin, people have the right to public services and people have the right to social protections," Adams said this afternoon. "That's what citizens pay taxes for, no bunch of millionaire career politicians should have the authority to impose economic penalties upon people here."
Cameron travelled to Buckingham Palace this morning to request for Queen Elizabeth II to formalise the dissolution of parliament.
This means that all Members of Parliament are now barred from using this title, and become ordinary members of the public.
And if they've left anything in Westminster, they only had until 5pm to get it out.
Ministers remain in their positions but are advised to continue with existing policies, and to refrain from introducing anything new.
Alastair Bruce, royal commentator with Sky News, explained that only the Queen has the power to dissolve parliament – Cameron simply requested her to do so.
"It reminds us after all that the monarch's authority protects us from any form of dictatorship," he said.
In a speech in front of his residence at 10 Downing Street following his royal audience, Cameron said that voters faced a "stark choice" between him and his main centre-left challenger, Labour's Ed Miliband.
Source: ODN/YouTube
"Britain is on the right track," he said, listing his government's economic achievements and adding that Britain had been "on the brink" when he came to power in 2010 following 13 years of Labour government.
You can choose an economy that grows… or you can choose the economic chaos of Ed Miliband.
The election takes place on May 7. A YouGov/Sunday Times poll yesterday put support for the Conservatives at 36%, Labour 32%, Lib Dems 9%, UKIP 12%, and Greens 5%.
Additional reporting by Rónán Duffy © – AFP, 2015