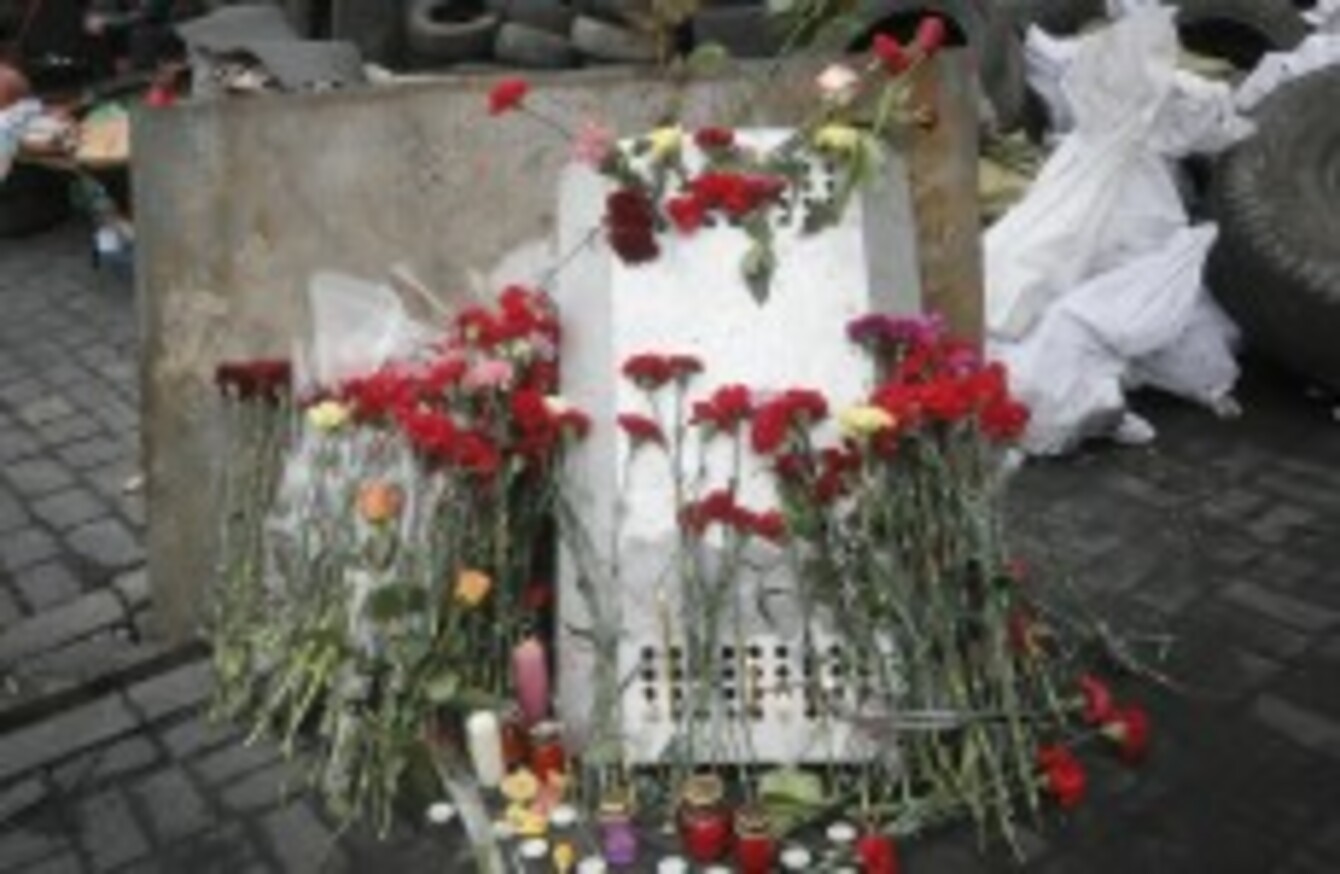 Flowers cover a protester's shield on the site where he was killed by a riot police sniper during a recent deadly clash close to Kiev's Independence Square.
Image: AP Photo/Efrem Lukatsky
Flowers cover a protester's shield on the site where he was killed by a riot police sniper during a recent deadly clash close to Kiev's Independence Square.
Image: AP Photo/Efrem Lukatsky
UKRAINIAN LAWMAKERS HAVE given presidential powers to parliament Speaker Oleksandr Turchynov, who urged political parties to agree on a new government and warned of the "catastrophic" state of the nation's economy.
The United States, Europe and the United Kingdom said they would help with financial aid when a new cabinet is formed, a day after the assembly ousted Viktor Yanukovych from the presidency for his role in violence that killed at least 82 people last week.
Border officials stopped him and members of his cabinet from fleeing Ukraine at an airport in the country's eastern city of Donetsk yesterday. They were not detained.
"The situation in Ukraine, first of all in the economy, is catastrophic," Turchynov told parliament today in Kiev.
There are no funds in the state Treasury account.
The peace agreement agreed last week bolstered Ukrainian assets, with the yield on the government bond maturing in April 2023 falling 77 basis points, or 0.77 percentage point, on Feb. 21 to 10.33 percent.
With western nations and Russia tussling for sway over the country of 45 million people, the International Monetary Fund said it's ready to help Ukraine "not only from a humanitarian point of view but also from an economic point of view," IMF Managing Director Christine Lagarde told reporters in Sydney following a meeting of Group of 20 finance ministers and central bank governors.
Treasury Secretary Jacob J. Lew said the U.S. was prepared to help Ukraine return to a path of democracy, stability and growth. U.K. Chancellor of the Exchequer George Osborne agreed.
"We are here ready to help just as soon as there is someone at the end of the telephone," Osborne said in an interview today in Sydney.
We should be there with a chequebook to help the people of Ukraine rebuild their country.
The EU's foreign policy chief, Catherine Ashton, will travel to Ukraine tomorrow to meet party leaders and discuss how to resolve the political crisis and stabilize the economy, the European Commission said on its Facebook page today.
Russia halted a $15 billion bailout for its neighbour after the unrest and talks on resumed financing may continue only after a new government is formed, RIA Novosti reported today, citing Russian Finance Minister Anton Siluanov in Sydney.
Polarised
The political crisis polarised sentiment in Ukraine largely between its western and central regions bordering ex-communist EU states Poland, Slovakia, Hungary and Romania and those in the south and east that are home to more Russian speakers and ethnic Russians.
For a second day, police were absent from the streets in central Kiev, where protesters guarded key government buildings.

Activists guard Ukraine's National Bank. (Image Credit: Efrem Lukatsky/AP/Press Association Images)
Today, parliament temporarily gave presidential powers to Turchynov, who urged parties to agree on a new coalition cabinet by Feb. 25.
Yesterday they also voted on measures aimed at bringing those responsible for the violence to justice, while Yanukovych's Party of Regions blamed him for the violence.
"We condemn Yanukovych's escape and cowardice," the party said in a statement on its website today. It decried "criminal orders that led to victims, an empty treasury, huge debt, and shame in the eyes ofUkraine and the whole world."
Border officials stopped Yanukovych's plane in Donetsk yesterday and refused an offer from armed men of money in exchange for permission to depart, Oleh Slobodyan, head of the Ukraine Border Service media department, said by phone today.