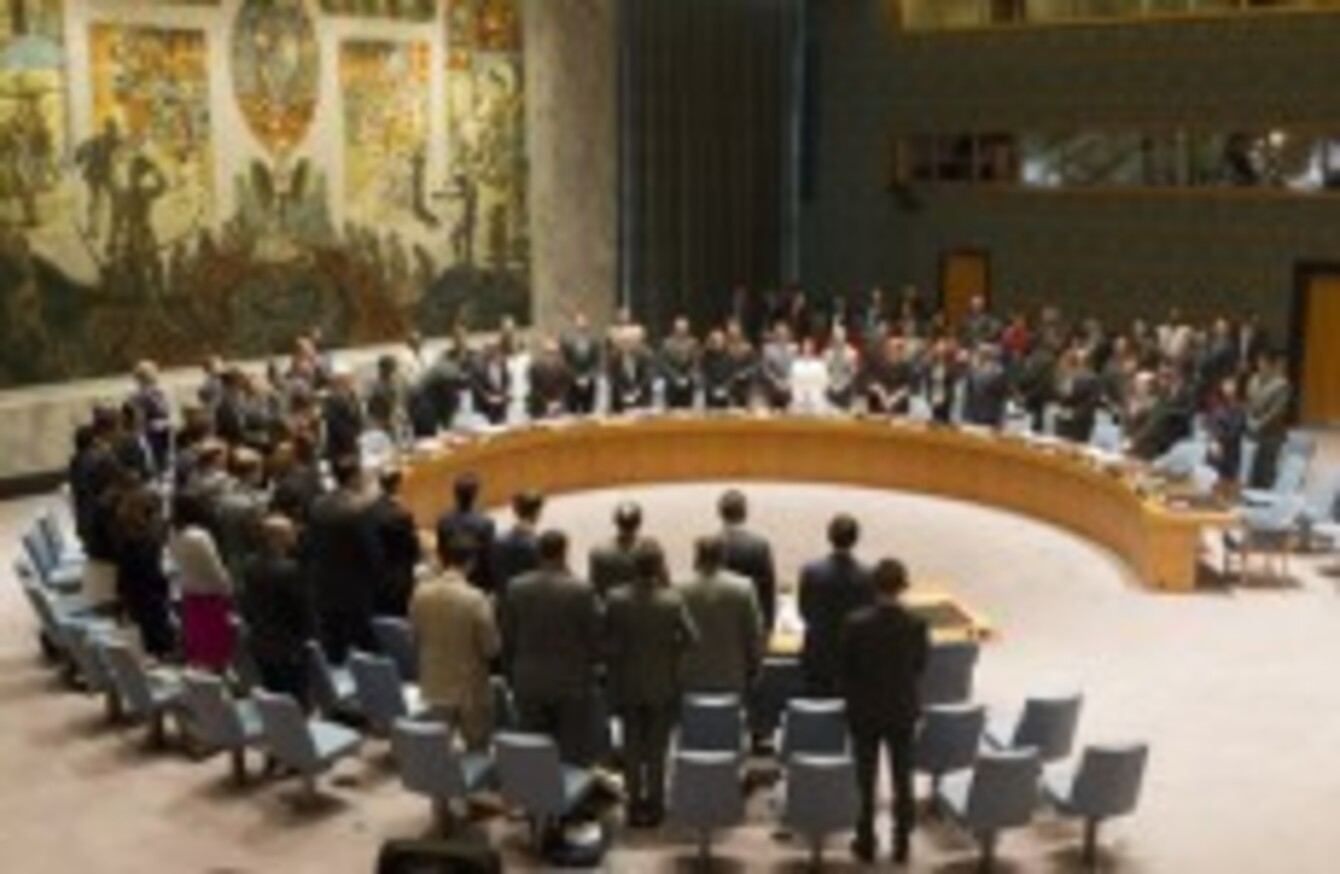 The councils stands for a minutes silence.
Image: United Nations
The councils stands for a minutes silence.
Image: United Nations
MEMBERS OF THE UN Security Council demanded a full, independent investigation into the apparent shooting down of a Malaysian jet over Ukraine that killed all 298 people on board.
Diplomats stood for a minute of silence in memory of the victims in Thursday's disaster over a rebel-held eastern part of the country after agreeing on a unanimous call for a complete probe.
A joint statement called for "a full, thorough and independent international investigation… in accordance with international civil aviation guidelines and for appropriate accountability."
Immediate access
It stressed the need for "immediate access" by investigators to the crash site and expressed deep condolences over the catastrophic loss of life on Malaysia Airlines flight MH17.
But an emergency session of the United Nations Security Council exposed the deep fault lines over the conflict in Ukraine, arguably the worst crisis in Western-Russian relations since the Cold War.
Britain and the United States said the jet was likely downed by a surface to air missile, and heaped blame on Russia for supporting and arming separatist groups.
US Ambassador Samantha Power said flight MH17 was likely downed by an SA-11 surface-to-air missile launched from a separatist-held location in eastern Ukraine.
Rebels have already been accused of bringing down a Ukrainian helicopter, cargo plane and a fighter jet.
"This tragedy only underscores the urgency and determination with which we insist that Russia immediately take concrete steps to de-escalate the situation in Ukraine, support a sustainable ceasefire and following the path toward peace," Power said.
Russia
"This war can be ended. Russia can end this war. Russia must end this war."
British Ambassador Mark Lyall Grant also demanded that Russia cut off support to separatist rebels, saying violence unleashed by insurgents had reached "monstrous proportions."
"It is clear where responsibility lies: with the senseless violence of armed separatists and with those who have supported, equipped and advised them," said Lyall Grant.
He called on the Council to demand that armed groups lay down their arms and pursue their objectives through peaceful means, and for the flow of weapons and fighters to separatists to halt.
"In the light of yesterday's tragedy, any other course of action would be unconscionable," he said.
Negligence
Russian Ambassador Vitaly Churkin ignored Western complaints and accused Ukrainian authorities of negligence in allowing flights over an area where anti-aircraft systems were operating.
"Today Kiev declared a full closure of the airspace. Why couldn't this have been done earlier, not waiting for hundreds of victims to have been incurred?" he said.
He said the Ukrainian military was killing civilians, accused the United States of pushing Kiev to escalate the crisis and blamed the West for impasse in efforts to halt the violence.
Ukrainian Ambassador Yuriy Sergeyev meanwhile reiterated Kiev's position that the jet was shot down by terrorists, an act he said could only have been done by an SA-11 or similar missile system.
"The question is where did they get this sophisticated air defense system from?" he said.
"This tragedy would not have been possible if Russia did not support the terrorists" and did not supply them with sophisticated air defense systems, he said.