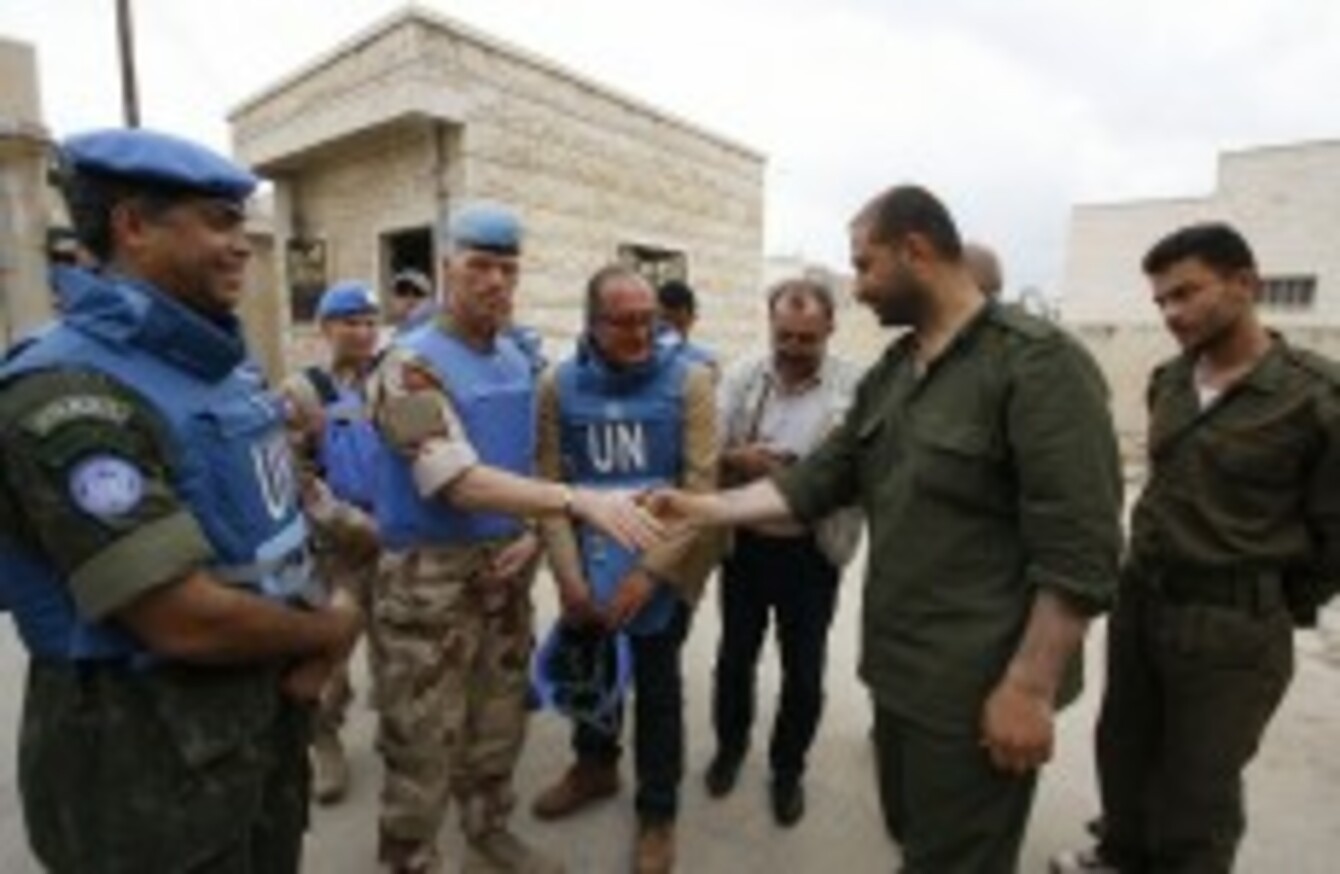 Head of the advance team of UN observers Maj Gen Mood meets Syrian security officers in Hama, 3 May 2012.
Image: AP Photo/Muzaffar Salman/PA
Head of the advance team of UN observers Maj Gen Mood meets Syrian security officers in Hama, 3 May 2012.
Image: AP Photo/Muzaffar Salman/PA
THE UN RECENTLY sent an observer mission to Syria to monitor a ceasefire the government agreed to implement.
Reports of attacks and violence continue, and UN Secretary-General Ban Ki-moon has said that the observer mission should be extended from 30 members to 300.
Observer missions are manned by people with relevant expertise from across the UN's 193 member states; Ireland has offered to make six Defence Forces members available to the UN as part of that mission.
The United Nations has over 130 fields offices which are involved in a range of peacekeeping operations including the political and humanitarian missions.
Anyone considering applying to join its peacekeeping missions is urged by the organisation to bear in mind that the areas it operates in are often emerging from conflict or other emergency situation and are likely to have poor infrastructure as well as shortages of electricity and clean water.
Who can become a UN observer?
"Generally, they're military personnel and police that are already part of a UN mission," Prof Ray Murphy, Director of the Irish Centre for Human Rights told TheJournal.ie, but that depends on the mission at hand.
"The first thing you'd look at is what is the mandate of the mission: if it was a human rights mission, you'd want people with experience in that field. If you were looking at war crimes or crimes against humanity or genocide, you might want expertise in international law."
The Irish government has a 'rapid response force' which responds to UN appeals for engineers, medical workers, and others with suitable expertise for assisting in humanitarian crises such as the Haitian earthquake of 2010 or the Japanese earthquake last year. Most of the people on this force would fit the profile of civilians that could undertake monitoring duty as well, Murphy says.
"The monitors in Syria, the team that is there right now, were drawn from existing UN missions because it's an emergency situation," he said.
Prior mission experience in the field is also preferred, as is the ability to adapt and get into the field quickly. "Most people have lives and jobs and families and they can't just suddenly go, whereas civil servants or members of defence forces could do that if the government was replying to a request from the UN," Murphy said.
Syrian protestors gather around UN observers during their visit to Douma near Damascus, Syria on 23 April 2012. (Image: STR/AP/PA)
How are observers selected?
Suitable experience and expertise is essential, and it's up to a state's government to select the observers it recommends to the UN for a particular mission. People might need to be able to speak the local language, be able to drive, have legal training, or a military background.
"It's a complex process," says Murphy, who has himself served with the Irish Defence Forces on UN peacekeeping missions.
"The UN and other international organisations rely on states to give them reputable people who can do the job – so they're a bit at the mercy of states. For the most part, the UN is already overstretched and in crisis situations they're relying on states to send them credible, experience people. "
The six Irish military personnel who are set to join UNSMIS were selected from an existing volunteer list held by the human resources section of the Defence Forces. They are experienced personnel with a broad skill set and have at least two previous overseas deployments and a 13-year minimum service in the Irish military, according to a Defence Forces spokesperson.
In general, military personnel are selected for overseas service based on their volunteer status, the exigencies of the service, and the specialist skills required on the deployment. The Defence Forces spokesperson said that personnel on overseas missions are normally rotated after completing a set tour of duty, but multiple tours could become possible if the mission lasts for years (as in the cases of Lebanon and Liberia), given the size of the Irish Defence Forces.
The six Defence Forces members are a mix of senior and junior offices and match the rank profiles requested by the UN for this mission.
What do they do?
In a situation like Syria, observers with a military background are preferable because they need to be able to distinguish between different types of artillery fire, weapons and tanks that they see during their visit. Military experience is also essential in determining the level of risk the team faces.
On the ground, a member of an observer mission must monitor and observe as well as liaising with and reporting to UN headquarters in New York.
#Open journalism No news is bad news Support The Journal

Your contributions will help us continue to deliver the stories that are important to you

Support us now
Ideally, the observer team has complete freedom of movement to follow up reports of incidents it needs to check or verify.
However, realistically, in a situation where violence is ongoing, the team has to make a call about the danger that they face in going into an area where firing continues. The team is unarmed and is not travelling in an armoured vehicle, meaning they have very little protection.
"All sides in a conflict are supposed to cooperate with the UN mandate, but you're relying on their goodwill," said Murphy. "Saying that you're there on the basis of a UN mandate means nothing on the ground. I don't believe [the observers] would be deliberately targeted by either side but if you got caught in the crossfire, you could become what they term 'collateral damage'."
A government might also tell an observer mission that they 'cannot guarantee the team's safety' in a particular area, which indicates that the team will be taking a serious risk in travelling to that place – but also indicating that the government in question might have something in that area which it particularly does not want the observers to see.
The six personnel selected for UNSMIS are currently undergoing training ahead of their participation in the mission. This training includes a focus on force protection, communications, mine awareness, advanced driving techniques, first aid and cultural awareness, the Defence Forces told TheJournal.ie.
"Whilst the threat profile is always a consideration for any overseas deployment, risk and danger are an inherent part of military service on such operations," the Defence Forces spokesperson said. "All possible measures are taken to ensure force protection and the safety of our deployed personnel. The training and experience that the Defence Forces have deployed since deploying to the area first in 1958 are substantial."
So what happens after the observer mission?
That really depends on the UN's members.
Members of the observer team contribute to the compilation of a mission report which is submitted to the UN for its consideration. This report may – or my not, depending on how the situation is developing and what they had to say in that report – lead to further observer missions or to UN Security Council members pushing for military intervention or the deployment of a peacekeeping mission.
NATO intervention in Libya on the foot of a UN Security Council Resolution regarding the protection of civilians led to the fall of the Gaddafi regime last year and has discouraged Security Council members from pushing for intervention in Syria. China and Russia have stood by Syria in refusing to facilitate stronger action against the Syrian government than the deployment of an observer mission.