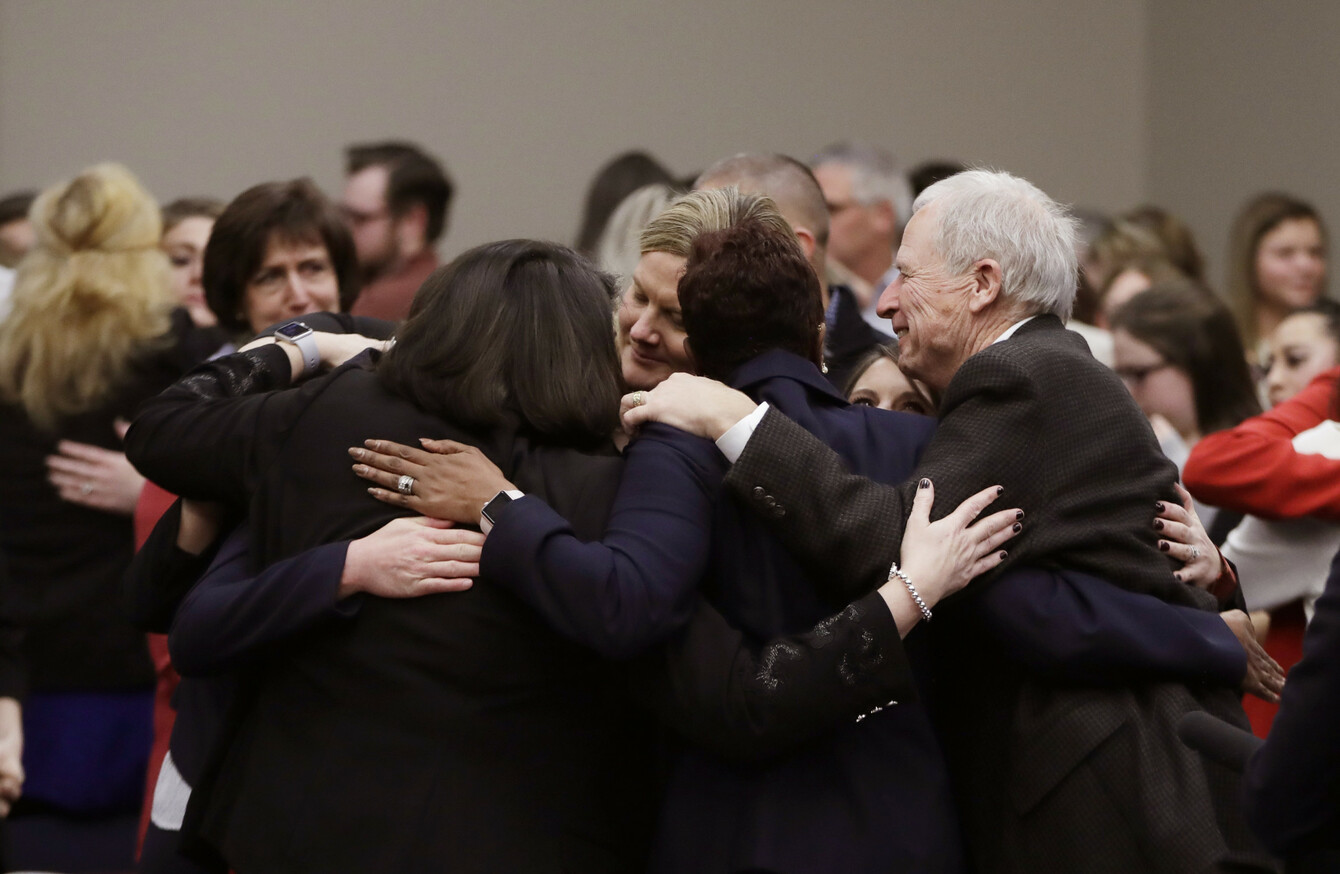 Victims and supporters clapped and embraced each other after the sentencing of Larry Nassar yesterday.
Image: Carlos Osorio via PA Images
Victims and supporters clapped and embraced each other after the sentencing of Larry Nassar yesterday.
Image: Carlos Osorio via PA Images
AFTER USA GYMNASTICS doctor Larry Nassar was found guilty of sexually assaulting young athletes he treated yesterday, his victims have thanked people for their support through a long and public campaign.
Nassar was sentenced to 40 – 175 years in prison for sexually abusing scores of young girls under the guise of medical treatment. More than 150 women and girls accused Nassar of a pattern of serial abuse dating back two decades.
Olympic gold medal-winning gymnast Simone Biles was among his victims. Reacting to the news of the sentencing, she said on Twitter:
"My heart is so full, but I also want to cry all the time."
Jordyn Wieber, another Olympic gold medalist and world champion, thanked those who came forward to share their story "both in and out of the courtroom".
Thank you to Judge Aquilina. Thank you to EVERY SINGLE person that came forward and shared their story, both in and out of the courtroom. And thank you to everyone who has reached out in support. Justice was served today and now it's time for CHANGE #timesup.
Gymnast Aly Raisman, another Olympic gold medalist released a long statement thanking people for supporting her in her testimony against Nassar's "disgusting abuse".
"As I shared in court, I wasn't planning to speak but thanks to the army of survivors and you, I am forever grateful that all of our voices are finally heard. Thank you for listening to us all."
In order to move forward and be confident that this will never happen again we need an independent investigation to figure out exactly how this disaster happened. Thinking otherwise is dangerous to the future generation.
Today was an important victory but there is still work to be done.
The first woman to speak out about Nassar's abuse was Kyle Stephens, who was a family friend of the doctors. She said the abuse began when she was aged 6.
"You used my body for six years for your own sexual gratification. That is unforgivable," she told the court in a powerful, heartbreaking statement.
"I've been coming for you for a long time. You were first arrested on my charges, and now as the only non-medical victim to come forward, I testified to let the world know that you are a repulsive liar. And that those treatments were pathetically veiled sexual abuse.
Perhaps you've figured it out by now, but little girls don't stay little forever. They grow into strong women that return to destroy your world.
Already sentenced to 60 years in prison on federal child pornography charges, Nassar pleaded guilty to 10 counts of criminal sexual conduct. He was sentenced yesterday on seven of those counts, with a final additional sentence to be handed down late this month.
As victim after victim detailed Nassar's actions, they also slammed a lack of accountability among sporting institutions, with Raisman in particular demanding an independent probe of USA Gymnastics to find out how Nassar was able to abuse girls with impunity.
Three members of the USAG board of directors resigned on Monday, while John Geddert, a star coach who owns the Twistars gym, was suspended pending an investigation.
Judge Aquilina
There were many intense moments in the courtroom as dozens of victims of Nassar's abuse gave testimonies in court of the impact it had had on their lives.
Nassar's sentencing also concluded in dramatic fashion yesterday, when he apologised to victims which the judge seemed to receive with contempt and skepticism.
Yesterday, Nassar gave a short statement in which he turned toward the women and girls, some of whom were weeping. "There are no words to describe… how sorry I am," he said.
Ingham County Circuit Judge Rosemarie Aquilina was unimpressed, and read portions from his letter, which she had initially criticised him for last week.
"The media convinced them that everything I did was wrong and bad," he wrote, according to the judge.
They feel I broke their trust. Hell hath no fury like a woman scorned. It is just a complete nightmare.
Victims and others in the courtroom groaned, and the judge asked Nassar if he wanted to withdraw his November guilty plea to charges that he molested seven girls. "No your honour," he responded.
"Because you are guilty, aren't you? Are you guilty sir?" she pressed.
"I said my plea," he said.
Source: Guardian News/YouTube
Aquilina took the letter and tossed it aside.
This letter, which comes two months after your plea, tells me you have not yet owned what you did. You still think that somehow you are right, that you are a doctor, that you are entitled, that you don't have to listen and that you did treatment. I wouldn't send my dogs to you, sir.
Aquilina first read excerpts of the letter last week, saying Nassar had written that he feared his mental health was not strong enough to sit and listen to a parade of victims.
Aquilina reiterated that she would not release the letter, saying she doesn't want his accusers "revictimized by the words that you have in here".
- with reporting from the Associated Press