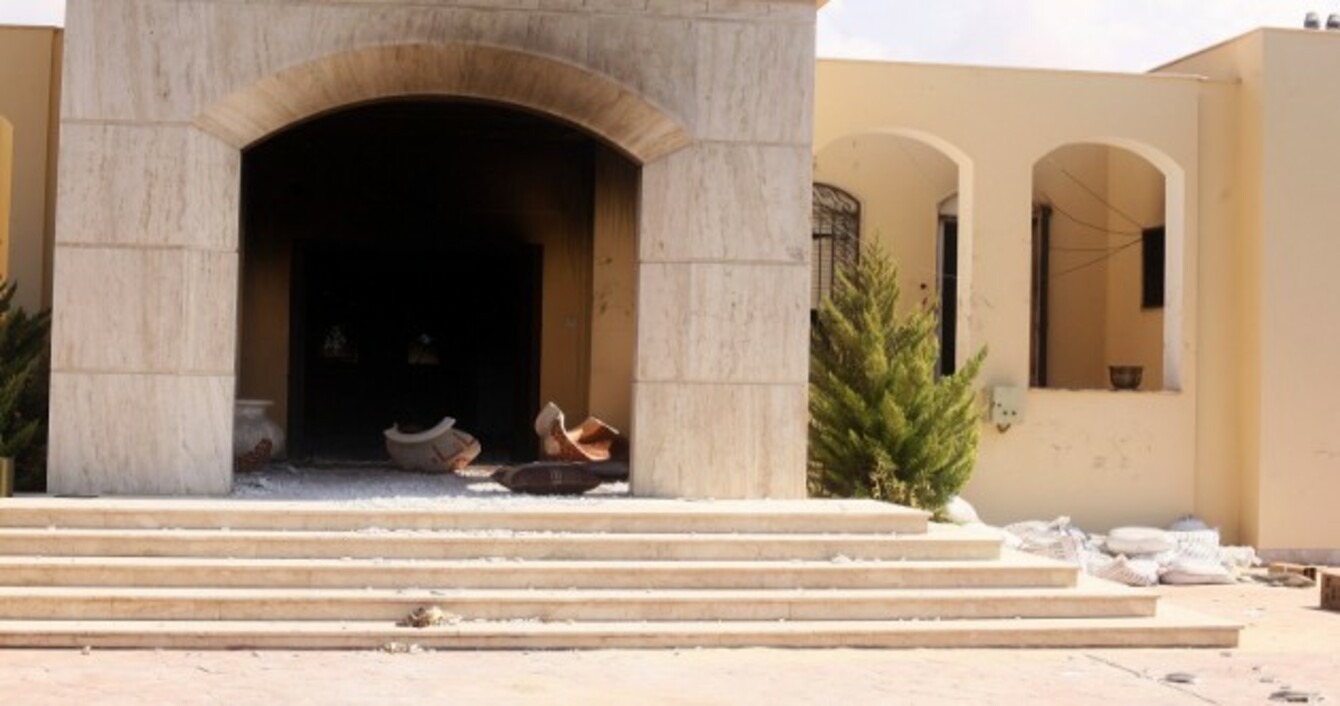 Image: Broken pots and rubble lie at the burned-out entrance to the US consulate in Benghazi, which sustained heavy damage in Tuesday's attack.
Image: Broken pots and rubble lie at the burned-out entrance to the US consulate in Benghazi, which sustained heavy damage in Tuesday's attack.
THE UNITED STATES has dispatched an elite group of Marines to the Libyan capital, Tripoli, after the mob attack that killed the US ambassador and three other Americans.
The dispatch comes as officials investigate whether the rampage was a backlash to an anti-Islamic video with ties to Coptic Christians, a plot to coincide with the anniversary of 9/11, or both.
President Barack Obama vowed in an address from the White House that the US would "work with the Libyan government to bring to justice" those who killed Ambassador Chris Stevens, information manager Sean Smith and two other Americans who were not identified. Three other Americans were wounded.
"We reject all efforts to denigrate the religious beliefs of others, but there is absolutely no justification for this type of senseless violence. None," said Obama, who also ordered increased security at U.S. diplomatic posts abroad.
Stevens was the first American ambassador killed in the line of duty in 30 years.
The attack on the American Consulate in Benghazi poses a daunting task for US and Libyan investigators, as they search for culprits in a city rife with heavy weapons, multiple militias, armed Islamist groups and little police control.
The one-story villa that serves as the consulate was a burned-out wreck after the crowd armed with machine guns and rocket-propelled grenades rampaged through it. Slogans of "God is great" and "Muhammad is God's Prophet" were scrawled across its scorched walls. Libyan civilians strolled freely in charred rooms with furniture and papers strewn everywhere.
'Too professional to be spontaneous'
The mob attack on Tuesday — the 11th anniversary of the September 11 terrorist attacks — was initially presumed to have been a spontaneous act triggered by outrage over a movie called 'Innocence of Muslims', produced in the US and partially available on YouTube, which mocked the Prophet Muhammad.
The amateurish video also drew protests in Cairo, where angry ultraconservatives climbed the US Embassy's walls, tore down an American flag and replaced it with an Islamic banner.
But a US counterterrorism official said the Benghazi violence was "too coordinated or professional" to be spontaneous. Another law enforcement official said the FBI was sending evidence teams to Libya.
Libya's new leadership — scrambling to preserve ties with Washington after the US's role in the NATO effort that helped to overthrow Muammar Gaddafi — vowed to find those behind the attack.
Interim president Mohammed el-Megarif apologized to the United States for what he called the "cowardly" assault, which also killed several Libyan security guards at the consulate.
- Maggie Michael and Osama Alfitory