THE SEVENTIES GAVE us so many iconic cars, especially on screen (where most of them were involved in epic car chases.)
Cars like the Pontiac (Firebird) Trans AM in Smokey and the Bandit, the customised Ford Falcon XB Interceptor from Mad Max, the red-and-white Ford Torino in Starsky and Hutch. The Dodge Charger from The Dukes of Hazzard, The Mystery Machine from Scooby-Doo and…
…well, you get the idea. There are so many I could go on and on. Taking inspiration from the 70s we've rounded up some memorable motors, from the era of flares, free love and the Fonz.
Under €25k
1979 Porsche 928, €24,950
Source: DoneDeal
The 928 is a luxurious grand tourer and a marvel of engineering with a distinctive futuristic design. It combines the performance and handling of a sports car with the refinement and comfort of a luxury saloon. This is the perfect car to take on weekend adventures.
Under €23k
1977 Volkswagen Beetle, €22,950
Source: DoneDeal
This car is the Type 1303 LS. It is a cabriolet model built by Karmann known as the Super Beetle and it really does live up to its name, especially in the looks department. I'm sure this bright blue model matched the eyeshadow of many a lady and dude in the seventies.
It looks super cool and fun to drive and is a real eye-catcher on the road.
Under €17k
1974 Corvette Stingray, €16,500
Source: DoneDeal
This striking-looking car is an American motoring idol. The Corvette Stingray is an example of how Chevy began turning its muscle cars into touring sports cars in the early seventies. This car will make anyone look cool, yes, even you. And wait until you hear the noise on start up! It'll make you so weak at the knees.
Under €10k
1970 Fiat 500 L, €9,500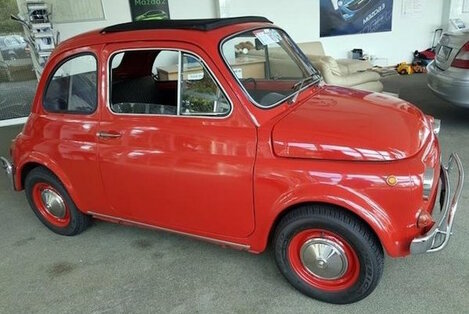 Source: DoneDeal
The Fiat 500 L is a two-door, four-passenger (no really) city car with buckets of charm and personality. It looks feisty and fun in its bright red paint job and we all know that red cars are the fastest.
The Fiat 500 defined the small car and is one of those icons of the motor industry that is much loved and I'm sure this car will bring loads of driving joy to whoever buys it.
Under €5k
1971 MGB-GT, €4,700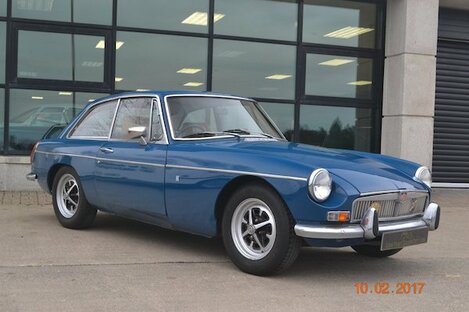 Source: DoneDeal
This is one pretty car and it was designed by the legendary Pininfarina. Yes, a British GT with Italian style.
The fixed-roof MGB GT was first introduced in October 1965 and it is claimed that this model launched the 'sporty hatchback style' combining the space of a hatchback with the shape of a coupe – making it both practical and sporty.