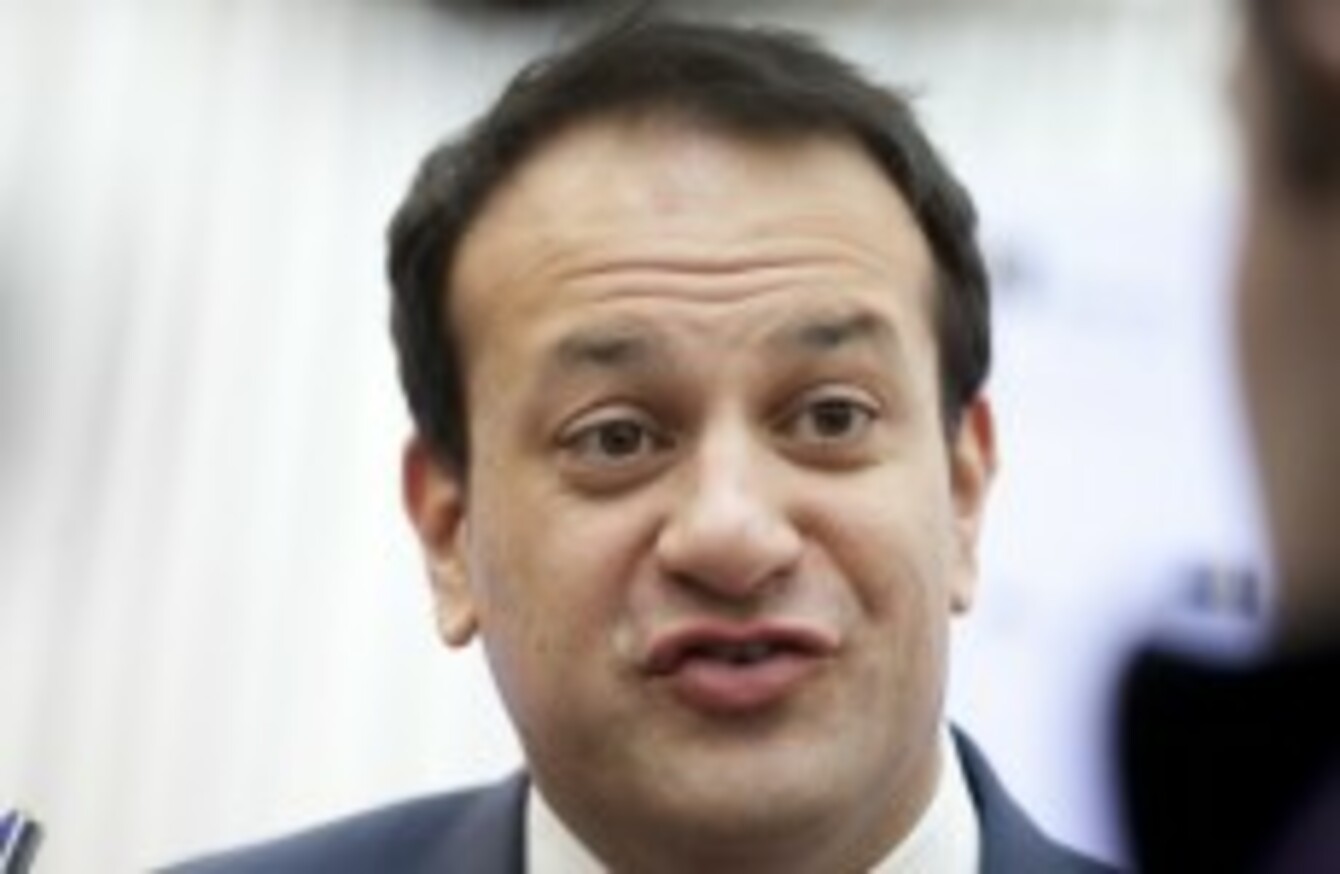 Minister for Health Leo Varadkar
Image: Eamonn Farrell/Photocall Ireland
Minister for Health Leo Varadkar
Image: Eamonn Farrell/Photocall Ireland
IRISH VOTERS SHOULD be worried about what kind of "coalition of extremes" could be formed after the next election, said the Minister for Health Leo Varadkar.
Addressing the Institute of Directors today, he said Ireland has always been good at forming coalitions that represent the electorate.
Varadkar warned people should be worried about what happens after the election.
It is the instability of the political visions being presented that is the real danger, because this is what offers the greatest threat to our economic recovery and to our political security.
'Economically disastrous'
He said that Sinn Féin's policies would be "economically disastrous" for the country, adding "we all know they will never secure an overall majority, or anything near it".
The minister said what is worrying is the "coalition of extremes" forming between Sinn Féin, right and left-wing independents, those on the far left, and possibly even some "dissident Fianna Fáilers".
Instead of producing a programme for government which would provide stability for five years, we would get a programme for self-interest, with policies being traded for votes, and national interest sacrificed for local and selfish concerns.
He criticised all other parties for having flawed visions, and said many were offering easy solutions for the country.
The most likely alternative to a Fine Gael-led government is a Sinn Fein-led government. So let's see how things might look under such a coalition.
'I shudder to think about a Sinn Féin foreign policy'
Varadkar also said he dreaded to think what would happen if the party were voted in to power.
Whatever about international tensions with our closest neighbour if Sinn Fein was in power, I shudder to think about a Sinn Féin foreign policy that would alienate allies, terrify foreign investors, and close off the very markets we have done so much to open.

Their rigid ideology is all well and good on the back benches, where it can be dismissed, answered or ignored, but not on the world stage.
Labour Minister Alan Kelly said today the country would be best served to return this government to power.
#Open journalism No news is bad news Support The Journal

Your contributions will help us continue to deliver the stories that are important to you

Support us now
He said in 14 months voters will have a choice of either "stability or chaos". He said that some parties are making "false promises" where "everything is free and no one has to pay for anything…". He said that a society like this doesn't exist.
Yesterday, Sinn Féin leader Gerry Adams said society has become increasingly polarised under Enda Kenny's government. He said the government is "wedded to austerity". 
"We need to ask ourselves what kind of a society we will be left with after more years of Fine Gael/Labour austerity…  Sinn Féin have shown that it doesn't need to be this way. There are fairer alternatives."