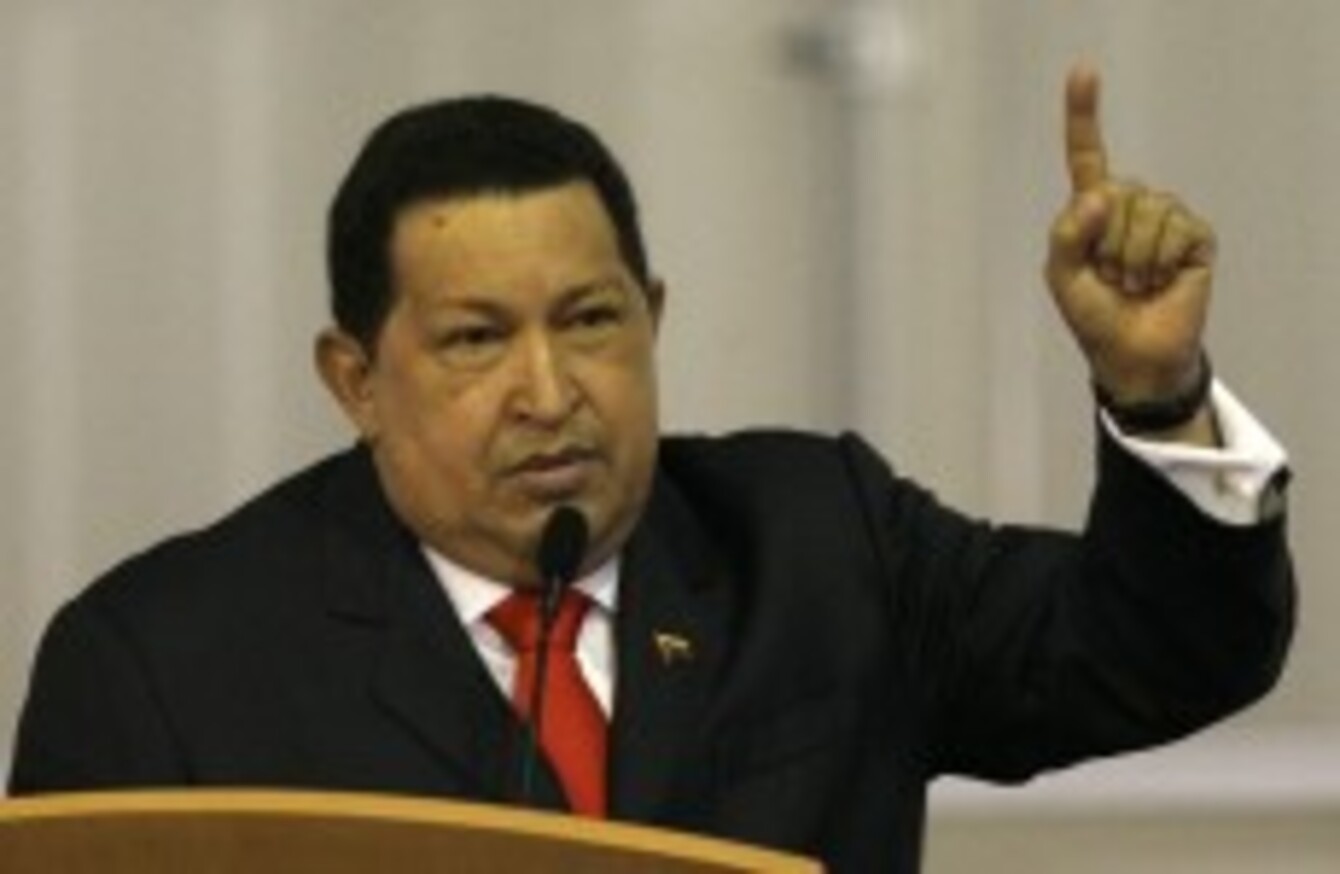 Hugo Chavez (File photo)
Image: Ariana Cubillos/AP/Press Association Images
Hugo Chavez (File photo)
Image: Ariana Cubillos/AP/Press Association Images
VENEZUELAN PRESIDENT HUGO Hugo Chavez has admitted a relapse of his cancer and designated vice president Nicolas Maduro as his heir apparent in case "something happened" to him.
Speaking on national television, an emotional Chavez said a return of cancer cells was detected during his most recent visit to Cuba for medical examination, and he will return to the communist-ruled island as early as today for another round of surgery.
"During this thorough examination, they again detected some malignant cells in the same area as before," Chavez said.
He did not offer details, but his cancer was first detected in the pelvic area. Neither the Venezuelan leader, nor his Cuban doctors have ever disclosed what kind of cancer that was.
He admitted he was suffering "somewhat strong" pain and was taking tranquilisers as part of preparation for his upcoming surgery.
Chavez acknowledged that his Cuban medical team had conveyed to him a sense of urgency about the operation, which he said was now "absolutely necessary."
"The doctor recommended that I undergo surgery yesterday (Friday) at the latest, or this weekend," he noted. "But I did not agree and came back home."
Chavez returned from Havana on Friday after a 10-day stay in Cuba. He had not been seen in public for three weeks.
The Venezuelan leader also said that in the event "something happened" and he were incapacitated, vice president Nicolas Maduro would step in and assume control of the government for the rest of the 2013-2019 term, as required by the constitution.
But in what appeared like a presentation of his final will, the president also indicated he would like Maduro to take over the reins of power in a post-Chavez period, urging Venezuelans to vote for him in the next presidential election.
"You choose Maduro as president of the republic," said Chavez told the nation. "I am asking you this from all my heart."
Maduro, who has been serving as Venezuela's foreign minister for the past six years, was appointed vice president in the wake of the October presidential elections. He has held both portfolios since.